Frankie Muniz Channels *NSYNC On 'Dancing With The Stars' & It's Everything A '90s Kid Could Want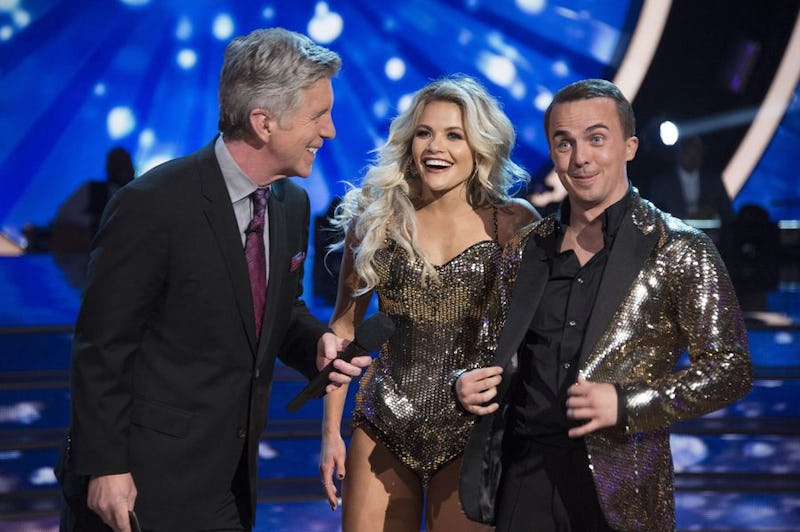 Eric McCandless/ABC
Let's preface the Oct. 2 episode of Dancing With The Stars with one thing — it's "Guilty Pleasures" week on the show, and there is no need to have guilty pleasures! Just enjoy what you love when you want to love it and that's that! In any case, that's the theme, and one contestant stood out in his love — Frankie Muniz channeled *NSYNC on Dancing With The Stars, and it was almost more than this 1990s kid could handle.
Muniz and partner Witney Carson have been doing well in the first few weeks of the competition, and this "Guilty Pleasures" week was his chance to do something big. When asked what his guilty pleasure was, Muniz told Carson, "I love boy bands. I've never admitted that, but to be honest, when I was 13, all I wanted was to be in a boy band." This makes sense, as Muniz, like myself, came of age in one of the purest times for boy bands. There were so many to choose from — Backstreet Boys, *NSYNC, 98 Degrees, L.F.O., 5ive, Westlife, Take That, etc. — that it is easy to see how a young man can want to put himself on a stage in front of thousands of screaming fans.
Luckily for Muniz, there is a former boy bander on Dancing With The Stars right now — former 98 Degrees front man Nick Lachey. When asked how to get that "boy band" look, Lachey told Muniz, "It's a mixture of, if you're on the toilet taking a crap, and pure ecstasy — combine those two looks and that's the boy band." Charming? Maybe? Or something. Muniz talked himself through the task of fulfilling his boy band dream, telling the camera in his pre-dance interview, "To be successful in a boy band, you have to be confident. You've gotta think, "Man, I am awesome," every step of the way. If I can do this dance the way I want to, this will fulfill my boy band fantasy 100 percent."
And did he do it? I'll say so. His dance (a samba) was to the seminal *NSYNC song "It's Gonna Be Me," and he replicated the original boy band experience as much as he could. Muniz and Carson came out in matching denim outfits a la Britney Spears and Justin Timberlake at the 2001 American Music Awards.
At the beginning of the dance, Muniz and Carson hopped out of two doll boxes, just like in the "It's Gonna Be Me" video!
Before the dance, Muniz told Entertainment Tonight that he may have a few problems shaking it. "The boy band thing's a little more in my element than the samba, but my hips just don't move," he said. "I'm gonna blame my broken back that that's why my hips don't move, just to warn you guys." You looked pretty good to fans, Frankie!
To top things off, Tom Bergeron surprised Muniz with a video of him singing an *NSYNC song on Say What? Karaoke on MTV when he was about 14 years old, and everyone in the audience awwed. His voice was so young! So squeaky! That was right around his Malcolm In The Middle fame, but it's easy to forget how cute he was back then.
Muniz and Carson got straight sevens across the board from judges Len Goodman, Bruno Tonioli, and Carrie Ann Inaba, which seems to fall a little short. Not only did Muniz rock the dance floor, he also got everyone up out of their seats and dancing, and that's boy band 101 — to make the crowd move. Seems like he achieved his dreams after all.