Cancel All Your Halloween Plans, You Won't Want To Miss This 'Hocus Pocus' Marathon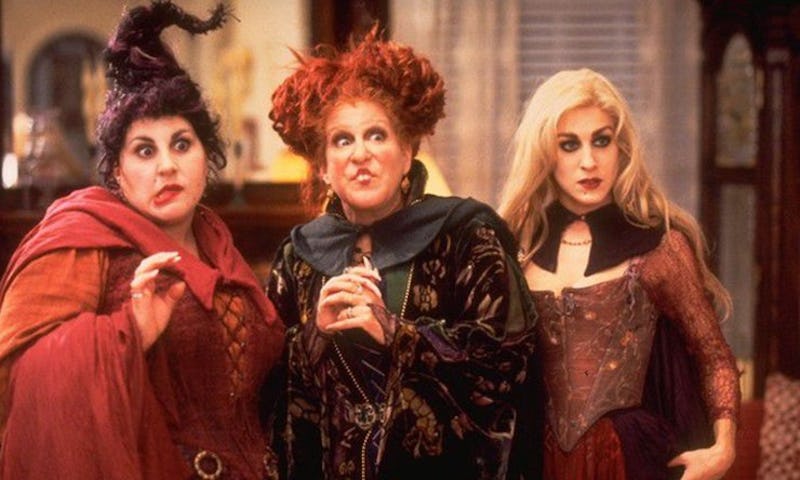 Buena Vista Pictures/Andrew Cooper
If you're something of a Hocus Pocus purist when it comes to choices of Halloween movies, then it sounds like Freeform have conjured up some magic just for you. A Hocus Pocus Halloween marathon will be happening on the channel, which means you can finally watch the greatest Halloween movie known to mankind on a glorious loop. The celebration of what we can all agree is a '90s comedy masterpiece is sure to make your Halloween that extra bit better. Hocus Pocus will be airing non-stop on Freeform during Oct. 31 between 11:30 a.m. and 10:30 p.m. (however, there's also a 7:30 a.m. airing of the movie, too, if you're an early bird), and there are a lot of ways that you can take advantage of this stellar moment in TV programming.
The first is the most obvious and probably goes without saying, but let's just get it out the way. You can dress up as your fave Hocus Pocus character, lay out an endless supply of snack foods, get comfy on the couch, and invite your coven 'round for the Hocus Pocus movie marathon to end all marathons. However, there's a variety of other, more creative ways that you can also utilize this marathon to its fullest potential.
While a drinking game based upon a Hocus Pocus movie marathon is probably hugely inadvisable (unless you want to be hospitalized later in the day for trying to ride your vacuum like a broomstick), you can easily replace booze with Halloween candy. For instance, the rules could be as delicious as grabbing a handful of candy corn every time someone says the word "virgin" in the movie (it's a lot, guys), or throwing popcorn into a friends mouth every time one of the Sanderson sisters takes flight on their broomstick. You're going to be seeing a whole lot of this movie if you commit to it properly, so you could be in for a huge candy feast if you do this right. It's basically a winning idea.
Another option, however, is to simply absorb every last witchy morsel of wisdom this movie has to offer. All eating-of-children aside, let it inspire you in weird and wonderful ways, especially if you and your besties are planning to hit the town on Halloween night. A marathon viewing session of Hocus Pocus presents the opportunity for you to finally perfect all the words and moves to "Come Little Children," and "I Put A Spell On You," so that you can ace them at Halloween karaoke later that night.
It might also be worth taking some notes about how to emulate the levels of style and spellbinding sass with which the Sanderson Sisters charm just about everyone around them. But also, how to terrify people they wish would leave them the hell alone, too. Because, as every good Sanderson Sister knows (and we're all honorary members of the family, of course), there are a whole lot of unnecessary creeps to keep at bay on Halloween, too.
If you're too busy holding a day job to be throwing popcorn into your best friend's mouth on a Tuesday afternoon, then it's at least nice to know that the movie will be there waiting for you whatever time you get home. There's something hugely comforting, for instance, about the idea that we'll just be able to stumble home, switch on the TV, get a witches brew on-the-go (or a well deserved glass of wine, whatever), and have the movie playing in the background for as long as we want, while we hand candy out to trick-or-treaters. And that's the real spirit of Halloween right there. Praise be.
However you decide to enjoy the Freeform Hocus Pocus marathon, be sure to absorb as much of the movie's magic as possible. Oh, and don't forget, to run amock, amock, amock after you do.
Check out the entire 'What's Up, Boo?' series and other videos on Facebook and the Bustle app across Apple TV, Roku, and Amazon Fire TV.