Watch Gal Gadot Play Kendall Jenner In 'SNL's Hilarious Kardashians Parody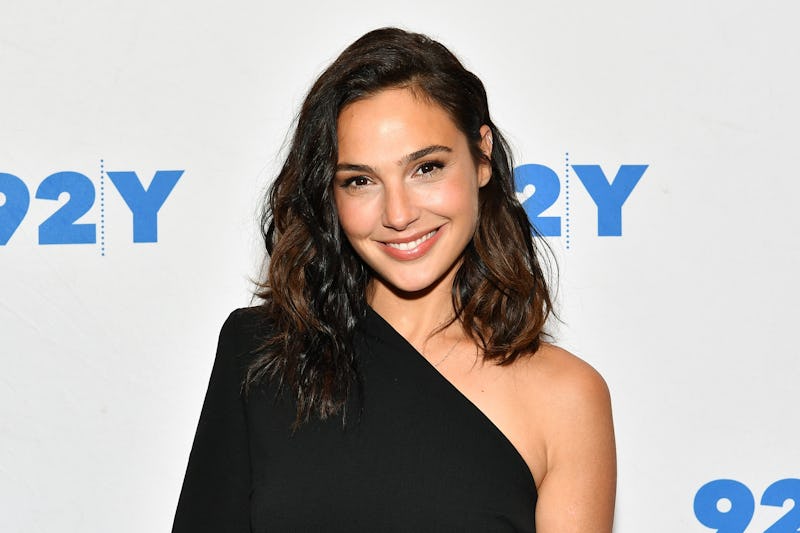 Dia Dipasupil/Getty Images Entertainment/Getty Images
Earlier this year, actor Gal Gadot impressed audiences as the fierce superhero Diana in Wonder Woman. The Israel native showed she also has a super funny side as she hosted Saturday Night Live on Oct. 7. Gal Gadot played Kendall Jenner on SNL in a hilarious parody of E!'s many Keeping Up With The Kardashians spin-offs. So not only can Gadot save the world as Wonder Woman, but she can successfully channel supermodel Jenner in funny sketch about the network's new slate of reality shows that you'll wish were actually real.
Gadot debuts her Jenner impression during two of the sketch's three KUWTK spin-offs: Kendall's Model House and Kendall's World. In Kendall's Model House, Gadot's Jenner shares a home with Gigi and Bella Hadid and they "complain around a huge bowl of fruit," as the voice over says. Kendall's World has a more existential premise: The fictional spin-off follows Jenner as she gets lost...in her own house. The sketch's voice over suggests that she's lost because "she's only there two weeks out of the year." You know, because she's jet-setting supermodel. It's hard not to chuckle as Gadot's Jenner roams and crawls around her home, yet it doesn't feel like her home in what looks like a solo Big Brother reality show.
The third KUWTK spin-off parody is called Where's Kanye? and it centers around Kanye West's attempts to avoid the cameras of the main TV show. The sketch shows (fictional) footage of Kim Kardashian's husband ducking and crawling away from the cameras. "Is he hanging back because he's shy or doesn't want to be associated with show?" the sketch's voice over person asks.
The parody voice over tells the audience that those who enjoy watching Gadot's Jenner wander the halls of her home in Kendall's World are in luck — the (fictional version of) E! plans to air the series pretty much all day, all the time. The SNL sketch also included some reality TV parodies for the non-Kardashian fan, including Down Home With Blake & Gwen, which follows country singer Blake Shelton and rock singer Gwen Stefani at home, and Background Actors of Riverdale, exploring, well, just that.
The entire sketch had so many opportunities for laughs, but Gadot really stole the show with her perfect and hilarious Jenner impression. Perhaps Gadot was able to channel her own career as a model for inspiration. Before she starred in Wonder Woman, Gadot was the main face of international campaigns for many brands, such as Captain Morgan, Gucci, and Jaguar after serving in the Israeli army.
Gadot was able to flex her comedy muscles in other SNL sketches during the episode. In another segment, she played a woman on a blind date with a recently released O.J. Simpson (played by cast member Kenan Thompson). She played a Cinderella-like character in a Disney parody in which the talking mice don't create the magical ballgown that she expects from, well, talking mice. Of course, Gadot also parodied Wonder Woman, reprising her role as the awesome superhero in a sketch in which two lesbians (played by Kate McKinnon and Aidy Bryant) get stranded on Themyscira.
But the KUWTK spin-off parody stands out the most, because Gadot truly became Jenner in a totally unexpected way. I almost didn't recognize her during her Jenner impression and that just shows that Gadot is a skilled comedic actor in addition to being an unstoppable Wonder Woman. Plus, is there Kardashian fan out there who wouldn't want to sample these fictional spin-offs? Someone please make Where's Kanye? come true.
Watch the hilarious parody in the following video.
Sadly, the SNL parody isn't real, but you can laugh along with the sketch over and over again.