Gal Gadot's Daughter Will Be Your New Hero Based On This 'Wonder Woman' Story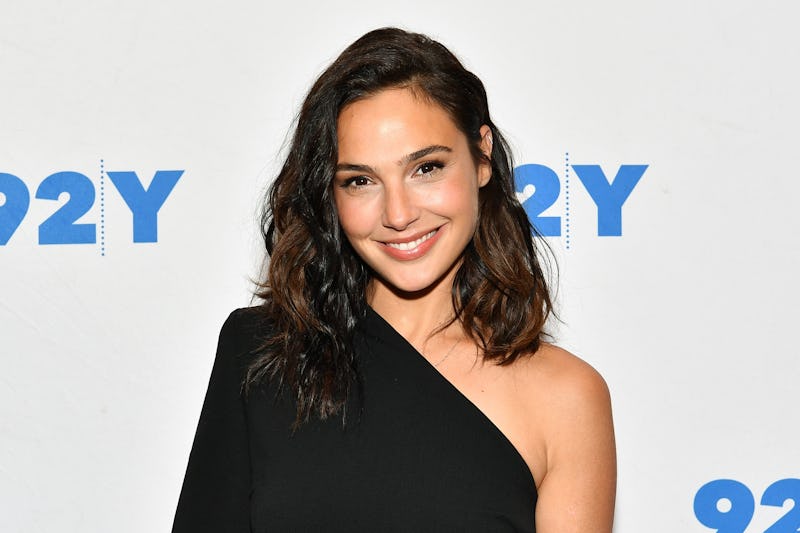 Dia Dipasupil/Getty Images Entertainment/Getty Images
One smart little cookie knows that it doesn't take a costume to make someone a hero. Gal Gadot's daughter Alma is a role model in the making, simply because she isn't impressed that her mom is Wonder Woman — she knows there are Wonder Women all around her. On the Tonight Show Starring Jimmy Fallon on Thursday night, Gadot explained how her pint-sized daughter is wise beyond her years, and a Wonder Woman prodigy with a mindset others should strive to obtain.
The actor (who starred in the acclaimed film which only broke a boatload of records) joked that her 5-year-old will put starstruck fans in their place when they approach her mom. This headstrong girl takes conversations into her own hands and lets others know what's up. "Honestly, every woman is a Wonder Woman," Gadot said, impersonating her daughter. "My mom is just the biggest one because she does the movie."
Needless to say, Alma "doesn't care about costumes" and won't be dressing up like her mom's character this Halloween. She'll be a Wonder Woman however she chooses to be, and that's pretty amazing. Although Alma is totally nonchalant about her mom's worldwide adoration and success, Gadot couldn't be more entertained or proud. "Alma, I'll tell you, she's the best thing ever to me," she told the audience.
The 32-year-old couldn't stop joking about all the personality packed into her tiny daughter. She continued impersonating Alma, saying, "Listen. We've been to London, it's been amazing. I was working on set too. I didn't wanna do it 'cause I didn't wanna be famous." Only 5 years old and already so over it.
It's clear that Gadot and Yaron Versano (her husband of nearly 10 years), totally support and encourage their daughter's strong-willed personality. It's no wonder where she gets it from. Gadot is a badass who embodies what Wonder Woman stands for, both on screen and off. In addition to her work on Wonder Woman, she uses her platform to encourage fans to work hard and know their worth through inspiring quotes.
For example, Gadot recently posted feminist mantra, "Know your worth. Then add tax," for Women's Equality Day. (Meanwhile, her director Patty Jenkins reportedly made a historic deal for WW 2.) And while Alma may take Gadot's spotlight here and there, she believes the same thing her daughter does. The actor recently posted a photo saying, "Wonder Woman is a state of mind."
Gadot's Israeli businessman husband tirelessly cheers the women in his life on. When he's not posting about his wife and her success, he'll use hashtags like #wonderbabygirl to describe photos of their daughter, who's turning 6 in November. This family is just breeding kickass-ness.
The two welcomed another baby girl, Maya, in March and the clan just keeps growing. And as triumphant as Gadot has been in her career, it's obvious that being a mom is a role that's immeasurable to her. Perhaps because she views her own mom, a school teacher, as her "personal Wonder Woman" as well.
"She taught me that I can do anything. I thank my lucky stars for my #wondermom," Gadot once posted about her mom. And hearing about Alma's early wisdom, the actor is certainly a role model to her daughters just as her mom was a role model to her. The actor has gotten real about motherhood before, and it's something that means the world to her. From her anecdote alone, it seems like she's doing a pretty phenomenal job.
Gadot's entire family knows what Wonder Woman truly means, and luckily, they have their little Alma to help spread the word.