George Conway Dug Up An 1863 Article To Prove Trump's Latest "Fake News" Claim Wrong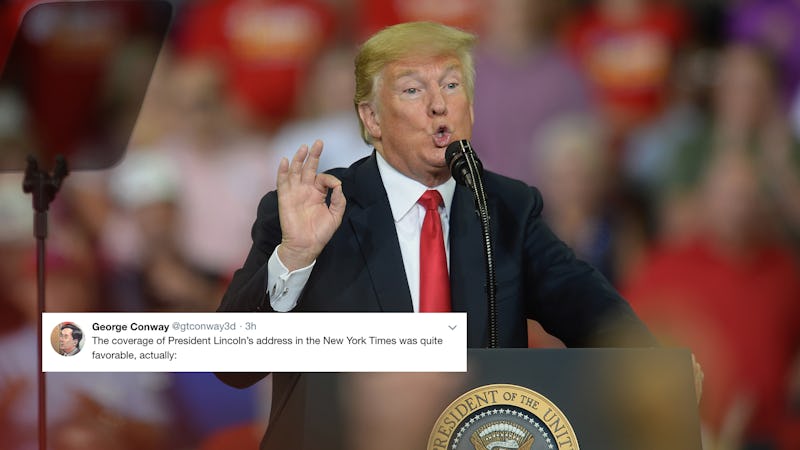 Michael B. Thomas/Getty Images News/Getty Images
Just when did the era of fake news begin? According to President Trump, falsity in the media dates back to the Civil War era, but others see some inaccuracy in that. After declaring Abraham Lincoln was lambasted by fake news, Trump was fact-checked by George Conway, senior adviser Kellyanne Conway's husband.
"You know when Abraham Lincoln made that Gettysburg Address speech, the great speech, you know he was ridiculed?" Trump said during a rally in Billings, Montana on Thursday night, according to The Hill. "And he was excoriated by the fake news. They had fake news then. They said it was a terrible, terrible speech." In fact, Trump claimed, the Gettysburg Address only got its due decades later. "Fifty years after his death they said it may have been the greatest speech ever made in America," Trump said. "I have a feeling that's going to happen with us. In different ways, that's going to happen with us."
Not so, according to Conway. "The coverage of President Lincoln's address in the New York Times was quite favorable, actually," he tweeted, linking two archived Times articles from 1863. One described Lincoln delivering his speech in "a very deliberate manner, with strong emphasis, and with a most business-like air." The other confirmed "three cheers" were apparently given after Lincoln spoke at Gettysburg.
Trump has previously claimed he is a more popular president than Lincoln was. "I am the most popular person in the history of the Republican Party," he said in an interview with The Sun in July. "Beating Lincoln. I beat our Honest Abe." Though it is impossible to say whether his approval ratings at the time were higher than Lincoln's — polling data from the mid-1800s doesn't exist — it's also true that Trump didn't even measure as the most popular among recent Republican presidents. According to Gallup polls, with an 88 percent approval rating among Republicans at the time, Trump only beat Gerald Ford.
And Thursday's rally isn't even the first time Trump has been compared to the Great Emancipator. Appearing on Hannity last month, former Speaker of the House Newt Gingrich said, "I think the person whose situation is the most like President Trump's was Abraham Lincoln. Lincoln is fighting to preserve the Constitution," he said. "He's fighting to preserve the Union." However, Gingrich's reasoning that Lincoln making bold, unpopular decisions to keep the country together resembles Trump's policy agenda was ridiculed by the left.
"Whereas Lincoln was honest and eloquent, the incumbent is, well, not those things," John J. Pitney, a professor of politics at Claremont McKenna College, wrote in an opinion piece this week. "More important, he repudiates what Lincoln stood for," he said, citing Trump's animosity toward immigrants and off-the-cuff incendiary remarks.
Despite being married to one of the president's top advisers, George Conway rarely misses an opportunity to push back against the president on Twitter, including fact-checking false statements and retweeting the critical anonymous opinion piece in The New York Times multiple times on Wednesday. "What everyone should want, and the country needs," he explains in one tweet from August, "is a 'President' capable of comprehending what it means to 'take Care that the Laws be faithfully executed.'"