George Conway Ripped Into Trump For Trashing Obama Over A Comment From 10 Years Ago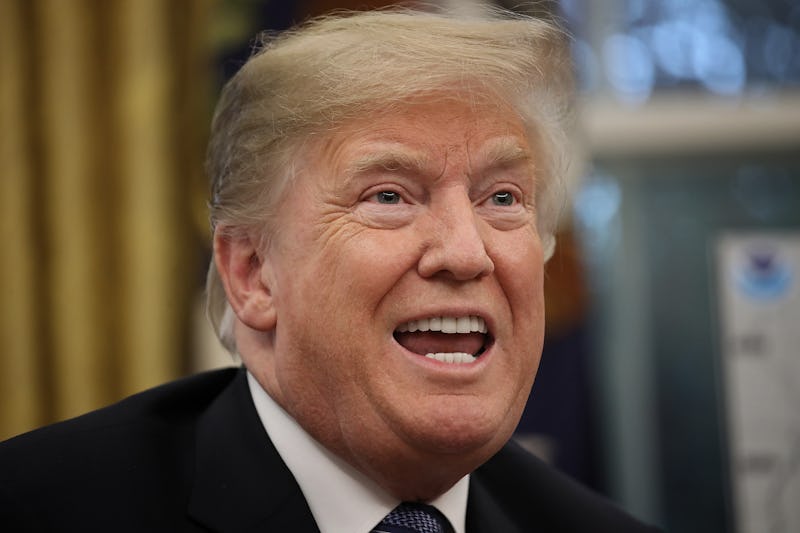 Win McNamee/Getty Images News/Getty Images
Once, former president Barack Obama said that he had been to "57 states" at a campaign rally in 2008. Now, about ten years later, President Donald Trump has latched onto that comment as a way of criticizing his predecessor — but he hasn't gotten away with that without receiving some criticism himself. George Conway ripped Trump's tweet about Obama's comment, adding to the tally of times that White House advisor Kellyanne Conway's husband has broken with her boss.
"When President Obama said that he has been to '57 States,' very little mention in Fake News Media. Can you imagine if I said that...story of the year!" Trump tweeted on Friday. He also tagged Fox News host Laura Ingraham, who retweeted Trump's post.
George Conway then retweeted Trump's tweet with his own critical response.
"Needless to say, there's a huge difference between an isolated slip of the tongue and ceaseless, shameless, and witless prevarication on virtually all topics, large and small," Conway wrote on Friday. As the Washington Post reported back in August, this is far from the first time that Conway explicitly insulted his wife's boss. In fact, he's gone viral on Twitter multiple times because of his work as what Kellyanne called an "agitator" in the Post.
"It is wonderful to be back in Oregon. Over the last 15 months, we've traveled to every corner of the United States," Obama said at the campaign stop. "I've now been in 57 states? I think one left to go. Alaska and Hawaii, I was not allowed to go to even though I really wanted to visit, but my staff would not justify it."
Despite Trump's claim that the error received "very little mention in Fake News Media," was actually a false one. The Los Angeles Times reported on it at the time, noting that Obama also thought he might have said the number of victims of a storm in Myanmar incorrectly.
"I hope I said 100,000 people the first time instead of 100 million," Obama said, according to the Times. "I understand I said there were 57 states today. It's a sign that my numeracy is getting a little, uh."
The Hill also noted that the Los Angeles Times wasn't the only media organization to note Obama's error, and that someone even brought it up in Congress at least once. A representative from Texas noted in 2011 that there are 57 members of the Organization of the Islamic Conference, according to Mediaite.
"Perhaps there was some confusion whether he'd been to all 57 Islamic states as opposed to all 50 U.S. states," Texas Rep. Louie Gohmert said on the House floor. "But nonetheless, we have an obligation to the 50 American states, not the 57 Muslim, Islamic states."
Trump's tweet also ignored the fact that Obama recognized his mistake immediately after the speech. Conway's didn't, however, referring to it as "an isolated slip of the tongue." Trump, on the other hand, has just surpassed 5,000 lies or misleading claims in his 601 days in office, according to the Washington Post Fact Checker's ongoing tracking of the presidents falsehoods. That means that on average, Trump has given at least eight false or misleading statements every single day of his presidency.