President George H. W. Bush Has Been Hospitalized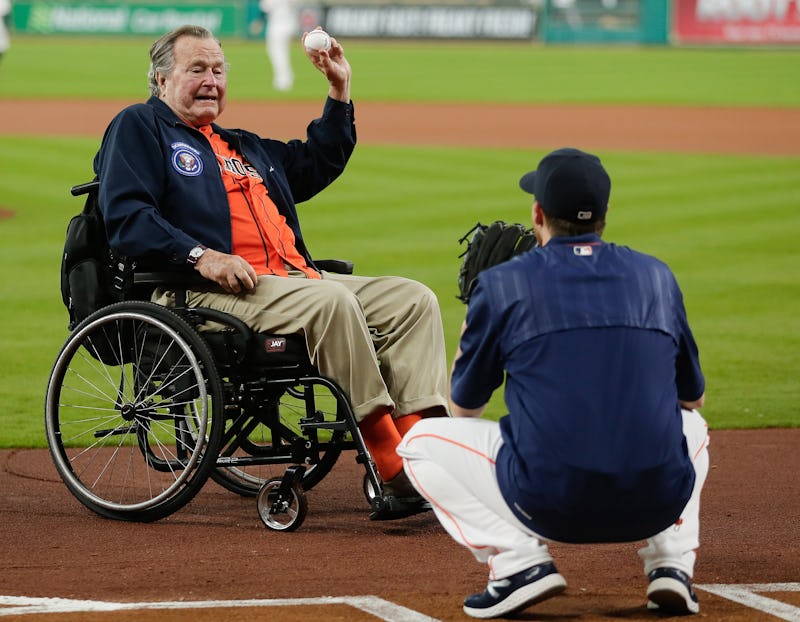 Bob Levey/Getty Images Sport/Getty Images
Amidst a heavy day of political news, local newspapers in Texas began reporting early on the morning of Jan. 18 that former President George H. W. Bush is in the hospital in Houston, according to his staff members. The cause for Bush Sr.'s hospitalization hasn't yet been released, but his chief of staff said he is "doing fine" and in stable condition. Update: On Wednesday afternoon, a spokesperson for Bush said that the former president had been admitted to the intensive care unit to address respiratory complications stemming from pneumonia.
This is not the 92-year-old former president's first health scare — six months after a week-long hospital stay for "shortness of breath" in 2015 Bush Sr. fractured a neck vertebrae after a fall while vacationing with his family in Maine. In recent years, the 41st president has been seen using a wheelchair since the accident that left him in a neck brace. After the injury, Bush's grandson George told CNN that his grandmother Barbara had a humorous reaction to her husband's ailment:
A slip and fall is not going to take out a World War II pilot.
The former president and his staff don't expect that he'll be in the hospital for more than a few days. While they haven't divulged what his exact illness is, Bush Sr.'s chief of staff told the Houston Chronicle that his doctors have theories as to what might be wrong.
Bush Sr. began his family's presidential dynasty in 1981, when he became Ronald Reagan's vice president following his unsuccessful bid for the Republican nomination. Following his eight years as the president's right-hand man, Bush ran for and won the presidency in 1989, and served until 1993, when he was defeated by Bill Clinton. He is perhaps best-known for being at the helm of the country during the Persian Gulf War, a military action that saw Bush as the director of a wide-reaching coalition of United Nations countries committed to stopping Iraq's then-ruler Saddam Hussein.
At the ripe old age of 92, Bush has watched and participated in the landscape of American politics for more than three-and-a-half decades. He is a member of the second family in American history to have a son follow in his father's footsteps to the presidency (the first being John and John Quincy Adams.) He's watched America go from surplus to recession, through two wars with Iraq, and is, as the father of the nation's 43rd president, one of the most influential political figures in the 20th and early 21st centuries. Here's hoping this living piece of history and father to this important American political dynasty have a speedy recovery.