George H.W. Bush Has Been Admitted To The ICU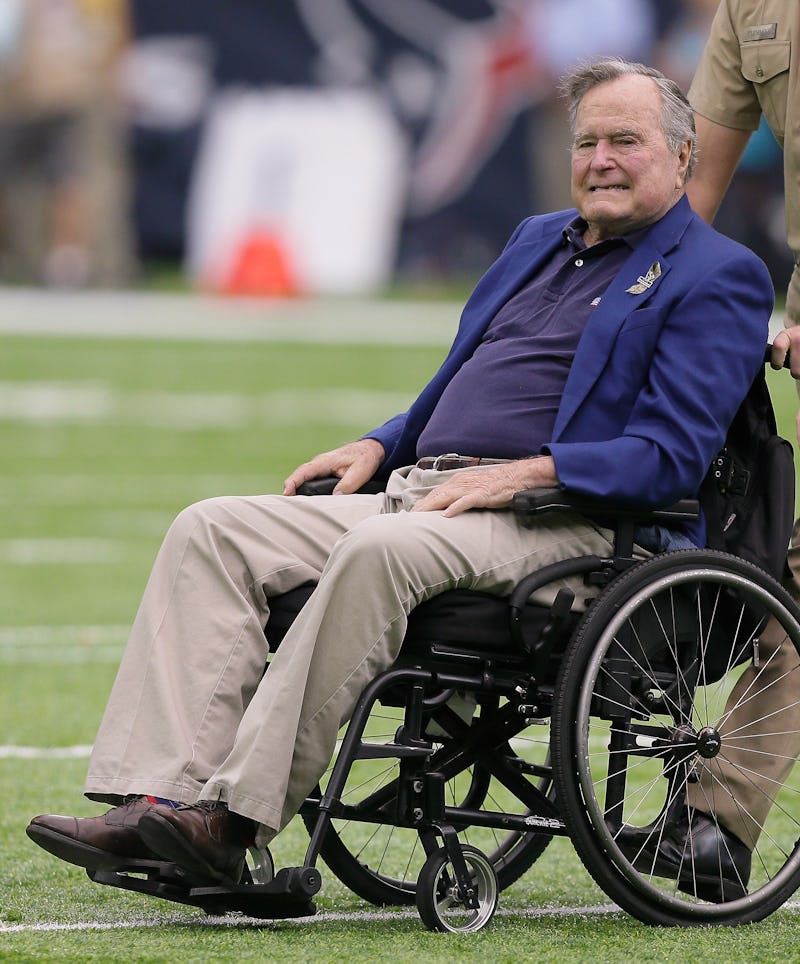 Bob Levey/Getty Images Sport/Getty Images
After being admitted to the hospital Saturday night and reportedly being in stable condition, a spokesperson said former President George H.W. Bush has been moved to the intensive care unit due to complications from pneumonia. According to the Associated Press, he was first taken to the hospital for shortness of breath and seemed to be responding well to treatments before needing to be admitted to the ICU at Houston's Methodist Hospital for a respiratory complication due to the pneumonia diagnosis.
Jim McGrath, a spokesperson for the Bush family, said the 41st president was suffering from "an acute respiratory problem stemming from pneumonia. Doctors performed a procedure to protect and clear his airway that required sedation." Bush, who is 92 years old and has suffered from various health issues over the years — including a form of Parkinson's and a fall that led to a broken bone — has been in the hospital for several days.
Former First Lady Barbara Bush was also admitted to the hospital soon after her husband. McGrath said her hospitalization was a precaution because she was experiencing coughing and fatigue. The couple just celebrated their 71st anniversary on Jan. 6 — they hold the record of being the longest-married presidential couple.
The Bushes were already not planning on attending inauguration. Even before the bout of pneumonia, Bush had written a letter to President-elect Donald Trump saying he wouldn't be able to make it due to health concerns. Bush wrote, "My doctor says if I sit outside in January, it will likely put me six feet under. So I guess we're stuck in Texas."
Despite rumors that Bush was supporting Hillary Clinton for president and the fact that he didn't attend the Republican National Convention, he still sent along a congratulatory tweet to Trump after the election, saying, "Barbara and I congratulate @realDonaldTrump, wish him well as he guides America forward as our next President. His family is in our prayers."
Now, many people are wishing the Bush family well in the hopes that both the former president and first lady recover soon.