You May Never Get To See Mueller's Full Report Thanks To This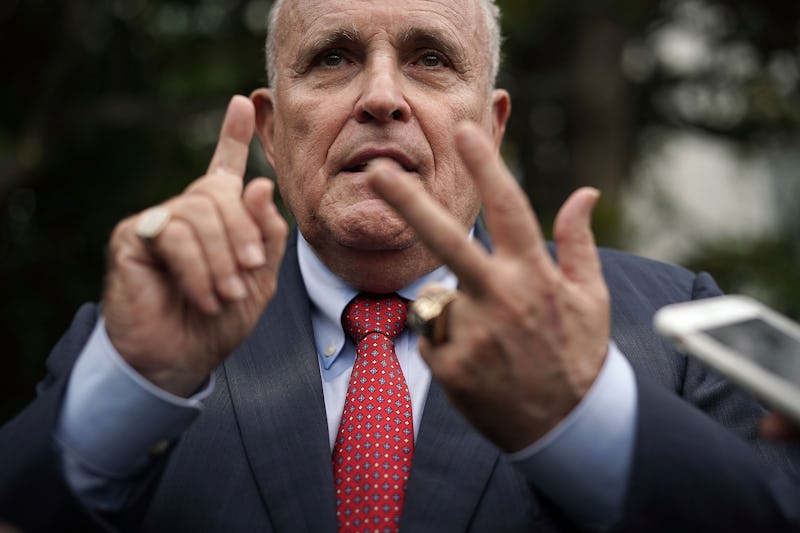 Alex Wong/Getty Images News/Getty Images
The president's lawyer has suggested the Trump administration may claim executive privilege in an attempt to stop a full release of Special Counsel Robert Mueller's report on the Russia investigation. In an interview with the New Yorker, Rudy Giuliani said the White House would try to block Mueller's Russia report from being released to the public in full.
"I'm sure we will," Guiliani told the New Yorker's Jeffrey Toobin when asked if he thought the White House would object to Mueller's report on the Russia investigation being publicly released in full after it's finished. But Giuliani was quick to add that it will be President Donald Trump who makes the final decision on the matter.
Following his investigation into Russia's meddling of the 2016 presidential election and allegations of collusion between the Trump campaign and Russia, Mueller is expected to file a report with Deputy Attorney General Rod Rosenstein. That report could, at Rosenstein's discretion, be made public.
But according to Giuliani, the Trump administration may have the means to keep at least some aspects of Mueller's report away from public scrutiny. "Giuliani pointed out a little-known aspect of the agreement that Trump's original legal team struck with Mueller: the White House reserved the right to object to the public disclosure of information that might be covered by executive privilege," the New Yorker reported.
Giuliani also told the New Yorker that his team was already in the process of preparing a report of their own, one they planned to release when Mueller's report was done. The aim of their report, Giuliani said, was to counter and refute the findings they expected to be included in Mueller's final report. And according to Giuliani, the so-called "counter-report" being prepared by his team was already 45 pages long and expected to grow.
"It needs a five-page summary — for me," Giuliani told the New Yorker.
But as both Vox and the Hill have previously pointed out, there's no guarantee that either Mueller or Rosenstein will even move to publicly release the final report on the Russian investigation. According to Vox, Mueller is only legally required to hand a report on the investigation and its findings to Rosenstein. And Rosenstein is not required to share that report with the public or even Congress.
President Trump has long called for the Russia investigation, which he had dubbed a "rigged with hunt," to end, arguing there was "no collusion" between his campaign and Russia. Last month, for example, Trump tweeted that "Attorney General Jeff Sessions should stop this Rigged Witch Hunt right now."
While Trump has previously attacked Rosenstein on Twitter, calling the deputy attorney general "conflicted" and reportedly mulling over a decision to fire him, he's recently appeared to change his tune. In August, Trump told the Wall Street Journal that he and Rosenstein had a "fantastic" relationship.
But while claiming executive privilege on behalf of the president might allow the White House to block some aspects of Mueller's Russia report from being made public, doing so could also fuel arguments for his impeachment by making it seem as if Trump was trying to hide something.