Glitter Freckles Have Arrived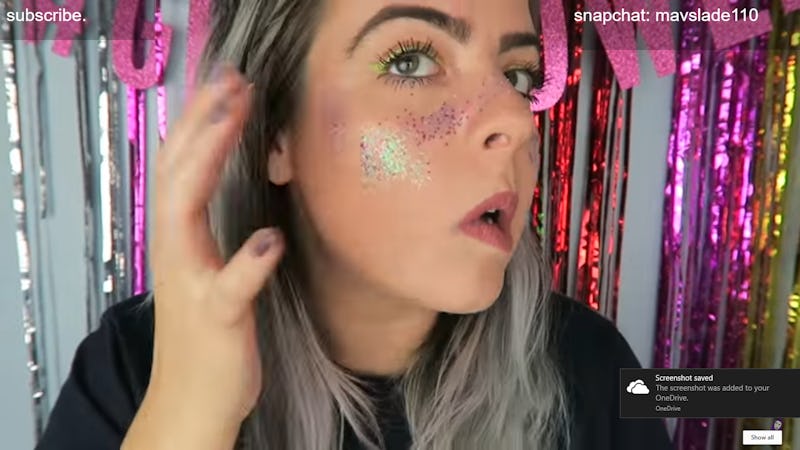 Oh, 2017, you're already shaping up to be a magical year of makeup, and it's only mid-January. I'm eternally grateful that you have decided to give the glitter freckles beauty trend a serious moment. Back when I was a kid, having freckles was the worst. When they popped up in the summer, we were thankful we weren't in school. We felt bad for the kids who had them year-round. We clumsily covered them up with our dusty compacts. Now, freckles are not only lusted-after beauty marks, they're something makeup and sparkle lovers are creating on their faces on purpose! With glitter! Kids these days, you really have no idea how good you have it!
OK, so as you know, sparkly, shimmering glitter freckles aren't exactly new to 2017. They've been floating around here and there for a year or two, mostly on the festival scene. But 2017 promises to be the year they're both perfected and everywhere. They're no longer just festival style. They're a full-fledged part of the self-expression arsenal. And how amazing is that? As make up artists and social media superstars continue to push the boundaries of beauty, we're gifted with more ways to be our true selves. So, if you're like me, and you've been waiting for a face full of glitter to have it's moment, I welcome you to 2017 with open arms. Go forth and be the glitter-freckled sparkle face that you are on the inside. And watch these tutorials to learn how.
1. Chunky Sequins
Chunky gold sequins are kind of like the nude lip of this trend. They go great with neutral palettes. Plus, because they're larger pieces of glitter, when they catch the light, you will basically radiate golden light from your face. It's a glow no regular powder highlighter can match.
2. Iridescent Shimmering Freckles
If gold chunky sequins are the nude lip of glitter freckles, then light, whispy, iridescent glitter is the shiny lip gloss. This look is softer and less in-your-face, so if you're looking for less unicorn party and more fairy nap, this is the glitter freckle look for you.
3. Natural, Precise Glitter Freckles
If you don't want to smear glitter all over your face, but you still want in on the fun, I see you. This one's for you. By applying individual pieces of glitter in a gradient that starts out heavier at the nose and fades out, you add a little bit of sparkle without being blinding. Think of this as the business casual of glitter freckles.
4. Star Freckles
You're a star, baby! There's no rule that says your glitter has to be any one size, shape, or color. If you want something that will pop a little more, try larger, shaped glitter, like these silver star glitter freckles. They're held on with eyelash glue, but you can use aloe vera gel or Vaseline and lock it in with primer (or hairspray if your skin can handle it).
5. Foiled and Flaky
If you're a flaky nail polish addict, this look is for you. The glitter freckles are made from shiny, reflective foils, so they're kind of chunky and kind of soft at the same time. Applying them mainly to the center of the face also adds a killer highlight that will make your concealer jealous.
6. Bold And Matchy
Red eyes, red glitter. Enough said. Is is just me, or does the glitter make these intense eyes pop even more? This is just one example of how you can use color in this look.
7. Glitter In Varying Sizes And Colors
Different colors. Different sizes. Anything goes! There are no rules in the glitter freckle game.
The best thing about glitter freckles is that, unlike with glitter eye looks, you can use up that craft glitter you have laying around. You don't have to opt for the eye-safe cosmetic glitter as long as you're careful. Heck yes. So there you have it. Go forth and take this trend from the festivals to the classrooms and boardrooms.
Images: Mavis Slade/YouTube