I Tried The New Glossier Mascara That Everyone On Instagram Is Going To Be Posting About Soon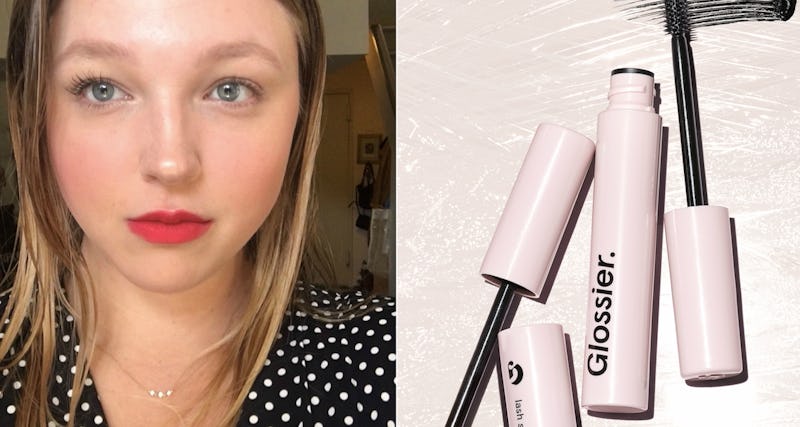 Courtesy Olivia Muenter; Glossier
You've probably heard of Glossier by this point. If not, you probably have without realizing it. Yes, it's that cool, millennial pink brand that you've seen all over Instagram. And now, Glossier's new mascara called "Lash Slick" has arrived, a response to the requests the brand's mascara fans of the brand have been voicing for years. While I appreciate Glossier for what it is (the branding, the packaging, the "skin first" philosophy), I'm not a diehard fan. I don't immediately assume everything Glossier creates will be flawless. This is makeup and skin care, after all. No brand is perfect (even if it is perfectly branded). However, a perfect mascara? Glossier may have almost figured that out with its newest product.
Here's the thing with mascara: everyone wants something different. Some people want thick, jet black eye lashes. Other people swear-off clumps and want every lash perfectly separated. Some people want both. Almost everyone wants them to be extra-long, sure. But some people want waterproof while other people want the mascara to come off easily with makeup remover. Some people want different mascara for every occasion Me? My dream mascara is lengthening and thickening while not clumping. It's easily removable at the end of the day, but doesn't smudge. And Glossier's Lash Slick may have just answered almost all of my mascara needs.
Lash Slick, $16, Glossier
The $16 mascara comes in (of course) a pink tube with simple branding, and the wand is incredibly thin and flexible, making it easy to separate each and every lash. It's also excellent for the lower lash line. The mascara doesn't add quite as much thick-ness to the lash as I would have liked, but the way that it adds dimension and length to the lash is an effect in and of itself.
The result are long, wispy lashes that look like a notably enhanced version of your natural lashes. And the best part? It doesn't smudge at all. I made a point to rub my eyes a few times throughout the day (on what was quite a hot day in New York, too) and it didn't move at all. I was extremely pleased. All in all, this is a great product, and given how much time it took to create, the quality makes sense.
Me with five to six coats of Lash Slick on my right lashes and nothing on my left lashes.
"It took us 18 months, 248 iterations, and a trip to Tokyo to develop the perfect formula for a natural-looking mascara that delivers what Boy Brow does for your brows, but for your lashes," a rep from the brand tells Bustle in an email. "Lash Slick curls and sculpts as it lengthens to enhance the look of your natural lashes instead of clumping them together or drowning them in product. It's also long lasting and water-resistant (not waterproof) so it washes off easily with warm water at the end of your day."
Me with 5 - 6 coats of Lash Slick on my right lashes and nothing on my left lashes.
This water-resistant, not waterproof factor is hard to find in mascara, but when it comes to this product, the people at Glossier have figured it out. This may not be a mascara for a big night out, but for an everyday go-to product, it's ideal.
Personally, this is my dream everyday mascara, and I'll be adding it to my everyday rotation of makeup. Plus, this is Glossier we're talking about, so it's pretty to look at — and that never hurts, either.