The Look On GOP Senators Faces While Christine Ford Testifies Is Hard Not To Notice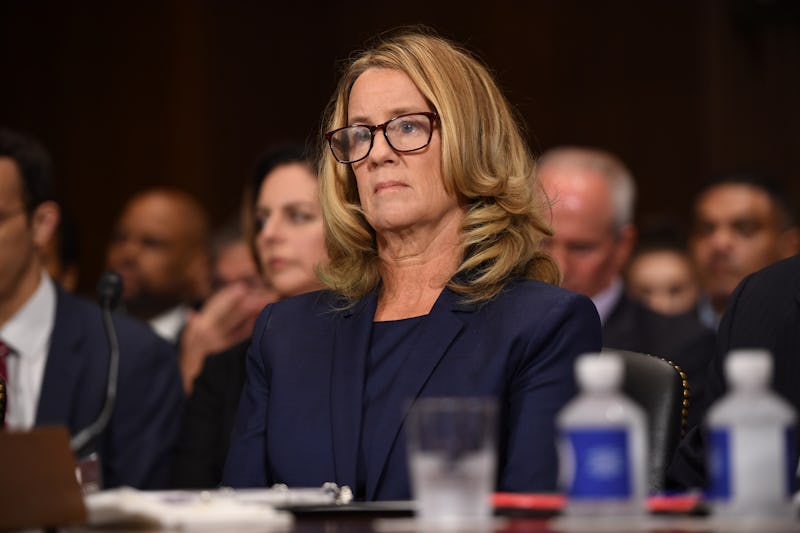 Pool/Getty Images News/Getty Images
On Thursday morning, California professor Christine Blasey Ford testified before the Senate Judiciary Committee about the sexual assault she accused Supreme Court nominee Brett Kavanaugh of, which Kavanaugh has categorically denied. During the testimony, The Washington Post's White House reporter Seung Min Kim tweeted a photo that showed the Republican senators' facial expressions as Ford spoke about her allegation against the SCOTUS nominee.
The looks on the Republican senators' faces are hard to miss. It's a tweet that has taken off on Twitter where social media users have given their own interpretations and takes. Of course, it's impossible to tell what the senators are thinking in the photo, but you can see a range of GOP members, from Texas Sen. Ted Cruz, Arizona Sen. Jeff Flake, Utah Sen. Orrin Hatch, Nebraska Sen. Ben Sasse, and others.
Sitting in front of these senators in the photo is Arizona-based prosecutor Rachel Mitchell from the Maricopa County Attorney's Office. In spite of the presence of a prosecutor like Mitchell and the line of questioning that came from her as well as other senators, it is significant to mention here that Ford was not on trial on Thursday.
In a written testimony provided on Sept. 26, Ford said, "I am here today not because I want to be. I am terrified. I am here because I believe it is my civic duty to tell you what happened to me while Brett Kavanaugh and I were in high school."
In another photo, New Yorker's Osita Nwanevu tweeted a photo of the row of white male Republican senators that Ford was looking at throughout her hearing. "This is what Christine Blasey Ford is looking at as she describes her sexual assault," Nwanevu tweeted.
The writer then added in a separate tweet, "I mean this literally. The Democrats are there, of course, but from her angle at the table, the GOP side of the semicircle is right in front of her."
As it is with such monumental hearings, the optics of the testimony and the questioning are heavily discussed in media. In the case of the California professor appearing in front of the Republicans and Democrats, people noted several things.
Among them was BuzzFeed News reporter Molly Hensley-Clancy. She tweeted, "I think it matters that, because of the way Republicans have structured this, every single male Democratic senator is getting a chance to express gratefulness, kindness, and compassion to Dr. Ford. None of the Republicans have been able to, even if they wanted to."
At different points of the hearing, Democrats vocalized their gratitude for Ford for sharing her experience and coming to Capitol Hill in spite of her fear of flying and speaking out publicly. In his opening remarks to Ford, Connecticut Democratic Sen. Richard Blumenthal took a moment to thank Ford in detail.
"You have given America an amazing teaching moment," the senator said. "You have inspired and enlightened America. You have inspired and given courage to women to come forward." It is at this point in the hearing during the senator's remarks that one can see a quiet Ford holding her tears back.
If you or someone you know has been sexually assaulted, call the National Sexual Assault Telephone Hotline at 800-656-HOPE (4673) or visit online.rainn.org.