Greta Van Susteren Is Moving To MSNBC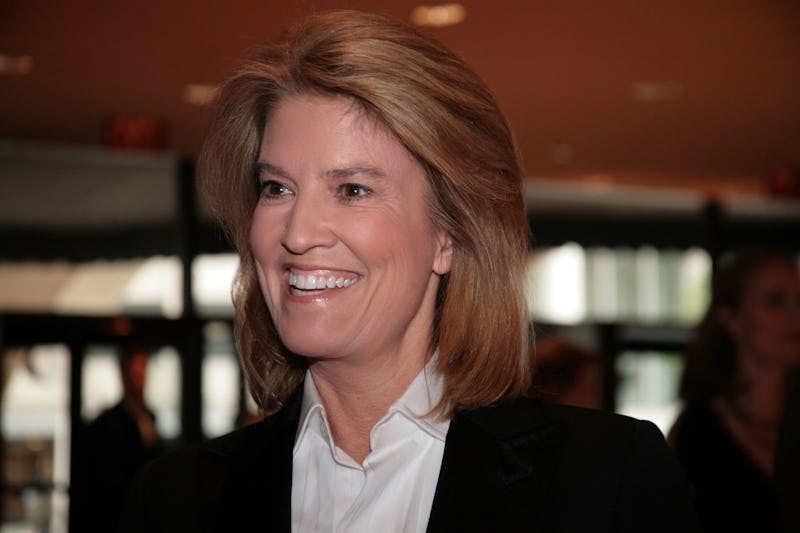 Nancy Ostertag/Getty Images Entertainment/Getty Images
Television news anchor and Fox News alum Greta Van Susteren will be joining MSNBC starting Jan. 9, as announced by the network on Thursday. She will have her own news-focused show called For the Record with Greta, set to air weekdays at 6 p.m.
Van Susteren, who abruptly resigned from her Fox News show On the Record in September 2016, is quoted in MSNBC's announcement statement saying:
I'm thrilled to start my next chapter at MSNBC... The network is the right destination for the smart news and analysis I hope to deliver every day, and I look forward to joining the talented journalists and analysts I respect there.
MSNBC President Phil Griffin also expressed his joy at having Van Susteren on the team, hailing her as a "true pro with a proven record of tough journalism."
Van Susteren's network move is one of two high-profile news anchor switch-ups making headlines in the new year. Earlier this week, reports that Megyn Kelly would be leaving Fox News to join the NBC team sent the internet into a tizzy.
Together, MSNBC and NBC seem to be hoping to add more conservative credibility and voices to their news show lineups. Only time will tell how these additions will affect viewership at the respective networks.
Van Susteren hosted her previous show on Fox News for 14 years before leaving shortly after the very public resignation of former chairman and CEO Roger Ailes, whom she defended against former network anchor Gretchen Carlson's accusations of sexual harassment. Upon her departure, Van Susteren posted a message to Facebook which expressed that she had been unhappy at Fox "for a few years."
Her latest social media communications have a more joyful tone, as she has been thanking well-wishers on Twitter since word of her move broke this afternoon. In keeping with her reputation as a frank news anchor, Van Susteren told one tweeter that the network change wouldn't effect her point of view or delivery:
The addition of Van Susteren is in keeping with MSNBC's move away from "left-wing TV," as one network source divulged to the Daily Beast in 2015. Hers and Kelly's successes in their new positions could pave the way for NBC, MSNBC, and other networks traditionally considered left-leaning to add more conservative anchors to their rosters. Such a shift could prove to be a huge blow to Fox News, who, even despite Van Susteren's departure, ended 2016 as the most watched of the cable TV networks. However, even if the channel begins to enter its decline, Kelly's and Van Susteren's moves ensure that the Fox News spirit is sure to be present elsewhere in the cable news landscape.