Hailey Baldwin's 'Bieber' Diamond Necklace Probably Costs More Than Your College Education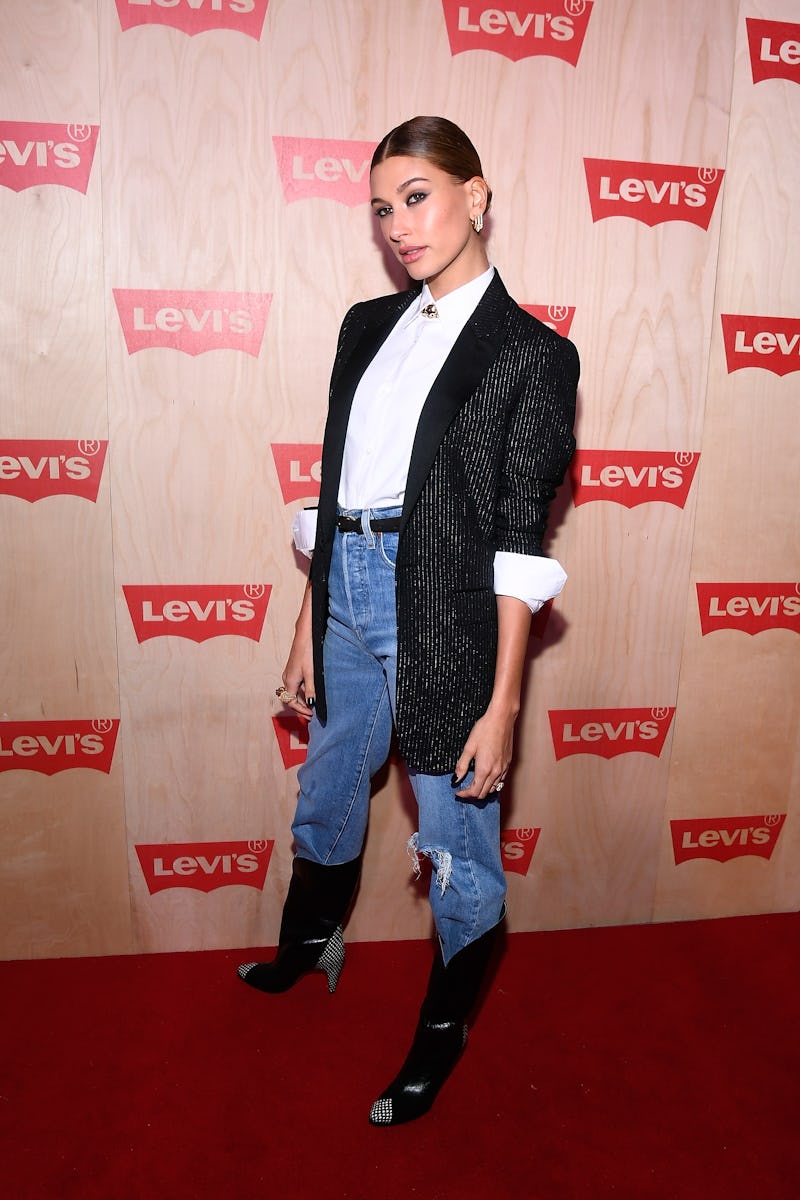 Dave Kotinsky/Getty Images Entertainment/Getty Images
Surprise! Hailey Baldwin isn't Hailey Baldwin anymore. She's now Hailey Bieber, and she's letting the whole world know in as many ways as possible. This time, it's not her Instagram handle, though. Hailey Baldwin's 'Bieber' diamond necklace may just be the most extravagant way to announce a new surname, and if we're being honest, this necklace probably cost more than your college education.
According to Cosmopolitan, Baldwin appeared on her Instagram stories wearing a giant bubble letter necklace in the shape of her new last name, and it wasn't just the casual name necklaces you find in your local Claire's or the one that Carrie Bradshaw was known for rocking in Sex and the City. No, this beauty was made of full on diamonds, and it looked like you could potentially sell it off and go buy a really nice car instead (or pay off those student loans of yours).
The magazine goes on to explain that this is far from the model's first time wearing her new name in some way. It's actually become kind of a thing for her. She's gotten a jean jacket with Bieber on the back and she and her husband Justin Bieber wore matching jerseys to a hockey game. Clearly, these two are in the new last name phase of their honeymoon period.
Baldwin and Bieber aren't shy when it comes to showing their love for one another. Not only are they now rocking Mr and Mrs garb and their name on clothing items, but they're also not exactly demure on social media either (and why should they be?). Since they shocked the world with their engagement, the pair have been open with the PDA on their social media accounts, and Bieber even went so far as to post an entire Instagram declaring his undying love for her. Honestly, it's kind of cute in a way, right?
Of course, Bieber and Baldwin don't just wear their now shared last name on clothing to declare their love. They've made it permanent, too. According to Page Six, Bieber and Baldwin got tattoos to celebrate their love. In fact, Bieber's tattoo is on his face, just above his eyebrow. Unfortunately, it's nearly impossible to read from the photos that have emerged. As for Baldwin, their tattoo artist, Bang Bang, didn't give up any information on her marital ink to the Page Six, so her tattoo still remains a mystery.
Bieber and Baldwin, however, aren't the only celebrity couple to be so up front about their love for one another. Before their split, Ariana Grande and Pete Davidson also got a handful of matching or coordinating tattoos with one another. Plus, like Bieber and Baldwin, they weren't exactly shy about their social media PDA.
Hailey Baldwin's 'Bieber' necklace is just the next in a long line of ways she and her husband show their love for one another. The difference? Baldwin's necklace could probably get you another degree, or a car, maybe even a down payment on a house.