This Hair Cleanser Wants To Replace Your Shampoo AND Conditioner For Good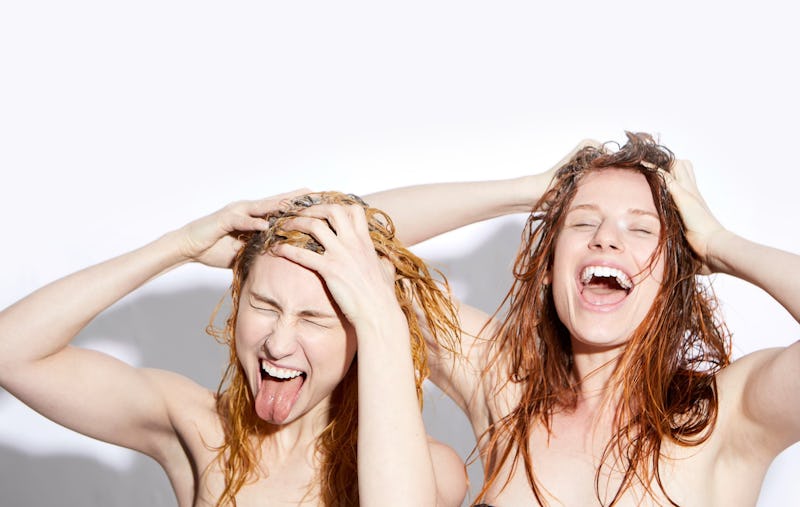 Hairstory
You probably have heard it a thousand times before in the natural beauty world: Shampoo does more damage than good, and you should nix it from your shower routine. But if you end up with a greasy, limp mess within three days and can't go to work looking like you skipped your morning shower, then there's a new product that can help. Hairstory just launched "New Wash Deep," a detergent-free formula that washes hair without stripping it, instead using a blend of essential oils and naturally-derived saturated cleansers.
Over a hundred years ago, in 1908, The New York Times published on "How to Shampoo the Hair" once every two days using Castile soap, which is an olive-oil-based hard soap. But those detergents used in soaps and shampoos are at the root of your hair issues — causing dryness, frizziness, and damage — which causes you to go back to the store and buy more serums, lotions, and masks to fix the damage of the stripping ingredients.
All shampoos use some form of detergent, which over-cleans your hair and strips your tresses and scalp of its natural protective barrier, and forces your body to respond by over-producing oil to protect you. This makes your hair become oilier faster, and forces you to use more shampoo, which makes it the perfect cycle for beauty companies.
Enter Hairstory. Wanting to break the cycle of hawking damaging products only to sell you more products to fix those problems, they created natural-based washes and balms to set your scalp right.
To understand how their washes are different from shampoos, you first have to understand how detergents work. All detergents are made from chemically bonded amphiphilic substances, meaning they have one side that loves water and one side that loves oil. The oil-loving side attaches itself to to the oil and dirt on your head (which is good,) but when you rinse, the water-loving side clings firmly onto water and strips more oil than it should as the soap runs down the drain (which is bad.)
New Wash also cleans with amphiphilic substances, but theirs are naturally derived. The oil-loving side is just as strong as detergent, but the water-loving side is much, much weaker. So when you rinse your head, you only pull away excess oil (and not all of your oil,) since the bond isn't strong enough to pull away more.
They launched their business with New Wash, which shampoos, conditions, detangles, and repairs all in one go — but just updated their list with New Wash Deep and New Wash Rich.
New Wash Deep is targeted for those with extreme oiliness or people who simply want a deeper clean. Adding apple cider vinegar and argan oil to the formula, it gives you a boost when it comes to tackling dirt.
New Wash Rich is for people who have extra dryness and feel like their hair needs some extra conditioning. Made for natural, thick, thirsty, or damaged hair, it both gently cleanses and deeply conditions.
If you're curious about the ingredients in each of these products and what they do for your hair, the brand believes in complete transparency and has a full list under each of their products. If you hover your cursor over each ingredient, a pop-up appears explaining what it does to benefit your scalp or hair, so you can be rest assured that there aren't any damaging or filler ingredients used.
You can also take a quiz that's available on the front page of the site (just scroll down a little,) which will explain which product would be best for you. It asks you things like your hair texture, how oily your scalp is, whether or not you color or process your hair, and your age, which all factor into what kind of cleanser you would need.
If you have been looking for a way to break free from your shampoo and conditioner, Hairstory just might be your ticket out.