The Real Secret To Getting More Women Hired In Hollywood Is Mind-Numbingly Simple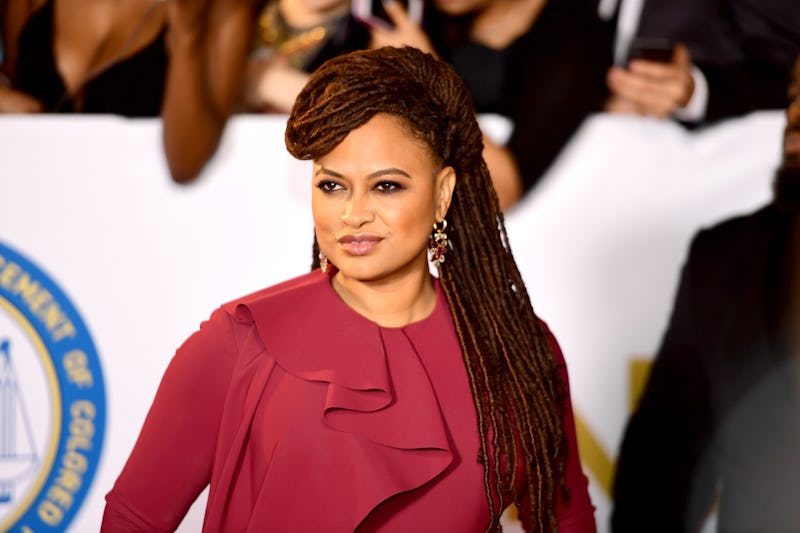 Matt Winkelmeyer/Getty Images Entertainment/Getty Images
In 2018, it's a truth universally acknowledged that women who work behind the scenes in Hollywood have it rough. Like, really, really, rough. In fact, in 2017, women held just 18 percent of key behind-the-scenes roles in the top 250 grossing films of the year. It's a sad reality, and no one is more aware of these dismal statistics than Amy Adrion, the director of Half the Picture, a documentary about female directors in Hollywood that debuted at Sundance Film Festival this year. But luckily, Adrion has the solution to getting more women hired behind the scenes — if only Hollywood would listen.
"Directors are in a gateway position. When you have a woman director, statistically it's been shown that you'll have more women producers, cinematographers, editors — more women in key positions," she says during the Sundance premiere party for her film. "If you want to make a change, hiring a woman director can open those doors for other women."
And she's right. A 2015 study from Martha Lauzen, the director at the Center for the Study of Women in Television, found that female directors are more likely to hire other women in behind the scenes roles. The study examined 700 films released in 2014 and found that on film sets where one-third or more of the producers and directors were women, the number of writers, editors, and cinematographers that were women more than doubled.
And while it seems like a simple enough solution to hire female directors, getting women to helm major studio films is no easy task. They are more than willing, but Hollywood may not be willing to give them a fair shot. "The numbers for directors are horrible. About four percent of top feature films are directed by women," Adrion says. Luckily, 2017 boasted slightly higher numbers than Adrion quoted. According to the 2017 Celluloid Ceiling study, 11 percent of the top 250 grossing films were directed by women. Even so, 11 percent is nothing to celebrate.
"You talk to people in Hollywood and they'll say, 'Well this is a business. This isn't a charity. We aren't here to give jobs to people just because.' But statistically, research shows that the films made by women make money, so that argument isn't bolstered by facts," Adrion says.
The statistics are alarming: If you look at the summer of 2017 alone, female directed films utterly crushed it. Wonder Woman's opening weekend marked the highest ever for a female director, Stella Meghie's Everything, Everything brought in 11.7 million its opening weekend, and Rough Night, directed by Lucia Aniello, brought in $8.1 million its premiere weekend. Clearly, when given the chance and the resources, women can bring in serious bank.
"You have hitmakers like Catherine Hardwicke (Twilight), Kimberly Peirce (Boys Don't Cry, Carrie) and Sam Taylor-Johnson who did Fifty Shades of Grey... these women who had blockbuster films, and then they don't get that next big film. It's like, what are the goal posts here? What standards are we working with for women? They are definitely different than men."
Hardwicke, who broke box office records with Twilight — try $400 million worldwide — famously took a pay cut for subsequent projects. She told Variety: "I guess I thought after the success of Twilight, I might have had a bigger opportunity instead of a smaller one."
And this was someone who had proven they could make a wildly successful film. It's even tougher for female directors who, god forbid, have a flop. "This is a business where no one bats a thousand," Adrion says. "All of your favorite directors — Christopher Nolan, Paul Thomas Anderson, whoever — they've all had failures, but then they make that next big film. Women don't get that chance — if you have one failure you're in director jail forever."
While the stats are undeniably disheartening, Adrion, who spent two years making this documentary by interviewing some of the most well-known female directors working today, isn't entirely pessimistic about the future for women behind the scenes.
"I'm an optimist. I don't think we've seen any change in feature films statistically, but there is this movement. You have directors like Ava Duvernay and Jill Soloway talking about why inclusion is so important. Natalie Portman is speaking up at the Golden Globes."
But for the statistics to really change, Hollywood gatekeepers need to take note. "It's great to have panels about it, mentoring programs, initiatives, but ultimately you have to start hiring women. People who can hire women need to hire women. They need to fund women's stories. We as the audience need to support women and diverse stories."
The solution is simple, but the path to getting there will be lined with obstacles. So if the next Star Wars movie wants to give a female director a shot, it would likely employ more than one woman in need of a job.
This article was created in support of Bustle's Awards Season Pledge. Read more here.