You Can Get 30% Off EVERYTHING At H&M's Black Friday Sale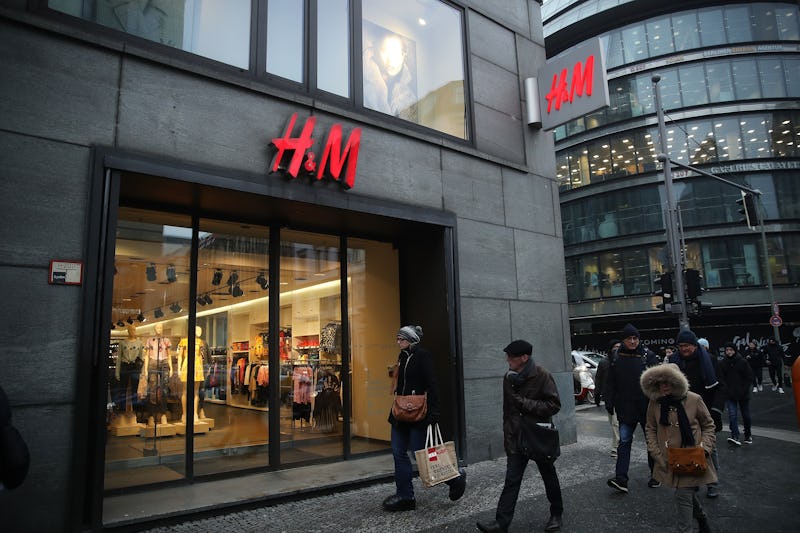 Sean Gallup/Getty Images News/Getty Images
Beggars aren't usually choosers when a brand unveils its discounts on particular products for its seasonal sales. But if there's one thing you've learned throughout your routine shopping trips is that while money isn't everything, it can get you some cute clothes from H&M during its Black Friday and Cyber Monday sales.
Since getting over the heart-eyed mania circling the H&M x Moschino collection, shoppers can get back to admiring the classic and elegant looks brought by H&M (offers sizes XS-4X). During the holidays, you start to adore fall and winter even more after seeing the brand's mannequins dressed up in chic top coats and cashmere sweaters on discount.
According to an H&M representative, the store's Black Friday sale includes a 30% discount on your entire purchase. So stack up what you want in your cart and chop your total at the end. If you miss out in stores, though, the sale continues online for Cyber Monday, taking off 30% for all online orders.
Just because the big designer collab may be over, the closet shopping craze is still in full affect at H&M for the holidays.
If you're having trouble navigating what's worth your coin, here are the best picks to make your wardrobe look fierce.
30% Off Jacket Dresses
Blazer dresses are one of the biggest fads as of late, so nab this luxe-looking jacket dress that'll be $55 after the discount.
$20 Rib-knit Sweater
If you've been looking for a Ron Weasley sweater knockoff, this ribbed knit sweater is a dead-ringer for it (minus the lettering). Something cozy and under $20 is pretty much a must-have in these cold times.
$24 Patterned Dress
This flouncy dress with a V-shaped cut out in the back makes for perfect look at your next get together. No matter which angle you turn, it's a party in both the front and the back.
30% Off Pile-lined Parka
Parkas have yet to go out of style during the fall an this mustard-colored one is giving off Johnny Tsunami vibes.
$17 Knit Turtleneck Sweater
The best time to wear a turtleneck sweater is literally all the time nowadays. Skip out on the scarf and throw on a turtleneck to complete a fall look.
$42 Lace Dress
Some people think strictly wearing sequins means it's a holiday dress, but once a little lace is in the mix like this mid-length dress, you'll dress a little more out of the box for your next gathering.
$13 Skinny Jeans
Getting denim for under $20 seems like a myth, but these simple skinny jeans will only cost a little over $10 for a dressed down ensemble.
$70 Puff-sleeved Dress
A dress with a statement sleeve is enough to make the room pause and ask where you got it from. Once you reveal this piece is H&M, just watch how their jaws drop.
$35 Double-breasted Jacket
What was originally a $59.99 jacket will be marked down to $35 on Black Friday. You can sport this sleek fit year round, and with that much versatility, why wouldn't you put this on your shopping list?
Let the countdown begin, shopaholics! For this holiday shopping season is dropping some killer deals to help you dress your absolute best.