There Was So Much Blacked-Out Info In The Mueller Report That Twitter Made It A Meme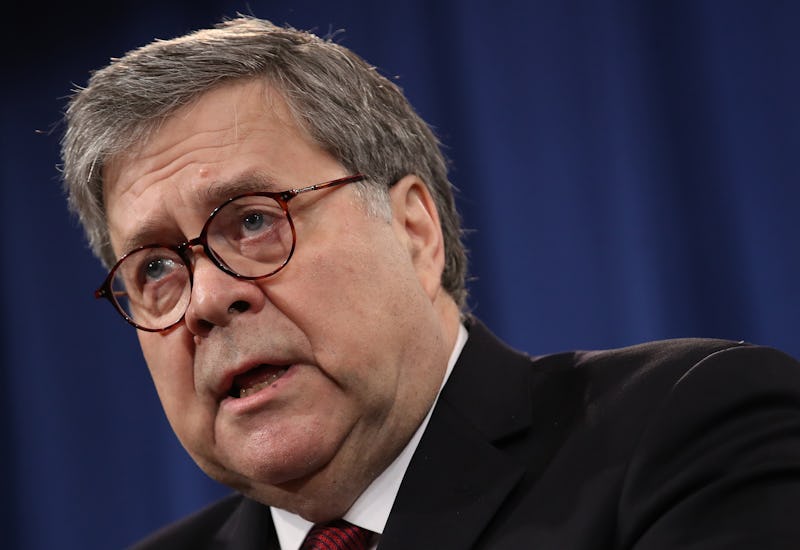 Win McNamee/Getty Images News/Getty Images
On Thursday morning, Attorney General William Barr issued a redacted version of Special Counsel Robert Mueller's report on his Russia probe. According to a press conference Barr gave prior to publicly releasing the report, the Justice Department redacted content from the report pertaining to four categories of information. However, it's the "harm to ongoing matter" redactions in the Mueller report that have social media users amused.
Various portions of Mueller's report were redacted due to the possibility of "harm to ongoing matter." In his press conference, Barr suggested that these portions of the report were withheld from the public because they could negatively impact current criminal cases, such as the Roger Stone case. Information relating to "personal privacy," "investigative techniques," and "grand jury" were also redacted, but it was the large blocks of text redacted due to "harm to ongoing matter" that garnered the most attention on social media.
Twitter users joked that "harm to ongoing matter" could be anything from an album title to a playful quip in response to any inquiry. The redactions prompted numerous memes and jokes on social media, particularly because certain points of Mueller's report revealed entire pages blacked out. Below is just a small selection of what Twitter users came up with.