Harvey Weinstein Gets Kicked Out Of The Academy As Allegations Continue To Pile Up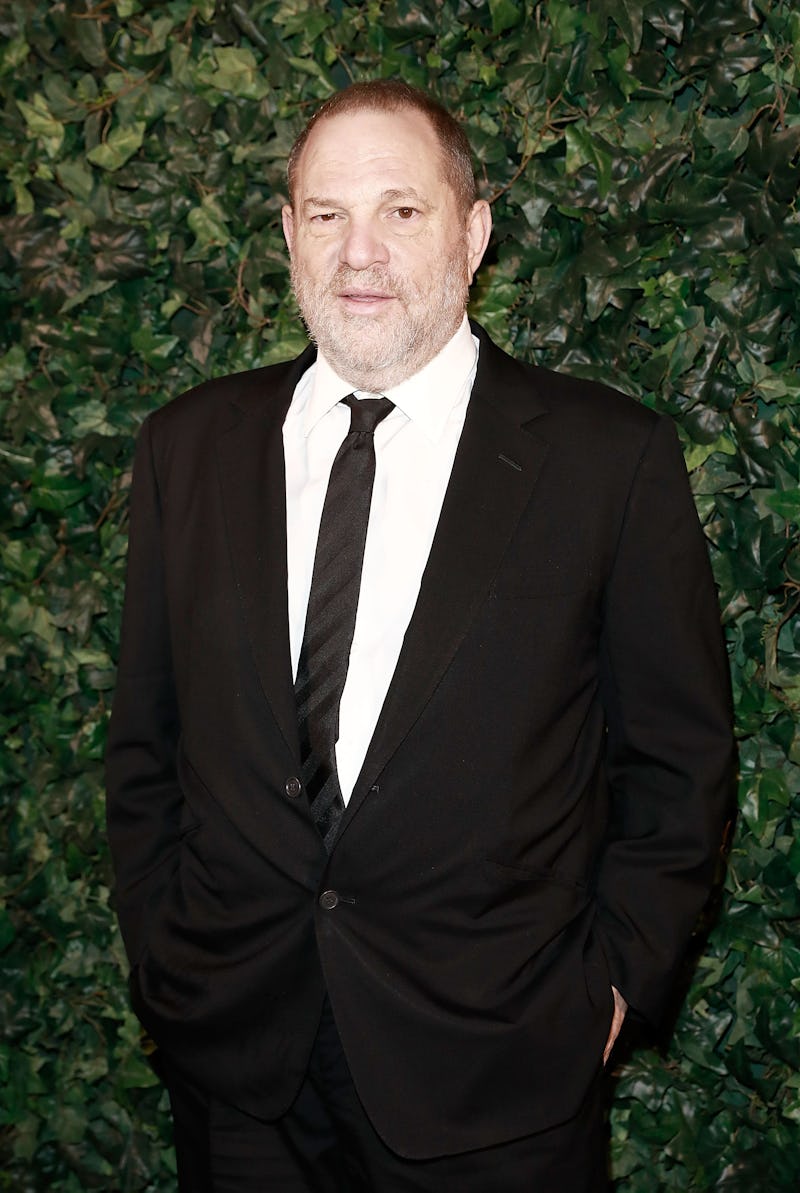 John Phillips/Getty Images Entertainment/Getty Images
Over the course of the past week, Harvey Weinstein's name has spurred endless headlines. After the New York Times' bombshell report on Oct. 5 uncovered nearly three decades' worth of sexual harassment allegations, Weinstein has been kicked out of the Academy of Motion Picture Arts and Sciences on Saturday, Oct. 14, according to The Hollywood Reporter. The group reportedly held an emergency meeting, where Weinstein was voted out by more than a majority of members.
Per the Huffington Post, the Academy released the following statement:
"The Academy of Motion Picture Arts and Sciences Board of Governors met today to discuss the allegations against Harvey Weinstein, and has voted well in excess of the required two-thirds majority to immediately expel him from the Academy.
We do so not simply to separate ourselves from someone who does not merit the respect of his colleagues but also to send a message that the era of willful ignorance and shameful complicity in sexually predatory behavior and workplace harassment in our industry is over."
The organization, which is responsible for presenting the Oscars each year, is sending a strong message, especially by emphasizing the end of "the era of willful ignorance and shameful complicity." Their statement also called the situation "deeply troubling," adding that they will continue "to work to establish ethical standards of conduct that all Academy members will be expected to exemplify."
Ever since the NYT published their initial report, which include sexual harassment allegations, as well as the news of at least eight women reportedly receiving settlements from Weinstein, more members of Hollywood have come forward with allegations against the producer. Earlier this week, the New Yorker published their own report after interviewing 13 women about Weinstein, including allegations of rape. A spokesperson for Weinstein told the publication, "Any allegations of non-consensual sex are unequivocally denied by Mr. Weinstein. Mr. Weinstein has further confirmed that there were never any acts of retaliation against any women for refusing his advances."
When the news first broke of the allegations, Weinstein released a statement to the Times, apologizing for his behavior, saying, "I appreciate the way I've behaved with colleagues in the past has caused a lot of pain, and I sincerely apologize for it." Meanwhile, Lisa Bloom, who has since stepped down as Weinstein's legal advisor, told Bustle in a statement at the time, "He denies many of the accusations as patently false." His attorney, Charles Harder, told THR that they were planning a lawsuit against the Times, describing their report as "saturated with false and defamatory statements about Harvey Weinstein."
Last Sunday, Weinstein was fired from The Weinstein Company "in light of new information about misconduct," according to a statement. His brother, Bob Weinstein, recently told The Hollywood Reporter, "I want him to get the justice that he deserves," adding, "I was sick and disgusted by his actions." Additionally, his wife, Georgina Chapman, announced she's leaving him. She said in a statement to People, "My heart breaks for all the women who have suffered tremendous pain because of these unforgivable actions."
To date, actors ranging from Ashley Judd to Angelina Jolie to Gwyneth Paltrow have all come forward with harassment allegations against Weinstein. Meanwhile, others in Hollywood, including Meryl Streep, have applauded the women and condemned Weinstein's alleged behavior. One of the most vocal in speaking out has been Rose McGowan, who's used Twitter to call on the rest of the Weinstein Company's board to be dissolved. She's also asked other men in Hollywood to step up and be allies.
It was noted in the Times article that McGowan reportedly received a settlement following an "episode" with Weinstein in a hotel room at Sundance in the '90s. Reps for Weinstein did not confirm to the Times who paid these settlements or comment on them. However, the Times cited a legal doc that said the settlement was "not to be construed as an admission," but instead was a way to "avoid litigation and buy peace."
As for what happens next, the Hollywood Reporter confirmed on Thursday that the NYPD is investigating Weinstein for an allegation from 2004; a spokesperson for the producer had no comment when Bustle reached out.
If you or someone you know has been sexually assaulted, call the National Sexual Assault Telephone Hotline at 800-656-HOPE (4673) or visit online.rainn.org.