Harry Potter World Has A TON Of Holiday Decorations — And You Can Get Them All Online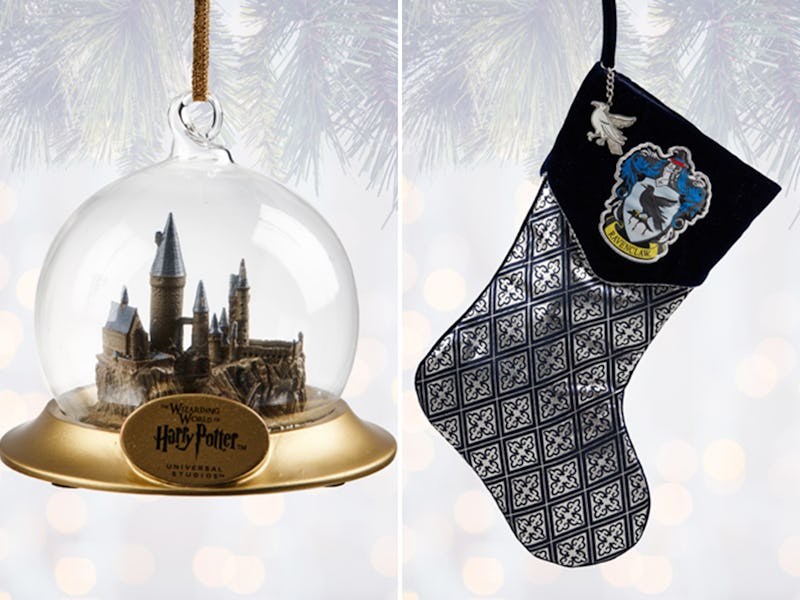 Harry Potter is not a Christmas book nor film, yet, inexplicably, it is forever united in my mind with the holiday season. There's a little file in my brain labeled "Christmas," and stuffed inside you'll find the recipe for Butterbeer, my blue and silver Ravenclaw scarf, and an image of Hogsmeade's main stretch of quaint, stone and wooden building, all covered in snow.
In mid-November, I visited the Wizarding World of Harry Potter at Universal Studios in Orlando, Florida, just as the holiday celebrations began in earnest. This only exacerbated that feeling of Christmas cheer that somehow accompanies a book about dark magic. Despite the sticky Florida heat, I was firmly convinced that I had traveled to an alternate reality where it is Christmas all year long. Perhaps it was the lights show at Hogwarts Castle or maybe it was Celestina Warbeck's holiday set, but I left the park feeling more than ready for the season of good cheer to arrive.
Luckily, while at the park, I also got most of my holiday shopping out of the way. There's tons of Harry Potter gifts to be found at Universal Studios, and for the next few weeks, you'll also be able to pick up Harry Potter holiday decorations. But you don't have to be in Orlando to snag some of these items — they're all available online. Here are the TK most magical holiday accessories from the Wizarding World of Harry Potter: