Here's What We Know So Far About Christine Blasey Ford's Planned Testimony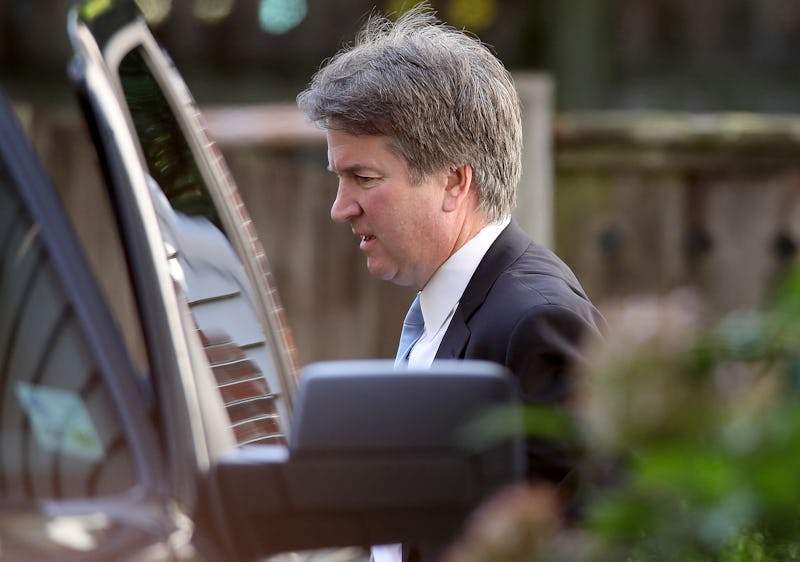 Win McNamee/Getty Images News/Getty Images
The chair of the Senate Judiciary Committee set a Saturday deadline for Judge Brett Kavanaugh's accuser to agree to testify. Her lawyer responded to try and work something out, and after a late call on Saturday night, both sides seemed to reach a tentative agreement, The New York Times reported. Christine Blasey Ford will testify on Thursday according to the paper — although the details have not yet been worked out.
Ford's lawyers planned to speak with aides to the committee chair, Sen. Chuck Grassley, a Republican from Iowa — as well as aides to the ranking Democrat, Sen. Dianne Feinstein of California — to work out the conditions of her testimony early Sunday, The New York Times reported.
Ford accused Kavanaugh of attempting to rape her when they were both high school students in the 1980s, a charge he denies. Bustle has reached out to Kavanaugh for comment.
On Saturday, Ford's lawyers contacted Grassley to meet his 2:30 p.m. Eastern Time deadline to confirm her willingness to testify. He had threatened to move on and hold a vote Monday if Ford didn't commit to appearing.
"Dr. Ford accepts the Committee's request to provide her first-hand knowledge of Brett Kavanaugh's sexual misconduct next week," Debra Katz and Lisa Banks, the attorneys representing Ford, wrote in an email. The two called the initial proposal "fundamentally inconsistent with the Committee's promise of a fair, impartial investigation into her allegations." They also called made claims of "leaks" and "bullying."
White House spokesperson Kerri Kupec said Kavanaugh is "is eager to testify publicly to defend his integrity and clear his good name." She also criticized delays in the setting of the hearing. "We have heard about different dates, conditions, and ever changing schedules, but today we appear no closer to a fair hearing. But one thing has remained consistent: Brett Kavanaugh remains ready, willing and eager to testify as soon as possible," Kupec said.
The committee and Ford's lawyers are reportedly still trying to work out when the hearing will take place, according to CNN. The Senate Judiciary Committee has proposed Wednesday, but Ford's team is pushing for Thursday.
Ford's lawyers also want the senators to do the questioning, whereas the Republicans are hoping to have outside counsel take part in the questioning. Her lawyers were also hoping that others would be subpoenaed, including those she says were present at the party.
Two men Ford says were there, Mark Judge and Patrick Smyth, have told the committee that they do not remember and that they do not wish to testify. They were joined by Leland Keyser, whose representatives emailed the committee on Saturday to say that she did not recall either. "Ms. Keyser does not know Mr. Kavanaugh and she has no recollection of ever being at a party or gathering where he was present, with, or without, Dr. Ford," her representative wrote the committee. Keyser did tell The Washington Post that she does believe Ford's accusation.
"It's not surprising that Ms. Keyser has no recollection of the evening as they did not discuss it," Katz, Ford's lawyer, said in a statement in response to this news. "It's also unremarkable that Ms. Keyser does not remember attending a specific gathering 30 years ago at which nothing of consequence happened to her. Dr. Ford of course will never forget this gathering because of what happened to her there."
Sunday's planned meetings could shed more light on when — and how — Ford testifies.