MPs Are Investigating Fast Fashion In The UK & Their Findings Might Surprise You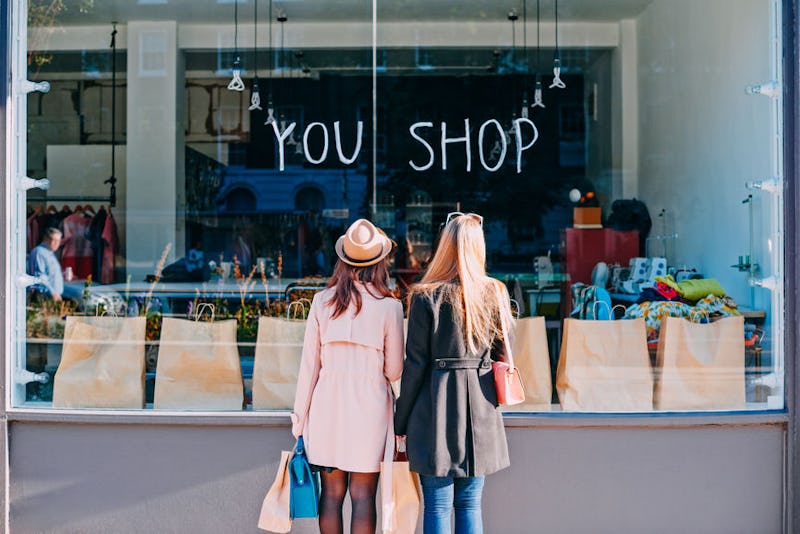 Aila Images/Stocksy
The fashion industry has a huge divide. It's currently split between super expensive designer brands and the much cheaper high street brands. It's assumed that high designer prices are more sustainable due to the quality of the fabrics used, the pay that workers receive, and the lack of excess stock. Fast fashion, on the other hand, often uses much cheaper fabrics that tend not to last as long, resulting in items that we throw away without a second's thought. Now, MPs are questioning the fashion industry's sustainability practices to find out the real truth.
The Environmental Audit Committee is currently investigating "the social and environmental impact of disposable fast fashion and the wider clothing industry." Although the inquiry is mainly focusing on high street brands adored by the average person, high-end names such as Burberry haven't escaped the spotlight.
On Tuesday, representatives from the likes of Primark, ASOS, Missguided, Marks & Spencer, and Burberry were called to give evidence. Many were questioned by politicians over how they could responsibly sell clothes for prices of £5 or less, considering this is below the minimum hourly wage and that it could contribute to huge environmental waste.
As reported by the BBC, one of the most powerful lines of questioning came from Labour MP Mary Creagh. She asked Primark's head of ethical trade and environmental sustainability, Paul Lister: "How can you justify selling T-shirts in your stores for as little as £2 or £3, and how can you be making a profit on those?"
Lister stated that Primark's lack of advertising allows the brand to keep its prices exceedingly low. "Primark has never done any significant advertising at all, and that can save us in any year £100m to £150m, compared to some of our larger rivals," he replied. "That goes straight into price. That keeps our pricing low."
He also added that the high street behemoth is set to launch a scheme next year which would allow people to return their old clothes to Primark stores. These items would then be sent to charities overseas. Joint CEO of Boohoo, Carol Kane, responded to the same question by saying that Boohoo deliberately sells some of its products at a loss to encourage more customers to visit the site.
High street brands were also asked about the ethics of their supply chains, both in the UK and abroad. After concerns were raised over the conditions of factories in Leicester, as the Financial Times reported, a spokesperson for Missguided said the brand had stopped working with some of these factories. Paul Smith even said Missguided employees were chased out of one such factory they attempted to inspect and claimed that "underpayment of workers" was likely to have been the reason.
A huge discrepancy that arose was how young brands considered a child worker to be. Representatives from Arcadia (the company that owns Topshop, Dorothy Perkins, Miss Selfridge, and more) and Marks & Spencer said they only employ children aged 15 and over in factories. Primark, meanwhile, said it sees a child as someone who is under the age of 16. Oddly, the brand's code of conduct states 15.
However, as The Independent reported, a legal loophole exists that means some fashion brands could be employing children as young as 14 in developing countries where this is allowed.
Designer label Burberry was left out of most of these conversations until the issue of stock burning was brought up. In July, there were reports published by the BBC that the luxury brand destroyed clothes, accessories, and perfume worth almost £30 million in 2018 to stop them from being sold at a cheaper price.
Although this resulted in heavy criticism, Burberry's chief of corporate affairs, Leanne Wood, told the committee that burning was "an industry practice." However, she did state that the brand was "committed" to stop.
Many of the comments from the brands did not impress the committee. "Evidence we heard today justifies our concerns that the current system allows fashion retailers to mark their own homework when it comes to workers' rights, fair pay, and sustainability," Creagh said after the hearing.
"Marks and Spencer are supposed to be a leading light in corporate responsibility, but even they pulled out of a scheme seeking to achieve living wages for garment workers through collective bargaining. [And] Boohoo did not convince us that it had a grip on the potential illegal underpayment of their Leicester-based workers."
Although consumers don't have the physical power to stop brands from wasting stock and charging irresponsibly low prices, we can help fashion's environmental impact by only purchasing clothes when we truly need them, repairing items instead of throwing them away, and buying secondhand wherever possible. And when we do see potentially unethical practices happening, we can let brands know our thoughts and encourage them to do the right thing.
If you want to hear more about what fashion brands had to say, you can watch the entire session here. A full transcript will be available on Friday.