You Have To See Hillary Clinton Modeling Katy Perry's "The Hillary" Heel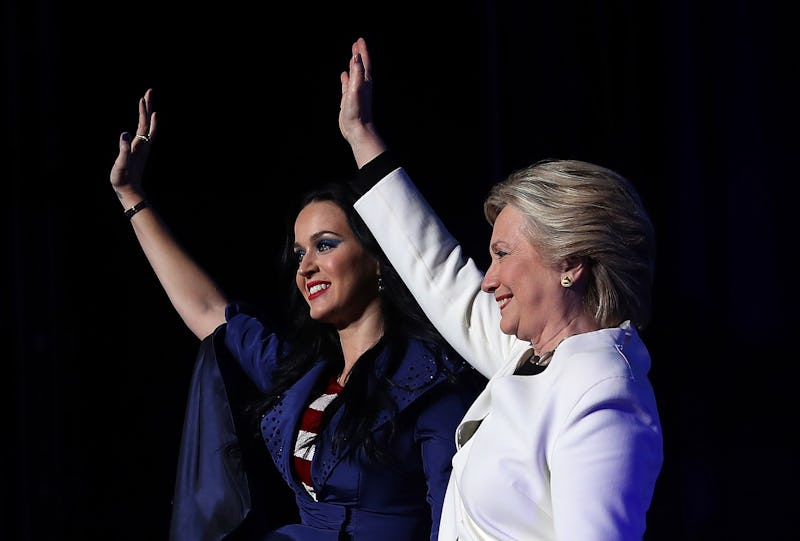 Justin Sullivan/Getty Images News/Getty Images
It's no secret that Katy Perry and Hillary Clinton are pals. The two have been seen together multiple times during election season, but it looks like this friendship goes much farther than that. You might have already seen that Perry named a heel after Clinton for her Katy Perry Collection footwear line. Well, Clinton wore The Hillary heel to a recent event, proving that the heel was made for her.
If you're looking for the definition of #friendgoals, this is it. Perry named most of her shoe collection after friends and inspirational women in her life, so Clinton sporting the one named after herself is pretty major. The singer posted a photo of Clinton wearing the pink, sparkly block heel on Instagram with the caption, "OMG I LOVE HER SO MUCH!". After all, Perry did wear a Clinton-inspired cape, so it only makes sense that the former US secretary of state would return the favor.
The Hillary shoe is available in both seafoam green and pink, but Clinton opted for the latter. The suede shoe has a block heel filled with star and moon glitter inside. Clinton paired it with khaki pants and a button-up jacket, but her pose shows that this look was all about the heels.
If you're looking to get the Clinton-inspired look, you'll be happy to know that it's super easy to shop. Both the seafoam green and pink styles are currently in-stock on the Katy Perry Collection website. Both colors are available in sizes five to 11 and are $139. That's a small price to pay to dress like one awesome woman.
The Hillary, $139, katyperrycollection.com
If you're confused by the connection of the name and the shoe, maybe the product info will clear things up. "Step in and reach for the stars in this dreamy suede pump complete with a lucite heel filled with glistening stars and moons," the website reads. It all makes sense now, doesn't it?
The Hillary shoes is a part of the Sole Estial Collection, which features other star-studded styles — literally. The collection is filled with tons of sparkly designs and are all named after other celebrities, like The Stella, The Kate, and The Anne. Unfortunately, The Hilliary is an online-only exclusive, so you'll want to head over there and shop before they sell out at the one and only location.