Here's What Hillary Clinton Wants You To Do On Equal Pay Day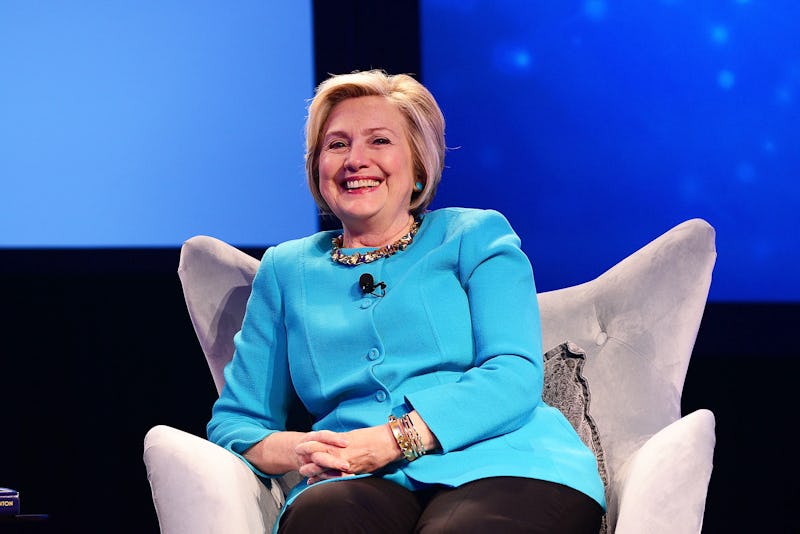 Lisa Lake/Getty Images Entertainment/Getty Images
It's 2019 and women still aren't making as much money as their male counterparts. With that in mind, one former presidential candidate had some advice for Equal Pay Day: call your senators. Hillary Clinton's message, tweeted out late Tuesday morning, highlighted the Paycheck Fairness Act, which is currently on its way to the Senate.
"Today is #EqualPayDay, marking how far into 2019 women have to work to match men's earnings from 2018," Clinton wrote. "It's a good day to call your senators and ask them to support the Paycheck Fairness Act."
Clinton's tweet included a link to a Vox article detailing the current state of that piece of would-be legislation, which passed in the House last week. The Paycheck Fairness Act, first introduced in 1997 by Rep. Rosa DeLauro, aims to close loopholes in the 1963 Equal Pay Act, Vox reports. But although the bill has been around for more than twenty years, it has only passed through the House once before — back in 2009. However, per Vox, it then languished in the Senate.
"Women and men in the same job deserve the same pay. Yet, women continue to earn 20 percent less than men, on average," DeLauro said in a statement after the bill's passage in the House last week. "That is wrong, and we need to fix it. The Paycheck Fairness Act tackles this problem head on—giving working women the opportunity to fight against systemic wage discrimination and receive the pay and economic security they have earned."
The bill aims to promote gender pay equity in several ways. If passed, the bill would prohibit employers from asking job applicants about their previous salaries, according to The Hill. The Paycheck Fairness Act would also bar employers from retaliating against employees who share salary information, as well as require employers to justify any pay discrepancies among its male and non-male staff, per The Hill.
Opponents to the bill have argued that the bill could open employers up to too many unnecessary lawsuits, according to CNBC. They have also, per the news outlet, argued that the legislation is superfluous, since gender-based discrimination is already illegal.
While discrimination on the basis of gender is, indeed, illegal, available data indicates that a gender pay gap persists, regardless. According to Yahoo! Finance, women earn just 79 cents for every $1 that men earn. And that gap is much wider for women of color. According to CNBC, black women earn 61 cents for ever $1 earned by white men; Native American women earn 58 cents, and Latina women earn 53 cents.
To commemorate Equal Pay Day, women legislators gathered together to call for closing the pay gap. Actress Michelle Williams, an outspoken proponent of closing the gender wage gap, joined the congresswomen during a recorded Equal Pay Day event.
"Imagine a workplace where women don't have to spend any energy fighting for fair pay and equal rights, and instead can put that energy into their work...this is the moment," Williams said, according to Rep. Deb Haaland.
Because Republicans hold the majority in the Senate, it's not clear whether the Paycheck Fairness Act will succeed in the near future. But according to Clinton, one key action you can take to help push the bill forward involves reaching out to your local senators.