Hillary Clinton Says Harvey Weinstein's Alleged Behavior "Cannot Be Tolerated"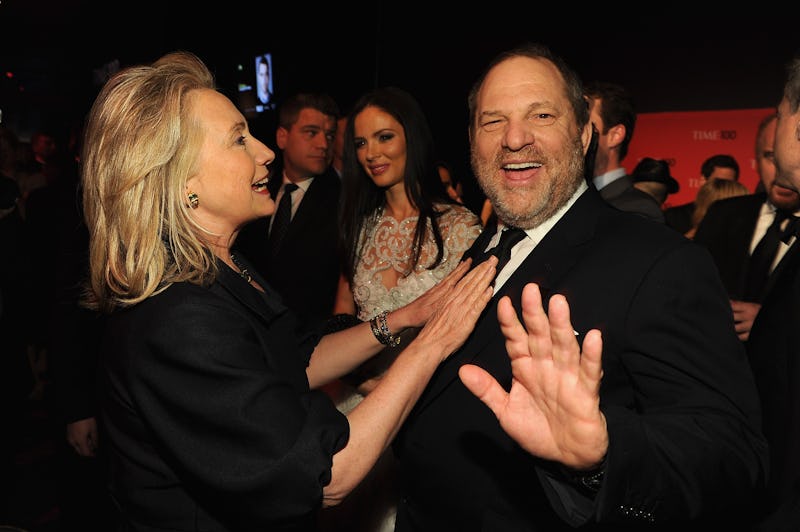 Larry Busacca/Getty Images Entertainment/Getty Images
Following a weekend of explosive reports detailing decades of sexual assault and harassment accusations against Hollywood producer Harvey Weinstein — claims he has denied — many members of the Democratic Party have offered their reactions to the lurid allegations about one of their former top fundraisers. And on Tuesday, the party's former presidential nominee weighed in too, as Hillary Clinton spoke out on the Weinstein allegations in a statement decrying that such behavior "cannot be tolerated."
The response was tweeted out by her former communications director Nick Merrill on Tuesday, although it also got Clinton's stamp of approval by way of a retweet. Both Clinton and former president Barack Obama have come under scrutiny in recent days for failing to offer a public rebuke or condemnation of Weinstein, a top-dollar donor for the Democrats for years.
As far as Clinton is concerned, however, the silence is over. Her statement, as embedded below, states that behavior like what Weinstein's been accused of "cannot be tolerated," and complimented the "courage" of the many women who've come forward.
I was shocked and appalled by the revelations about Harvey Weinstein. The behavior described by women coming forward cannot be tolerated. Their courage and the support of others is critical in helping to stop this kind of behavior.
Weinstein, 65, has now been accused of sexually predatory and harassing behavior by multiple women, including a number of high-profile actors like Gwyneth Paltrow, Mira Sorvino, Ashley Judd, and Angelina Jolie. Weinstein, in response to The New York Times reporting that exposed the various allegations against him, admitted in a letter to needing "to be a better person," and to the fact that his past behavior has "caused a lot of pain."
In another letter he sent out to fellow Hollywood power players in the hopes of saving his job, however ― he was ultimately fired, and the letter promptly leaked to the media ― he claimed that "a lot of the allegations are false." He also threatened to sue The New York Times for not giving him enough time to respond to their reporting, although whether those threats will actually be followed up with legal action is unclear.
For Clinton, this situation is a sort of reflection of what she faced during the presidential campaign, when her response to her opponent's own litany of sexual assault allegations was a major news topic.
While President Trump continues to deny the myriad sexual assault allegations against him ― he called his accusers "horrible liars" during the campaign, and recently claimed the infamous Access Hollywood tape of him boasting about non-consensual groping was "locker-room talk" ― pro-Trump media personalities going on the attack against Weinstein and the Democrats have raised accusations of hypocrisy.
Obama, for his part, has still not offered any public comment on the matter. Former first lady Michelle Obama has also been criticized by conservatives for having called Weinstein "a wonderful human being" back in 2013, and she has similarly not commented on the allegations so far. Up until retweeing the text of her statement on the matter, Clinton's recent social media profile has mostly been used to raise awareness about the Senate failing to reauthorize CHIP, the children's health insurance program that some nine million American kids rely on.
A slew of high-profile elected Democrats have attempted to distance themselves from Weinstein, by donating equivalent amounts of money to the funds he provided them to various charities and women's support groups. The list includes senators like Chuck Schumer, Kirsten Gillibrand, and Al Franken. Trump, for his part, remarked when asked that he "not at all surprised" to learn of the allegations against Weinstein.
If you or someone you know has been sexually assaulted, call the National Sexual Assault Telephone Hotline at 800-656-HOPE (4673) or visit online.rainn.org.