Watch Clinton's 'Color Purple' Standing Ovations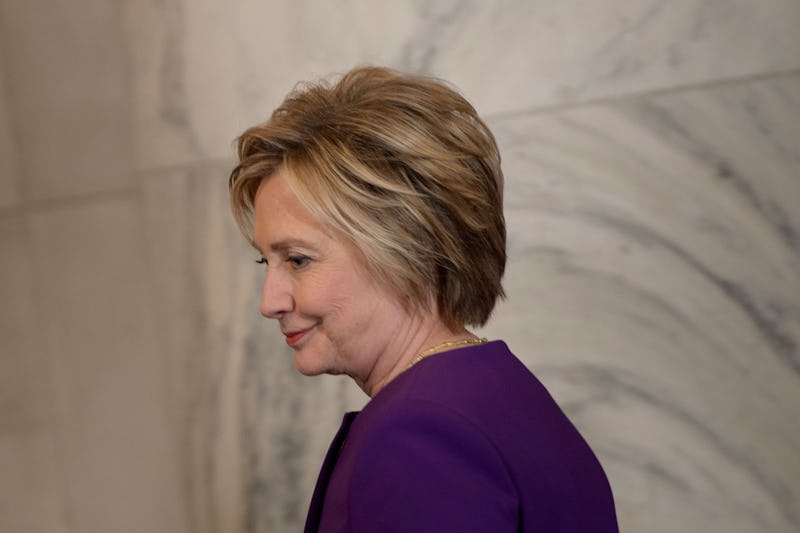 BRENDAN SMIALOWSKI/AFP/Getty Images
In the post-2016 election world, Broadway continues to be drawing politicians and headlines. Remember back to Mike Pence's visit to see the musical Hamilton. His reception was far from a welcome one, with the cast imploring him to consider Americans of all backgrounds as he joins the Trump administration. It was a clash at best. But Sunday, the political headlines returned to New York City, and this time it was because someone beloved was in the audience. That evening, Hillary Clinton received standing ovations at The Color Purple, and it hammers home Clinton's continued support.
Apart from social media, Clinton supporters have had very few opportunities to honor the winner of the popular vote since the election. She has ventured into public on just a handful of occasions — and the moments captured via selfie near her home in Chappaqua, New York, don't count. Thus this is one of the first times she has appeared in front of the public, a crowd of everyday people, since her shocking loss to Donald Trump in November. The reaction seen at the show cements her continued popularity, at least with the theater-going progressives in the country's biggest city.
As The New York Times reported, Clinton attended the final performance of the The Color Purple on Broadway with her daughter, Chelsea, and her husband and former President Bill Clinton. She received at least three standing ovations.
Two of those ovations happened when she arrived, and another occurred when she was acknowledged afterwards by cast member Patrice Covington, who gave the farewell speech. "There's a lot of really awesome famous and notable people here today. I'm not going to call all of them out — I know you already know them," she said, then taking a moment to look in Clinton's direction, inciting the third standing ovation.
Reports on Twitter paint the former first family as big fans of the show. Michael Barbaro, one of the Times reporters covering the finale, tweeted that Bill seemed to know all the words to the final song. The three were also photographed backstage with the show's star, Cynthia Erivo, the British actress who won the 2016 Tony for Best Actress in a Musical.
Of all the reports to come from the day, the most powerful may be a quote from an audience member who spoke with the Times about Clinton's appearance. "I was having every emotion I've tried to get rid of over the past few weeks," Jordan Serpone told the paper, explaining his frustration. "She shouldn't be here. She should be planning her cabinet."
From the sound of the cheers, much of the crowd would agree with him. Although vilified across broad swaths of the country, Clinton was the top choice — by far — in urban centers. Given her reception on Sunday, it would appear that support hasn't faded one bit.