Hillary Clinton Doesn't Hold A Millennial Grudge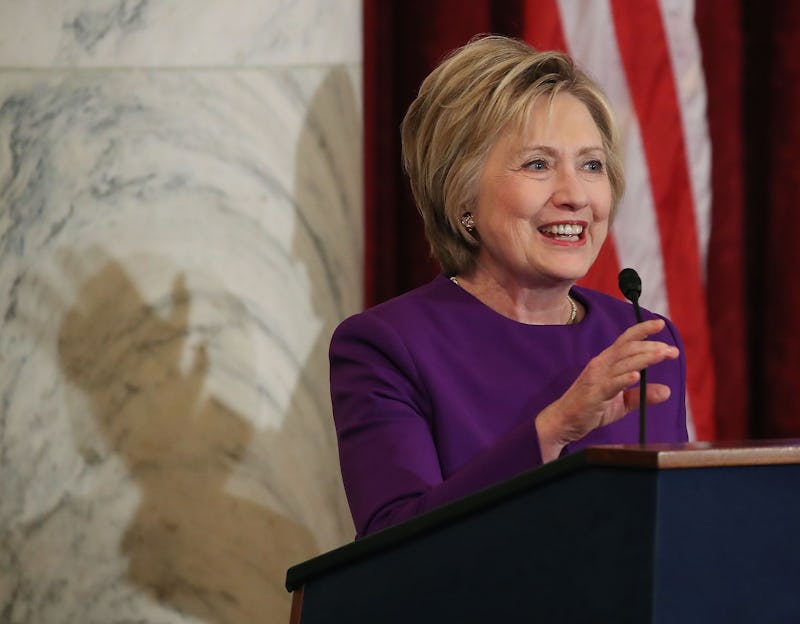 Mark Wilson/Getty Images News/Getty Images
Perhaps over the holidays you heard the same thing from your relatives: Millennials were to blame for Hillary Clinton's stunning loss to Donald Trump. Despite voting for her at much higher margins than baby boomers or the elderly, they could have done better. They didn't vote for her to the degree they voted for Obama. That may be true, but sheesh! Well, luckily, there's one person who doesn't seem to hold a grudge: the candidate herself. In fact, Clinton's latest tweet on tuition-free college proves there are no hard feelings.
Sharing a link to a Daily News piece on New York Gov. Andrew Cuomo's college tuition plan, the ever-positive Clinton tweeted, "Delighted that @NYGovCuomo proposed free college for ppl making <125K in NY. A plan @SenSanders & I worked hard on."
You have to hand it to the former secretary of state, she's not going to let losing the Electoral College (cough 2.9 million popular votes cough) affect her progressive priorities — even in regards to policies that help millennials. When she repeated "Do all the good you can, for all the people you can, in all the ways you can, as long as ever you can" on the campaign trail, she meant it. That's the only explanation for everything she has done since conceding to Trump on election night.
As for whether millennials (particularly third-party-voting millennials) really are to blame, it's interesting to see what Clinton's campaign manager said. He probably knows more than my aunt did, and he kind of blamed millennials at a post-election chat at Harvard University, the Washington Post reported.
Clinton campaign manager Robby Mook also acknowledged that her operation had made a number of mistakes and miscalculations, while being buffeted by what he repeatedly described as a "head wind" of being an establishment candidate in a season where voters were eager for change.
He noted, for example, that younger voters, perhaps assuming that Clinton was going to win, migrated to third-party candidates in the final days of the race. Where the campaign needed to win upward of 60 percent of young voters, it was able to garner something "in the high 50s at the end of the day," Mook said. "That's why we lost."
Of all the people who could say it, Mook is probably the most authoritative. He, the campaign manager, would know. That being said, I still think that a larger population of voters besides just millennials should shoulder more of the blame. For example, only 37 percent of millennial voters supported Trump. Young voters can't be expected to save the country from candidates like Trump all on their own.
As for the New York college tuition proposal, it's aimed to bring down the high levels of debt among college grads — they have about $30,000 on average in the state. It would offer free tuition at state and community colleges to students whose families make $125,000 or less per year.
Cuomo, who announced the plan Tuesday, said it was necessary for young people's success. "The way this society said we are going to pay for high school because you need high school, this society should say we're going to pay for college because you need college to be successful," Cuomo told a crowd at LaGuardia Community College in Queens.
It would be great to have a partner in the White House that would bring this kind of reform nationwide. Clinton would have been a great option. Since she won't be inaugurated Jan. 20, state-by-state initiatives will have to fill the void. It's good to know they'll have her backing.
Plenty are still with her, and she's still with us.