Why Hillary Clinton Thinks Trump's SCOTUS Pick Would Be So Bad For Women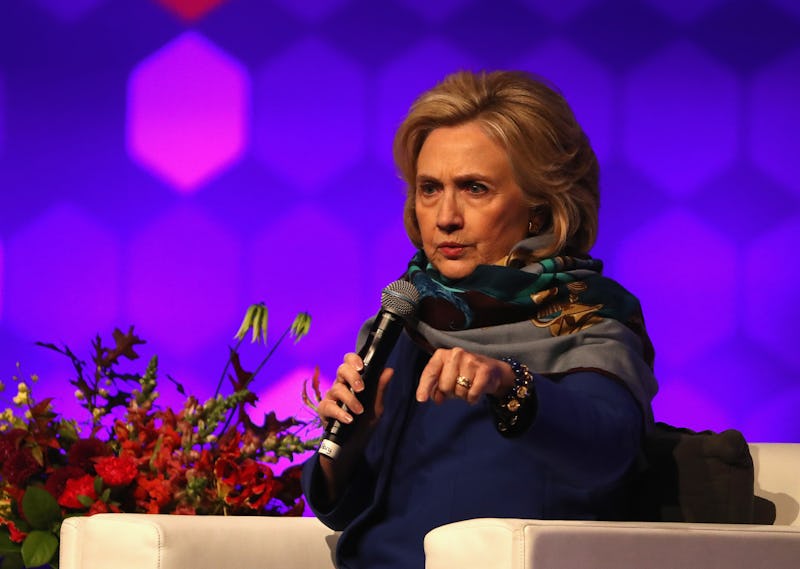 Robert Cianflone/Getty Images News/Getty Images
Although President Donald Trump and his 2016 opponent disagree on just about every issue, his latest move has her especially worried. Hillary Clinton's tweets about Brett Kavanaugh and Roe v. Wade ask whether the justice would work to dismantle or overturn the landmark case that guaranteed the right to legal abortion if he were confirmed to the bench. Her answer? "Of course he will."
Taking a line from Trump's playbook, Clinton launched into a long Twitter thread on Wednesday, Sept. 5 to voice her concerns about the Supreme Court nominee who was in his second day of Senate confirmation hearings. Reproductive rights advocates have vocally opposed Kavanaugh's nomination since the White House revealed his name in July — and Clinton agrees that his lifetime appointment to the high court would be a disaster for women.
Her tweets first pointed to a speech Kavanaugh gave at the American Enterprise Institute praising former Chief Justice William Rehnquist, who famously dissented in Roe v. Wade. She then noted that Kavanaugh voted to block an immigrant teenager from obtaining an abortion last year as a sign that he would likely vote against abortion rights when a relevant case reached the Supreme Court.
When Sen. Dick Durbin (D-IL) pressed Kavanaugh on his decision in that case — Garza v. Hargan — during Wednesday's hearing, the justice stressed the fact that the person in question was a minor. If it had been an adult, Kavanaugh said, she would have the right to obtain an abortion immediately.
"Anti-abortion groups have endorsed Kavanaugh, considering him a reliable vote to overturn Roe," one of Clinton's subsequent tweets read. "His confirmation would be a victory for activists who want to end a woman's right to make her own health decisions."
In fact, the anti-abortion group the Susan B. Anthony (SBA) List praised Kavanaugh's nomination as soon as Trump announced his pick. "President Trump has made another outstanding choice in nominating Judge Brett Kavanaugh to replace Supreme Court Justice Anthony Kennedy, keeping his promise to nominate only originalist judges to the Court," SBA List president Marjorie Dannenfelser said in a July press release. "Judge Kavanaugh is an experienced, principled jurist with a strong record of protecting life and constitutional rights."
Americans United for Life president Catherine Glenn Foster similarly said in a July statement that she believes Kavanaugh "will be an originalist Justice, committed to the text of the Constitution and to the rule of law, including legal protections for human life."
To drive her point home, Clinton drew on one of her most well-known quotes. "It's remarkable that we have to keep repeating this, even in 2018: Women's rights are human rights, and human rights are women's rights."
She continued: "One of the most fundamental human rights is the right to make the most personal decisions about one's own body. To deny women that is to rob them of the ability to decide their own futures."
Her tweet thread ended by urging people to call their senators and demand that they block Kavanaugh's confirmation. Ultimately, Clinton made her views on Kavanaugh crystal clear.