These 'Star Wars' Highlighter & Eyeshadow Palettes Are Perfect For The Rebel Alliance Fan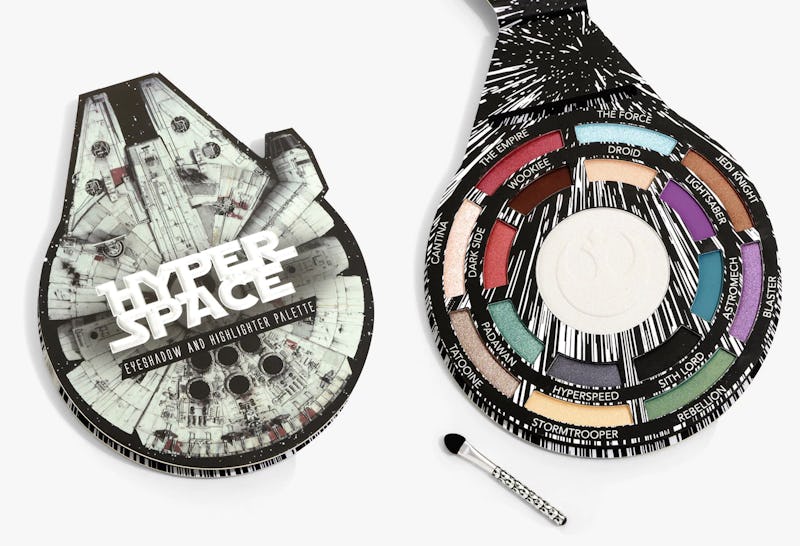 Hot Topic
Star Wars fans unite, because there's a brand new highlighter and eyeshadow palette ready to grace your vanity table. And what with Solo: A Star Wars Story just opening last weekend, it's the perfect way to celebrate the new story line. The Hot Topic's Star Wars Hyperspace Highlighter and Eyeshadow Palette is a playful way to combine your sci-fi love with your makeup drawer, letting you create galactic-inspired looks on a budget.
Made in collaboration with Her Universe and Star Wars but sold in Hot Topic, this cruelty-free palette features a whopping 16 different matte and shimmer colors inspired by the space epic. Shaped like the Rebel Alliance's Millennium Falcon, the palette flips open to reveal a mirror and the eyeshadow colors. On the mirror side you have a universe background that looks like you're speeding past it in hyper-speed, where the stars have turned blurry. On the mirror there is a phrase that says, "The force is strong with you."
On the other side is the makeup collection. Smack dab in the middle is the pearlescent, champagne highlighter that you can use on the bridge of your nose, your cheeks, and in the corners of your eyes. It features a debossed Rebel logo, tying in the theme of the Millennium Falcon speeding through space.
On the inner ring of shadows you'll find a mix of matte and shimmer shades. There is the glittery red color called "Dark Side," which mimics the color of Darth Vader's lightsaber. Then there is the dark chocolate matte shade named "Wookie," after Chewbacca, the copilot of Han Solo; and a beige-champagne shimmer shade called "Droid," which the franchise is crawling with. There is also a gem-like purple hue called "Lightsaber."
Next to that is a matte teal named "Astromech," after the droid line that R2-D2 comes from, and who can calculate hyperspace jumps. Then there is a pitch black matte called "Sith Lord," which refers to Darth Vader; a shimmery gunmetal hue called "Hyperspeed;" and a glittery green color named "Padawan," which is a Jedi in training.
The outer ring has even more shadows, giving you more colors to play with. There is "Cantina," which is a glittering champagne hue and named after the "pirate city" tavern; "The Empire" is a shimmering deep red; "The Force" is a sparkly ice blue; and "Jedi Knight" is a shimmery orange-brown that looks like the Order's robes.
Next to that is "Blaster," which is a shimmery purple and the weapon often used by Stormtroopers; "Rebellion" is a shimmery forest green; "Stormtrooper" is a shimmery butter yellow; and "Tatooine" is a sparkling sandy brown, named after the harsh, lawless desert world where Obi-Wan Kenobi went into hiding.
While Hot Topic's palettes are sometimes a hit or miss and receive all sorts of different ratings in terms of quality, this one seems to be a keeper. All the reviews are raving, and the consensus is that the colors are both very pigmented and long lasting.
"The shadows in this pallet are great! They apply evenly and the pigment is stong. The highlighter is an added bonus and the color names are awesome!" one reviewer shared.
"I bought this a few days ago, while out shopping and I'm so happy with it! Packaging is very cute, wide range of colors and great quality as well, color stays on well even through sweat, which is great until you get lazy like me and it doesn't want to come off when the day ends. Overall great product! Definitely recommend," another posted. If you go into the review section, you can also see some swatch photos to give you an idea what the individual shades look like.
If you're a major Star Wars fan, then this is a fun and affordable way to show your love for the franchise!