House Democratic Women Protested The Kavanaugh Committee Meeting Without Saying A Word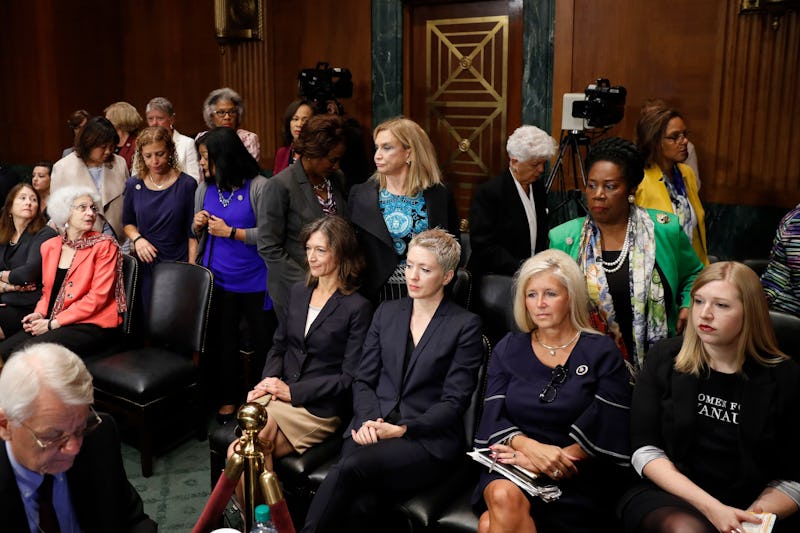 Pablo Martinez Monsivais/AP/Shutterstock
It was reminiscent of women's support for Anita Hill in 1991. During an executive meeting of the Senate Judiciary Committee the day after hearing testimonies from Dr. Christine Blasey Ford and Judge Brett Kavanaugh, a group of House Democratic women protested the Kavanaugh confirmation vote.
The group had been in the audience watching the committee's discussion about the Supreme Court nominee. After the committee pushed a motion to vote on Kavanaugh later that afternoon, several Democrats on the committee stood up and walked out to show how deeply they objected. Then, the female representatives from the House stood up, waited in silence for a few minutes, and then walked out as well.
The women who protested included Reps. Pramila Jayapal, Gwen Moore, Barbara Lee, Sheila Jackson Lee, Jackie Speier, Debbie Dingell, Debbie Wasserman Schultz, Carolyn Maloney, Suzanne Bonamici, Joyce Beatty, Brenda Lawrence, Nydia Velázquez, and Julia Brownley. Later, they joined the Senate Democrats who had left the meeting — including Sens. Mazie Hirono and Kamala Harris — in a press conference calling the confirmation process a sham.
Photos from the protest were strikingly similar to a photo from 1991 when House Democratic women showed up to support Hill, who had accused Clarence Thomas of sexual harassment. Thomas was confirmed to the Supreme Court.
The Walk To The Senate
Mirroring 1991
Inside The Building, Arms Locked
Standing In Protest
Without Saying A Word
Then They Left
The day before they protested, five members of Congress who are sexual assault survivors wrote a letter to President Trump and Senate Majority Leader Mitch McConnell. Reps. Moore, Dingell, Speier, Ann Kuster, and Alma Adams, wrote:
As victims of domestic and sexual assault, we write to express our deepest concerns regarding your actions and various statements on the serious allegations that have been raised concerning Judge Brett Kavanaugh and his possible elevation to the highest court in the country.
Kavanaugh has denied all the allegations against him.
If you or someone you know has been sexually assaulted, call the National Sexual Assault Telephone Hotline at 800-656-HOPE (4673) or visit online.rainn.org.