'House Of Cards' Season 6 Production Is Now Suspended After The Kevin Spacey Allegations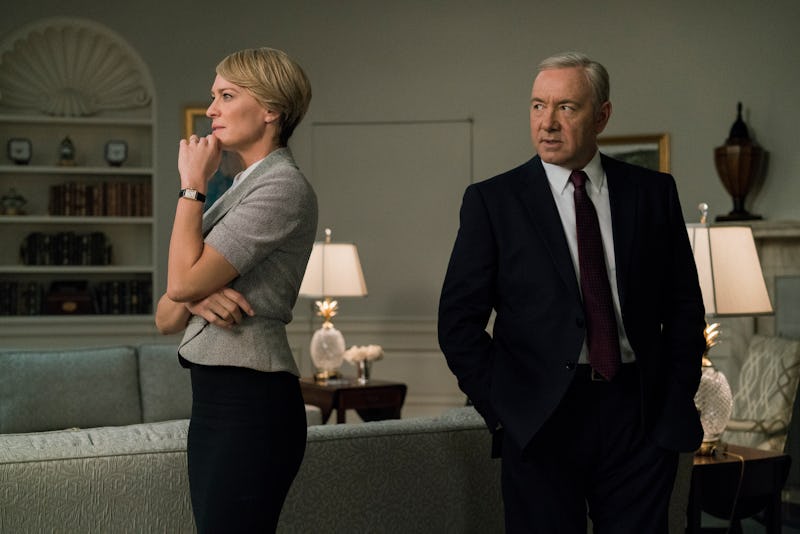 Netflix/David Giesbrecht
On Tuesday, Netflix announced that House of Cards Season 6 production is suspended following the claims against the show's lead actor Kevin Spacey. The production companies, Netflix and Media Rights Capital, gave the following statement to Bustle:
"MRC and Netflix have decided to suspend production on House of Cards season six, until further notice, to give us time to review the current situation and to address any concerns of our cast and crew."
This comes days after Star Trek: Discovery actor Anthony Rapp claimed Spacey made unwanted sexual advances toward him when he was a minor. Rapp told BuzzFeed that Spacey allegedly "invited [him] over to his apartment for a party, and, at the end of the night, picked [him] up, placed him on his bed, and climbed on top of him, making a sexual advance." Rapp was 14 and Spacey was 26 at the time of his claims. The now 46-year-old said the Weinstein allegations finally made him feel inclined to come forward.
On Sunday, Spacey took to Twitter to apologize to Rapp and come out as a gay man. "I'm beyond horrified to hear his story," Spacey wrote, claiming he didn't recall the incident. "If I did behave then as he describes, I owe him the sincerest apology for what would have been deeply inappropriate drunken behavior." He later addressed his sexuality, saying, "I choose now to live as a gay man."
The following day, the production companies provided Bustle with a joint statement saying executives would be meeting to decide further actions regarding Spacey and the fate of the show that put Netflix on the map:
"Media Rights Capital and Netflix are deeply troubled by last night's news concerning Kevin Spacey. In response to last night's revelations, executives from both of our companies arrived in Baltimore this afternoon to meet with our cast and crew to ensure that they continue to feel safe and supported. As previously scheduled, Kevin Spacey is not working on set at this time."
Also on Monday, it was revealed that the award-winning show's next season would be its last. Sources claimed that the decision to end House of Cards after the sixth season was made months ago and that the cancellation and Spacey allegations are "two separate things." However, the same day, reports claimed Netflix and MRC were working on potential House of Cards spin-offs to keep the series alive — one focusing on Frank Underwood's (Spacey) right-hand man Doug Stamper (Michael Kelly) and reportedly two others that are "being explored."
The accusations against Spacey came while Season 6 (which was to premiere in mid-2018) was being shot in Baltimore. House of Cards is Netflix's first original series and its wild success is arguably what made the streaming service the media beast and original content hub it is today (with about 109 million subscribers). Since HoC debuted in 2013, it's won 15 awards and has paved the way for originals like Orange Is the New Black, Stranger Things, and Master of None. Spacey won the Golden Globe in 2015 for his role, as well as the SAG Award in 2015 and 2016.
In light of the news, audiences have been vocal on social media about what the fate of the fan-favorite political drama should look like. Some suggest that Frank Underwood should be killed off while his ruthless partner Claire (Robin Wright) takes the lead role.
Others argue the entire cast and crew shouldn't have to deal with the consequences of Spacey's alleged past actions.
Spacey has yet to make further comments since his initial statement on Twitter. Meanwhile, the fate of his iconic show remains unknown.