Congressional Transparency May Suffer A Major Blow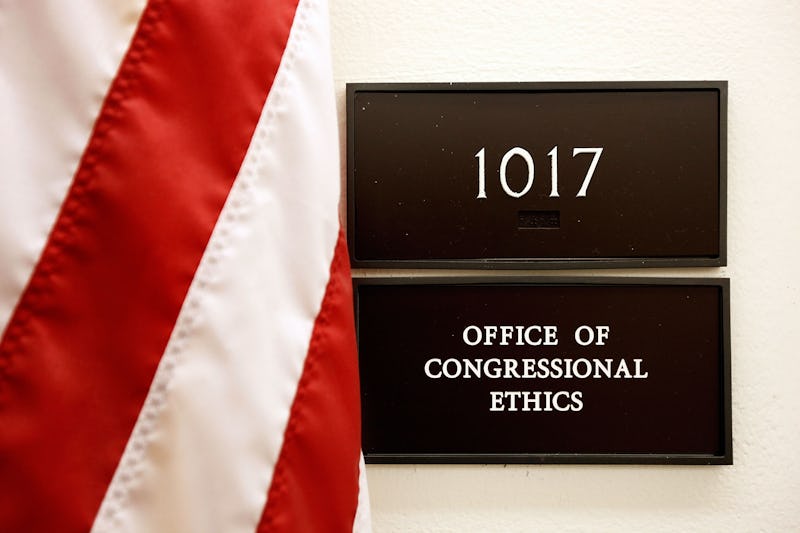 Chip Somodevilla/Getty Images News/Getty Images
The House of Representatives wasn't even in session for the new year when House Republicans held a closed-door meeting aimed at gutting an ethical oversight office. In an alarming move, House GOP members voted to propose an amendment in the incoming House session that will place the Office of Congressional Ethics, an independent ethics watchdog group, under the jurisdiction of the House Ethics Committee. This effectively strips the OCE of its independence from the House. As more comes out about the closed-door meeting, it seems that the GOP ethics office vote could hurt transparency more than you'd initially imagine.
In the hours after the 119-74 vote to eliminate the OCE's public reporting structure and change its name to the "Office of Congressional Complaint Review" became public, ample speculation about exactly what happened in the private GOP meeting has taken place. Now, as more reports come out about the language of the proposal, it's clear that despite assurances from amendment sponsor Rep. Bob Goodlatte that the OCE will retain its power, this amendment has the potential to eliminate most transparency in congressional ethics investigations.
This move could shield government officials from future public scrutiny and only adds to citizens' concerns over how the incoming administration will handle transparency matters. In part fueled by the President-elect's desire for deregulation in certain arenas and his unique relationship to ethics and rules, some House Republicans seemed surprisingly willing to continue their post-election victory lap.
The OCE, established by House members in 2008, doesn't have the power to punish representatives, but it can independently publicize accusations of unethical behavior with or without any action taken by the House-controlled Ethics Committee. The OCE has been under attack before, but this time, its opponents are closer to stripping transparency from congressional ethics investigations than ever before. To make matters worse, the decision happened in a closed-door meeting just hours prior to the convening of the 115th Congress, and was kept secret until after the vote was taken.
In hindsight, it's almost laughable to consider that Trump's campaign promise to "drain the swamp" would have included increased transparency into the mechanisms or members of that "swamp." Moments like these lead me to think America could be entering an era when the concept of "open government" becomes a throwback to the quaint idealism of the Obama years. And this most recent effort to increase the opacity of congressional dealings might just foreshadow that transition.