How 'The Mayor' Could Put The Fun Back Into Politics For Increasingly Jaded Millennials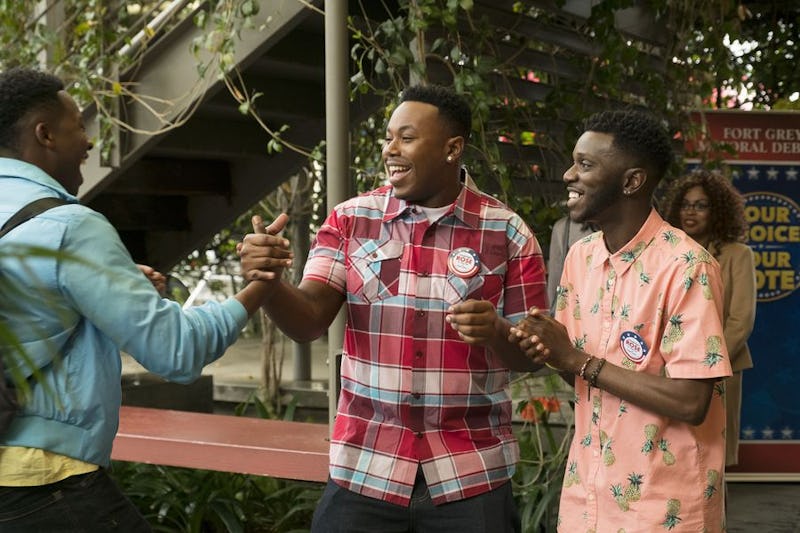 Tony Rivetti/ABC
Marcel Spears is one lucky actor — his first major role on television is one that he's pretty in love with. And he's right to love it — The Mayor premieres Oct. 3 and is ABC's buzziest new sitcom of the fall season. (It's paired with one of its solid hits, black-ish, in a new comedy block.) Speaking with Bustle over the phone a few days before the show's premiere, Spears touched on what he loves about his character, T.K.; how a new show finds its voice; and why The Mayor could push millennials to become even more politically engaged.
The gist of The Mayor is this: rapper Courtney Rose (Brandon Micheal Hall) wants to get his music out to the masses, so he runs for mayor in his fictional northern California hometown of Fort Grey. The only problem with the publicity stunt is that he wins the election and now has to serve the office, with his best friends T.K. and Jermaine (Bernard David Jones) helping him effect some change. Of course, hijinks will ensue. But what makes The Mayor so special?
"It makes you want to care about the community you live in. It makes you give a damn about the people that you live around and work around, and it makes you want to participate in whatever way you can, whatever capacity you can."
According to Columbia MFA graduate Spears, it's how real the characters are. He immediate saw himself in the script. "I initially read for Courtney's character, and so I read that and I was like, 'Oh, there is nothing like this in the world right now.' Like, a young black man that is articulate and passionate about his community," the actor says. "[Courtney] says all these things, but he doesn't intend to win. He just naturally cares. He cares about his community, he cares about the people he lives around, and that's what gets him elected."
Though Spears didn't end up getting the role of Courtney, he is in Courtney's entourage as T.K. Clifton, one of Courtney's best buddies and a member of his staff. Courtney and his friends are passionate people, Spears says, and the way they work together and for each other is — at its heart — what The Mayor is about.
"I got the scenes they had written for T.K. and Jermaine, and again, I was drawn in. I was like, 'Please tell me there are three live black people on this show, like smart, intelligent people that come from the same place...' I've never seen a show where black men get to behave this way around each other, like, they get to be black boy joy on full," Spears says. "They get to be frivolous at times. They take care of each other in a way that I don't see on TV as much anymore. The way they care for each other, the way they take care of their communities, the way they represent where they're from, how passionate they are about Fort Grey."
The characters on The Mayor feel like fully-formed individuals, which is rare so early into the tenure of a show; but it may seem risky in today's political climate to do a series about politics at all. Viewers are being bombarded on all sides with political news and opinions, and a show like The Mayor, at first glance, could fit into that genre. But Spears sees The Mayor as an inspiration instead.
"I feel like there are a lot of people who are maybe turned off by politics, a lot of people in the world who are just exhausted, and they're tired of the back-and-forth," Spears says. "They're tired of picking a side, and I feel like this show makes politics interesting again. It makes it fun again."
Spears wants to go back to a time when it seemed exciting to be involved in politics, not scary. "When I was a kid, we had Schoolhouse Rock… politics was cool! Kids used to want to be the president. I feel like this show sort of embodies that spirit. It makes you want to care about the community you live in. It makes you give a damn about the people that you live around and work around, and it makes you want to participate in whatever way you can, whatever capacity you can," Spears explains. "You can make a change and do something positive for your neighborhood, so I, I'm hoping that millennials watch it and are inspired to do some community service or volunteer or run for office or go out and find a group of like-minded people and stir up some stuff. Call some senators, man!"
Being on The Mayor has even made Spears think differently about politics and about his own place in that sphere. "I always looked at politics on a big scale, and this show doesn't really do that," Spears says. "It's not like red states and blue states. It gets down to the microscopic city level… by zeroing in on city issues. It's something that everybody can agree on. It's not like big issues — it's the kind of things that people care about, like fixing roads, what it means to have working stop lights, what it means to have like, clean water… that's something that affects everybody."
Clearly, The Mayor has changed Spears's outlook on the monster that is American politics, but what does T.K. bring to the table in Courtney's cabinet? "T.K. keeps Courtney honest," Spears says. "He looks like he's the enforcer of the group, [but] having TK work with him and for him helps Courtney remember where he came from and the people that he's trying to help in the best way."
The Mayor may be a new show, but it's definitely coming to television with a distinct point of view. Spears echoes this sentiment, saying, "Each episode gets better and stronger and closer and closer to everyone on set getting in sync and knowing what we're doing. We're finding our voice as a cast and crew."
New and exciting, the collective voice of The Mayor is definitely one that will be welcome to this fall's television lineup.