Here's How Everyone From Beyoncé To Bachelor Peter Celebrated The Super Bowl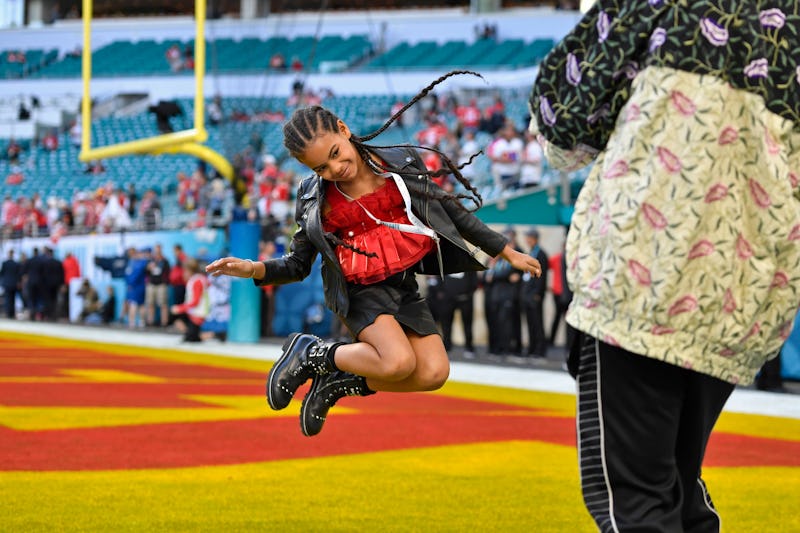 MediaNews Group/The Mercury News via Getty Images/MediaNews Group/Getty Images
The 2020 Super Bowl was full of football, food, and most importantly, your favorite celebrities. Whether they were actually at Miami's Hard Rock Stadium for the big game or watching the festivities from home, celebs celebrated the 2020 Super Bowl, and of course, the all-important Halftime Show, in droves. Stars, they're just like us!
Many celebs ventured to Miami to actually attend the main event and share in the excitement. Some people, like Paul Rudd and Matthew McConaughey, looked very psyched for the actual football game between the San Francisco 49ers and Kansas City Chiefs. Others, like Cardi B, seemed to mainly be there for Jennifer Lopez and Shakira's Halftime Show performance, which is truly relatable.
However, not everyone could make it all the way out to Miami. Hailey Bieber decided to stay cozy at home with her dog Oscar (and presumably, her husband Justin). Chrissy Teigen also threw her own party at home, complete with her kids and yummy food. Besides, she already did her work by starring in a hilarious Super Bowl commercial with her husband John Legend. Why go to the stadium when you could have a front row seat to the highlight of the night right at home?
After utterly slaying the National Anthem, Demi Lovato took her VIP seats, and it seemed that she was excited for the actual game, not just the Halftime Show!
Beyoncé just didn't roll up to the Super Bowl, of course. She made it an event by bringing Blue Ivy, doing a photoshoot with her impeccable outfit, and generally looking better than everyone else.
Speaking of Blue Ivy, the golden child was happy out on the field with her dad Jay-Z, and took after her mom by looking better than everyone else.
Hailey Bieber was watching the Super Bowl at home, but it seems that her dog Oscar was really having the time of his life. The best time to catch up on sleep is during the actual football, after all.
Vanessa Hudgens got very close with someone special at the game, and no, it wasn't a new boyfriend. She got a lift courtesy of basketball legend Shaquille O'Neal — literally.
Bachelor Peter Weber got a ticket to the Halftime Show, but sadly, his pick on The Bachelor wasn't in attendance with him. Spoilers averted!
Cardi B didn't hit the stage with Bad Bunny to sing "I Like It" or her fellow Bronx girl J.Lo for some "Dinero," but she still showed her support from the stadium itself.
Matthew McConaughey turned the Super Bowl into date night with his wife Camila. Alright, alright, alright!
Martha Stewart went to the Super Bowl, and the world must know two things: First, was Snoop Dogg her plus-one? And second, did she bring any delicious baked goods to distract everyone from the game?
Jeremy Renner, Paul Rudd, and Miles Teller bro'd out on the Hard Rock Stadium field.
Chrissy Teigen spent Super Bowl Sunday how everyone should spend the day: cooking her own recipes, having her daughter Luna cheer with pom poms, and watching her Super Bowl commercial with John Legend.
You know the Super Bowl is a big deal when a Beatle shows up. Paul McCartney wasn't about to let everyone have fun without him!
Kevin Hart never got to host the Oscars, but at least the Super Bowl still wants him in attendance!
Jeff Bezos was graced with the presence of Lizzo at the big game, and when she's right in front of you, do you actually need to watch the game?