Dell Just Released Their First Wireless Charging Laptop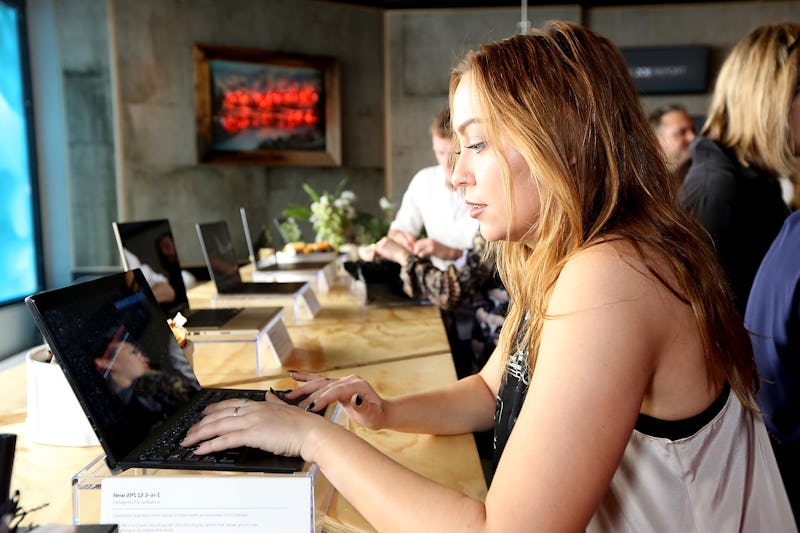 Sarah Kerver/Getty Images Entertainment/Getty Images
The best thing about having a laptop is the freedom to be untethered — the ability to stay plugged in without plugging in. So you better believe the news that Dell debuted a wireless laptop charging port piqued my interest. One of my favorite things to do with my laptop is take it poolside, or out on the grass so that I can do work without being stuck to a desk. And working outside is perfect for me... that is, until my computer dies. And because I'm constantly on my computer, running a dozen different applications, it's nearly always on the verge of dying. Having to plug my laptop in all the time is the only thing keeping me from sheer and utter freedom — essentially.
The new Dell computer, called the Latitude 7285 laptop, is officially the world's first laptop that has wireless charging capabilities. But it's not as freeing as it sounds. While there need not be a wire connection between the charging mat and the laptop or wireless keyboard, the mat itself must be connected to a power outlet. So while this charging method is the first of its kind, it's not exactly going to change the way you use your laptop. You're still going to need to be within reach of a power outlet to get a charge.
The perk however, is that you don't need to deal with plugging your computer in, when it needs a charge, you can simply place it on the charging mat. But does that really make things any easier?
The laptop itself is priced at $1200 and the combo wireless keyboard and charging dock will cost another $550 on top of that. So for $1750, you're getting a new computer that has less wires to keep track of — which is definitely a good start to going completely wireless.
Other perks of the wireless charging laptop are that it comes with a Core i5 processor and that the screen can be used independently detached from the keyboard as a touch screen tablet.
I guess it really is the future, guys.