You Can Thank Diplo For Helping Bring Sophie Turner & Joe Jonas' Wedding To The Masses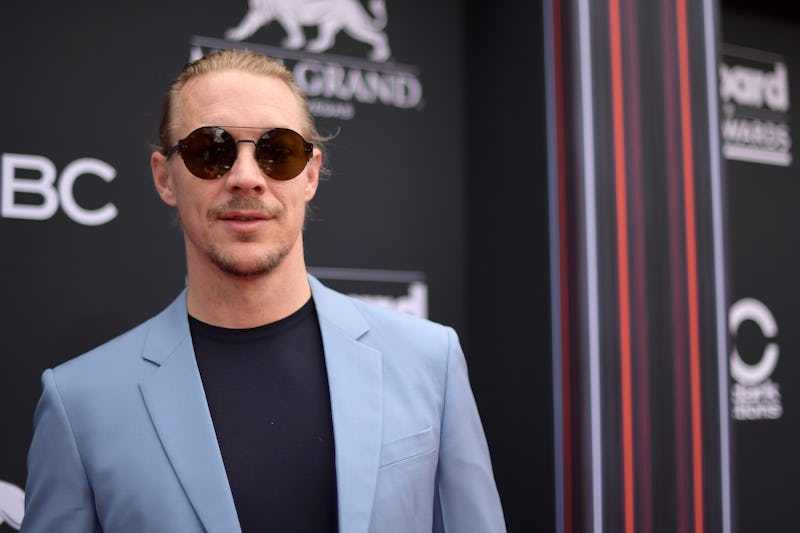 Matt Winkelmeyer/Getty Images Entertainment/Getty Images
Something wild went down in Las Vegas on Wednesday night. OK, no shocker there, but Sophie Turner and Joe Jonas' Vegas wedding was a pretty wild surprise. The event was live-streamed by Diplo via Instagram, and so far, it seems like he was the only person allowed to do so. How does Diplo even know Sophie Turner and Joe Jonas to begin with, though, you wonder? And why was the DJ specifically tasked with capturing the quickie ceremony from start to finish? Well ... that's not exactly clear.
Seriously — no one seems to be able to figure out the common thread between Diplo, Jonas, and Turner. Not yet, at least. The DJ hasn't musically collaborated with any of the Jonas brothers in the past, and he definitely doesn't have a side-gig with Turner on Game of Thrones.
Maybe they all just like, kind of randomly know each other via various, star-studded social circles? Or maybe Diplo just happened to be at the right place at the right time? How come he was the only one that got to broadcast the ceremony live, though? Surely, Jonas and Turner approved that beforehand, right? Or was Diplo the only person who thought to live-stream it in the first place? So many questions.
It's actually pretty hard to find evidence that Diplo, Jonas, and Turner had even all been in the same room together before the Vegas wedding. Well, that's not entirely true. We know that they all attended the 2019 Billboard Music Awards earlier in the evening, where the Jonas Brothers performed their new single, "Sucker." There's a good chance it wasn't the first awards show they've all been invited to, but there aren't any pictures of the trio like, hanging out in the past.
Now, there were a few instances back in 2016 when Diplo and Jonas shared a stage. They weren't on stage at the same time, per se, but the DJ and Jonas' side band, DNCE, both performed during a handful of Jingle Ball dates that year in Philadelphia, Boston, and Washington, DC.
A little deep-dive sleuthing turned up this photo of Diplo talking to DNCE's Cole Whittle backstage at the Boston show, and wait — is that the back of Jonas' head over there, too? The guy in the white shirt with his arms crossed? It totally is, right? His name doesn't appear in the photo credits, but that definitely looks like him.
So ... Jonas and Diplo have at least met once, and they — along with Turner — were all at the BBMAs prior to Jonas and Turner's wedding. According to E! News, the couple had only obtained a marriage license earlier that day, so the whole thing seems pretty spur of the moment. That being said, perhaps the majority of the guest list — Diplo included — got spur of the moment invites, and maybe Diplo actually *was* just at the right place at the right time.
Of course, none of these assumptions have been confirmed by any of the parties involved yet. Keep your fingers crossed that the story behind this mysterious connection will one day come to light, though.