Here's What To Expect If You're Flying During Hurricane Florence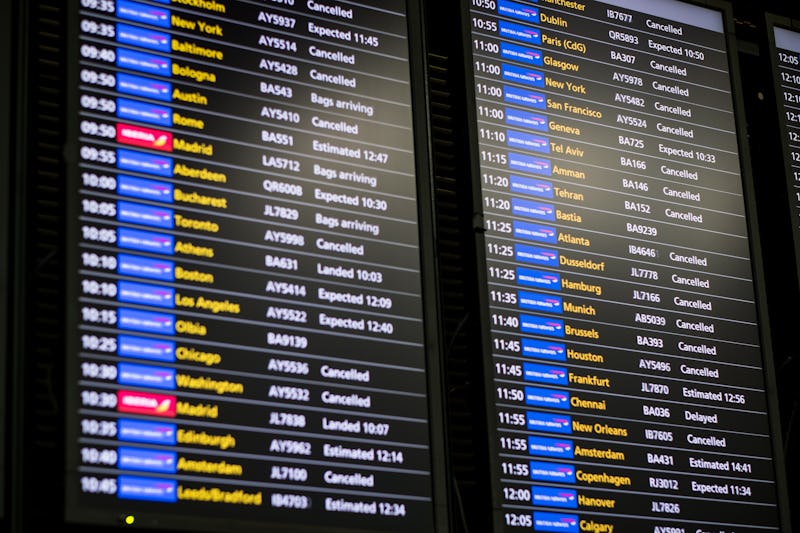 Jack Taylor/Getty Images News/Getty Images
Hurricane Florence is headed to the East Coast of the United States and set to make landfall later this week. Many people are taking significant steps to prepare for the storm, including travelers. If you're headed to the region, you may be wondering how Hurricane Florence will affect flights. In light of anticipated weather disruptions and flight cancellations, many major airlines are offering travel waivers for customers flying to, from, or through certain airports.
Right now, Hurricane Florence is traveling over the Atlantic Ocean and is classified as a Category 4 storm with 140-mph winds. The National Hurricane Center indicated that Florence could soon be approaching Category 5 storm strength. The coastal areas of Virginia, South Carolina, and North Carolina are currently under evacuation orders and are also the states in which airports will be most impacted by the storm.
Nearly all major airlines have enacted fee waiver policies ahead of the storm, which typically allow travelers flying to, through, or from storm-affected areas to rebook their flights within a certain time period free of charge. American, Delta, United, Southwest, JetBlue, Spirit, Frontier, and Alaska have all issued fee waiver policies for some airports in Virginia and North and South Carolina. Waivers also seem to be available for those flying to Savannah, Georgia, which may be impacted by the storm as well.
For example, Delta is allowing customers traveling anytime from Sept. 13 to Sept. 16 to rebook their flights free of charge, though "additional collection in fares may apply." You must be traveling to, from, or through specific airports in the four storm-affected states mentioned above in order to rebook travel. You can rebook flights for any date from Sept. 10 to Sept. 20. Other airlines' policies are quite similar, but differ a bit when it comes to travel date range, airport locations, and fare collection fees.
Thus, because the details of the policies differ from airline to airline, it's important to check your airline's website for its specific policy before making changes to your travel plans. Most airlines are allowing customers to directly make changes to their bookings online. Customers can also typically call their airline's flight reservation number to change their itineraries.
Hurricane Florence is expected to make landfall either late Thursday night or early Friday morning, first touching the United States somewhere between northern South Carolina and the Outer Banks in North Carolina. The Weather Channel has reported that a "destructive strike" on the East Coast of the United States is likely, noting that, if the storm remains a Category 4 hurricane, it will only be the fourth-ever storm of that magnitude to strike the East Coast of the country. The potential threats to the area posed by Florence include damaging winds, which can result in power outages and structural damage, flooding caused by heavy rain, and a significant storm surge impact.
Needless to say, parts of the East Coast stand to be significantly impacted by Florence. If you're planning on flying to, from, or through the region this week, it's probably a good bet to check your airline's website to see the details of their Florence fee waiver policy. Consider making changes to your itinerary (if possible) that will help you avoid the area during the height of the storm.