How Issa Rae & 'Insecure' Highlight That Being A Little Basic Can Still Be Beautiful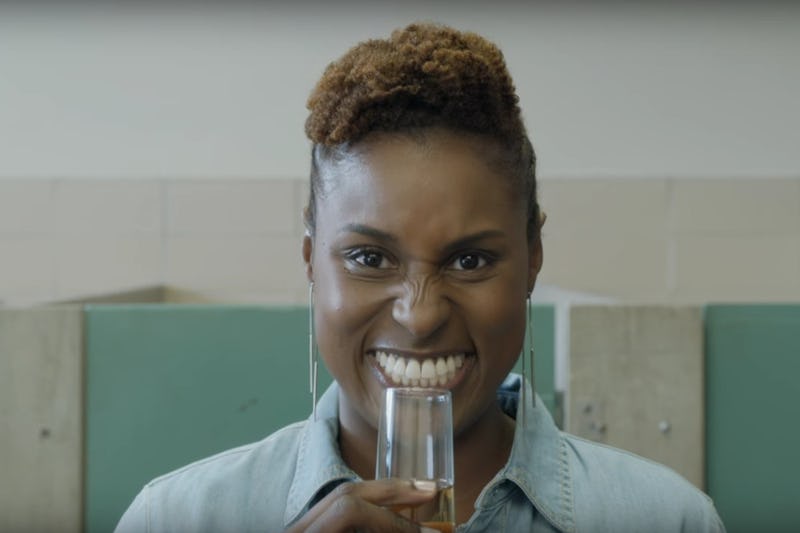 HBO
Awkward black girls everywhere rejoiced when Issa Rae's show Insecure hit HBO screens in 2016. Coming on the heels of her wildly popular YouTube series The Mis-Adventures of Awkward Black Girl, which opened doors for her to create Insecure, the HBO series perfectly captured the struggles of a 20-something life: Dating via apps, sporadically running into exes, having to deal with annoying and nosey co-workers, the list goes on. Of course, a plethora of shows touch on issues like this, but what sets Insecure apart is its commitment to being 100 percent real. Like many people IRL, the characters on the show don't always (i.e. never seem to) do the "right" thing.
But, the realness isn't just limited to the language or situations the characters find themselves tangled up in. Thanks to Issa Rae, black women like myself, who lean more towards the minimal side of the beauty and fashion spectrum, now have a simple and quirky heroine to look up to. At the Fast Company Innovation Festival on Oct. 23, Rae described her character and her own style as "regular" and "basic." That's why she was surprised when it not only grabbed the attention of Insecure fans, but also the attention of beauty giant CoverGirl, which recently named her one of the new faces of the brand.
Rae stars in the CoverGirl's new "I Am What I Makeup" campaign alongside Ayesha Curry, Massy Airas, and more. At the festival, she spoke with CoverGirl Senior Vice President Ukonwa Ojo about how the partnership came to be. According to Rae, the brand's commitment to diversity at both the executive and consumer levels sealed the deal for her.
"To see who's making some of the decisions behind-the-scenes is part of what drew me to this. When you see black women and women of color [working on the campaign] and you're having conversations with them, knowing, 'OK, you get it' — that matters," Rae said.
In the same vein, Rae is also practicing what she preaches by making sure to showcase realistic standards of beauty on her show, which is currently gearing up for its third season. Insecure's costume designer and Rae's personal stylist, Ayanna James, told Racked that she wanted everything Issa and Molly wear on the show to be something that 20-year-old women would actually wear and could realistically afford.
"[Her style] is supposed to come off feeling very average — that girl that goes to the mall, to Zara, Wasteland, Jet Rag, Crossroads, and boutiques. Issa would love Target. She would love Converse. She would have fun in a Levi's store. American Apparel would be the store she would go to. She's not working with a lot of money. Whatever's comfortable, whatever's cheap."
Mission accomplished. From the scene where Issa skipped contouring before a night out, to when she said "nah" to wearing a blouse to work, here are four times Insecure proved that it's possible to be basic and still beautiful.
1. When Issa Wore Only A Bold Lip Color
Raise your hand if the thought of wearing anything more than mascara makes you shudder? Or if you can't contour to save your life? Yeah, me too. But, like Issa in the first episode of Season 1, when I do decide upgrade my beauty routine from basic to basic 2.0 and add a lip color, I feel like I'm instantly transformed into someone else.
This particular mirror scene (above) in the show drives home the whole idea that it doesn't take a lot of extra bells and whistles in one's beauty bag to craft the perfect going-out look. According to Ojo, this particular scene is what convinced CoverGirl team that Issa and all her realness was exactly what they were looking for. "We just wanted to tell her beauty story," Ojo said, "and have the opportunity to show it to the rest of the world. We felt that the people who didn't already love her would love her too [after seeing the beauty ad]."
2. When Issa Rocked Tees To Work
Who said wearing a t-shirt in the office was unprofessional? Not everyone can be a fierce fur-wearing music mogul like Empire's Cookie Lyon or a political powerhouse in stilettos like Scandal's Olivia Pope. Some of us are more comfortable rocking little-to-no makeup, graphic tees, and jeans like Rae's character Issa Dee — and that's perfectly OK. Dressing down for work doesn't automatically mean you look like you just rolled out of bed. If there's that anything Issa has shown viewers, it's that you can look put together even without wearing a perfect pencil skirt to work every day.
3. When Molly Didn't Give AF About Combing Her Hair
For the millionth time, most women do not get dressed up to impress anybody but themselves. But, yet, still society can make a woman feel like the only way she can attract the interest of a potential mate is by looking like she stepped off a runway at all times or by not wearing certain clothes that men supposedly hate. (Ugh.)
Insecure showed that women don't (or shouldn't) care what men think of their looks when Molly made no attempt to smooth her locks down (see above). Nor did she run to the bathroom to brush her teeth and act like women wake up minty fresh. Both of this instances were small moments in the scope of the entire episode, but incredibly meaningful for women who may struggle with the fact that they don't always wake up flawless. As a pop-culture obsessed generation much of what we do is influenced by what we see on TV and seeing a woman give no absolute f*cks about morning breath or untamed edges is refreshing.
4. When Issa Rocked A Head Wrap
Speaking of hair, Insecure not only proudly showcases all forms of black hair — weave, natural curls, blowouts, and more — but also frequently shows how exactly the characters maintain these styles. Over the years, shows have either glossed over this part and showed black women going to sleep with nothing covering their edges (that's completely unrealistic). Or, sometimes shows and films use the silk wrap or rollers women wear at night as a prop to illustrate just how "ghetto" someone is, like in the movie White Chicks. Insecure thankfully does neither. Even when Issa's hair is tied up and she's chilling in the morning with no makeup on, it's just who she is — and that's nice to see on screen.
While there's still a long way to go in terms of TV shows and society normalizing women who enjoy being average in their everyday beauty routines, shows like Insecure and authentic CoverGirls like Issa Rae continue to bring us one step closer to basic beauty victory.