The Many, Many Protests On Inauguration Day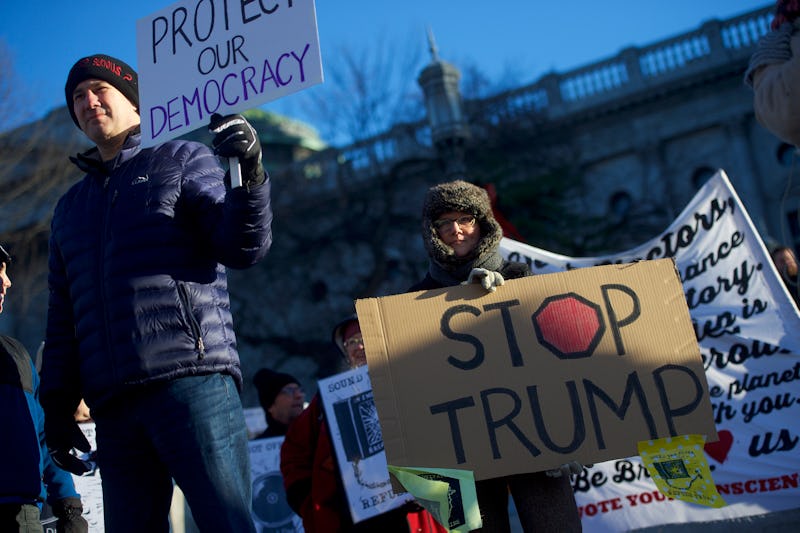 Mark Makela/Getty Images News/Getty Images
Inauguration day is a busy one for our nation's capital, and this year in particular. It's expected that upwards of 1 million people will head to Washington, D.C. on Jan. 20, but they won't all be celebrating. Officials said that a "larger-than-usual" number of protestors will be joining the revelers. So how many inauguration day protests are there in D.C.?
Officials are bracing themselves for the onslaught of people with thousands of police officers and National Guard members from across the country, who were reassigned to Washington for the weekend. According to The Washington Post, city officials are expecting over 1,500 charter buses, and D.C. hotels and rental places are filling up quickly.
City officials expect about 1 million people as spectators for the inauguration and the parade that follows. But it's hard to get a hard count on the number of protests that will be taking place, so they only can say that there is a "still-undetermined" amount of protestors. That's largely because some of the events are completely unofficial. The D.C. Counter Inaugural Committee, for example, does not have a permit for a protest, but projects that thousands of people will join them to "disrupt" the inaugural proceedings.
But there are some official protests, too. The Women's March On Washington, which will take place the day after the inauguration, is the biggest. The group applied for a 200,000-person protest permit in key spots throughout D.C. As of this week, there are 150,000 people "attending" on Facebook, and around 100,000 officially registered to go.
In addition to the Women's March, the ANSWER Coalition is organizing one of the largest protests actually on inauguration day to "Protest on Inauguration Day Against War, Racism and InequalityDefend immigrants and build workers' unity!" On Facebook, 11,000 said that they will be attending.
Those two demonstrations seem to be some of the only ones connected to the inauguration that actually has a permit. The National Parks Service, which issues the right to hold a protest on memorial grounds (run by the NPS), and it isn't common for them to issue the permits just days before the event is supposed to take place. This is partly because the inaugural committee, which booked up most of the land a year ago, has to decide what it will and will not use first.
So, in short, there's not a great way to understand what's going on and when, but things will be set in the next few weeks. It'll be good to keep a lookout, and it's almost certain that there will be people dropping in relatively unannounced. If you're in or around D.C., I don't imagine you'll have to look far to find a protest.