Trump's Order Created Widespread Confusion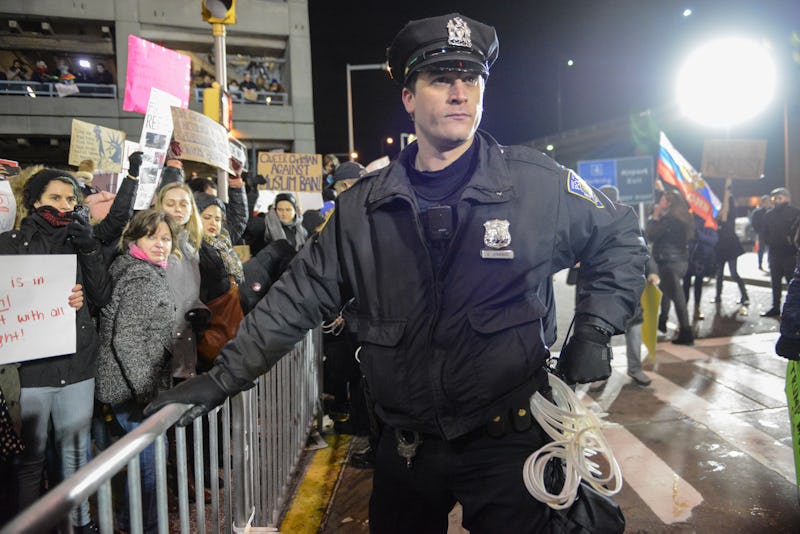 Stephanie Keith/Getty Images News/Getty Images
Confusion and condemnation reigned supreme at airports across the country this weekend following an executive order on immigration from President Donald Trump. With the stroke of a pen Friday, Trump immediately suspended all refugee admissions into the United States for 120 days and placed a 90-day ban on citizens of Iran, Iraq, Libya, Somalia, Sudan, Syrian, and Yemen, barring even those who hold valid green cards or dual citizenship, from entering the country. So, exactly how many people have been detained at airports because of Trump's new executive order?
In the wake of Trump's executive order, newly-arrived refugees and visa holders were detained upon arrival at airports around the country as authorities scrambled to implement the order, which does not differentiate between travelers and those who already hold valid green cards or U.S. visas and are on the path to obtaining U.S. citizenship.
Unnamed officials from the Department of Homeland Security told both The New York Times and ABC News late Saturday that 109 travelers had been detained and denied entry into the United States after landing at a U.S. airport. Another 173 people had been denied entry to the country prior to boarding planes destined for the United States in foreign ports. Of the reported total 375 travelers who had been impacted by Trump's executive order as of Saturday night, the DHS officials said 81 had been granted special waivers and allowed to enter the country.
Lawyers for the American Civil Liberties Union said they estimated a ruling handed down late Saturday night by Judge Ann M. Donnelly of Federal District Court in Brooklyn stood to affect up to 200 people who had been detained at airports across the country upon arrival. Judge Donnelly issued a stay on Trump's executive order, ruling the government was "enjoined and restrained from, in any manner and by any means, removing individuals" from the country who'd arrived with valid visas or refugee paperwork, the Times reported.
New York Mayor Bill de Blasio told CNN's Jake Tapper on Sunday that his office was "trying to get a clear picture" of how many people were still being detained at airports throughout the state. Although de Blasio was unable to provide an exact number, he said that "there certainly do still appear to be people detained" despite Judge Donnelly's ruling.
While no numbers have been confirmed, those that have been reported paint a picture of confusion at major airports all around the country. NPR reported 63 people had been detained at Dulles International Airport just outside Washington, D.C. The Associated Press reported 12 refugees had been detained at John F. Kennedy International Airport in New York on Saturday, but gave no mention of how many people holding valid U.S. visas or green cards may have been detained or barred from entering the country at that airport due to being a citizen of one of the seven Muslim-majority countries named in Trump's executive order.
In Philadelphia, news reports said at least one man had been detained at the Philadelphia International Airport and a family of six Syrian Christians holding all of the required legal paper work for entrance to the United States was deported Saturday. It was not clear how many people had been detained at that airport in total. At least three people were detained in Seattle, Washington, with one, a refugee from Somalia, deported. In San Francisco, California, immigration attorney Buzz Frahn told USA Today on Saturday he was aware of at least five Iranian travelers detained at San Francisco International Airport. And according to an NPR report from Sunday morning, a family of three were detained at and later released from O'Hare International Airport in Chicago. The mother is a U.S. citizen, the father a green-card holder; they were traveling with their 6-month-old son.
Despite reported widespread confusion among U.S. Customs and Border Patrol authorities and outraged demonstrators gathering at airports across the country to protest the president's executive order, Trump said the government employees "were totally prepared" for the order. The president went on to say he thought the order was "working out very nicely." "You see it at the airports, you see it all over," he said according to a White House pool report.
While reports of legal residents of the United States being detained without due process are troubling, even more alarming is the fact that U.S. Customs and Border Patrol officials have, in most cases, not been forthcoming or transparent about the number of travelers detained at airports across the country following Trump's executive order.