The D.C. March Was A Roaring Success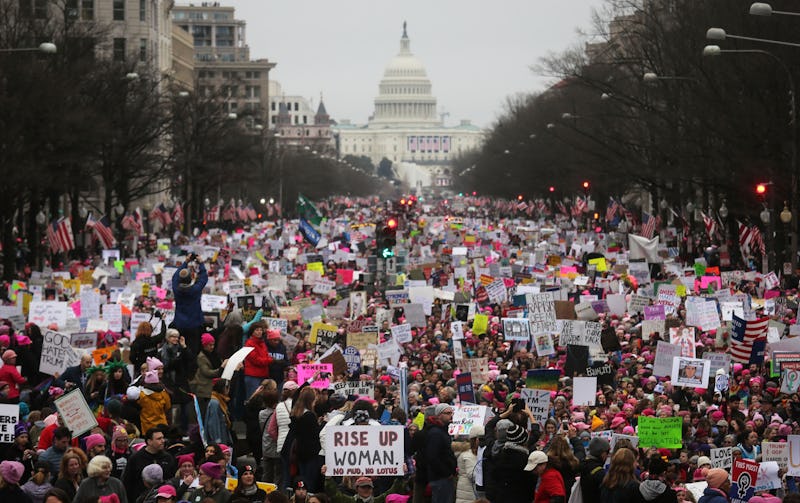 Mario Tama/Getty Images News/Getty Images
For anyone who attended one of the many Women's March events around the country and around the globe, many found themselves surprised by the outpouring of support. Trains were clogged, streets were shut down, and there must be a posterboard shortage in North America following the event. But how many people attended the Women's March on Washington in D.C.? Initial estimates have the number at 500,000 people — roughly twice the number of people who attended Donald Trump's inauguration, which took place on the National Mall just a day earlier.
Estimating crowd size is a tricky endeavor — it involves satellites, weather balloons, and crowd-size experts who use photographs to attempt a best guess at how many people are in attendance. For an event like the Saturday's march, a multitude of different factors go into the estimate. In D.C., the Washington Metro releases ridership figures to help compare different events — 275,000 people used the Metro by 11 a.m. on Saturday, compared with only 193,000 people who'd used the Metro by 11 a.m. on Friday, the day of Trump's inauguration.
Even as late as Saturday morning, organizers were revising their estimates upwards, more than doubling their initial estimate of 200,000 marchers.
All this, of course, doesn't begin to factor in the huge turnout seen at the sister marches, with most numbers far surpassing initial estimates. In New York City, estimates were that 250,000 people showed up to march, while in Los Angeles, estimates ranged from 500,000 to as many as 750,000 people in attendance, possibly outstripping the main event in D.C.
The huge turnout at the Women's March on Washington also seemed to be on Donald Trump's mind. Though he and his various Twitter outlets have remained mum on the topic of the Women's March, twice on Saturday, Trump's administration lashed out at reports that his own crowd numbers were lackluster.
At a speech at CIA headquarters at Langley, Virginia, Trump took issue with one unnamed news network's estimate that only 250,000 people showed up to watch him get sworn in. "I'm like, wait a minute," Trump said. "I made a speech. I looked out, the field was, it looked like a million, million and a half people."
Later, at a press conference, White House Press Secretary Sean Spicer made a similarly outlandish claim, saying "This was the largest audience to ever witness an inauguration, period."
We can expect more precise counts to come in the next few days — and for some of those counts to disagree with each other — but with a starting point of half a million in D.C. alone, the Women's March was undoubtedly a huge success.