If You're Wondering How Deadly Coronavirus Is, Here's What To Know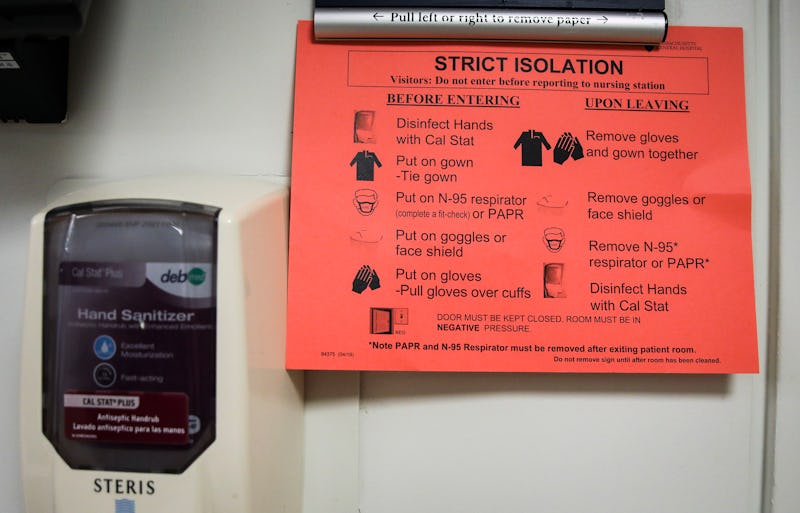 Boston Globe/Boston Globe/Getty Images
According to the Centers for Disease Control & Prevention (CDC), over 1,200 people have died from COVID-19 in the United States alone. While keeping track of this news might feel like the type of thing you don't want to think about at all, let alone study or track, know that these numbers only tell part of the story. The overall mortality rate for coronavirus is hard to pinpoint right now, and calculating it is complicated.
Coronavirus Cases & Deaths In The United States
According to CNN, at least 43% of the U.S. population is now under some form of stay at home order or request. This national effort towards social distancing has taken place as coronavirus case numbers continue to rise by the hundreds each day — and CNN says these numbers are likely to keep climbing.
During a call with reporters on March 24, Margaret Harris, a spokesperson for the World Health Organization, said that the U.S. has the "potential" to be the next epicenter for the pandemic.
Specifically, when asked if she thought the U.S. might "overtake Europe" in terms of the scale and severity of the outbreak, Harris replied, via CNN, "We are now seeing a very large acceleration in the numbers of cases from the United States — so it does have that potential." Later on March 26, outlets like The New York Times reported that the U.S. had more coronavirus cases than any other country so far, making it the new epicenter for COVID-19.
How The Coronavirus Mortality Rate Has Changed
Early estimates for the coronavirus placed the death rate at around 2%, then 1.4% a few weeks later, The New York Times reports. This means that for every 100 people who contract the virus, an estimated one to two would die. But on March 3, the World Health Organization (WHO) released a new estimated death rate during its daily media briefing on the virus. "Globally, about 3.4% of reported #COVID19 cases have died," Dr. Tedros Adhanom Ghebreyesus, the Director of WHO, said. "By comparison, seasonal flu generally kills far fewer than 1% of those infected."
All that being said, a lot has changed since the beginning of March, and it's become clear that not everyone can get tested, even if they're showing symptoms. Now, as The New York Times points out, scientists suspect the global coronavirus mortality rate is closer to 1%. And in South Korea, the rate is even lower, at an estimated 0.8%.
Recently, the CDC offered up four scenarios for the unfolding of the coronavirus in the coming months, ranging from the best case scenario to the worst case scenario, to 50 expert teams, as well as The New York Times. These scenarios explained how the death rate, infection rate, and more could range wildly, depending on how well countries are able to slow or stop the spread of transmission. For example, the number of coronavirus-related deaths in the United States could range anywhere from a few thousand, to 200,000, to 1.7 million, it reported.
Lauren Gardner, an associate professor at the Johns Hopkins Whiting School of Engineering who models epidemics, noted that these models could totally change in the months to come. To The Times, she said, "When people change their behavior, those model parameters are no longer applicable... There is a lot of room for improvement if we act appropriately."
Why The Coronavirus Mortality Rate Is So Hard To Calculate
The conflicting statistics could have to do with the difficulty of determining just how many people are infected in the first place, let alone how many have died from coronavirus, specifically. Think about it this way: it's possible that people with mild symptoms were never officially diagnosed with coronavirus, and that people with mild symptoms are continuing to go untested around the world.
Assuming the majority of those people recover, this could suggest the death rate is actually lower than what's being reported. As coronavirus tests become more readily available, and people become more aware of coronavirus symptoms, researchers can make more accurate estimates about the mortality rate.
Additionally, there's still limited data coming out of countries with the highest coronavirus outbreaks, Dr. Allon Mordel, M.D., Medical Director at K Health and Attending Physician in the Emergency Departments of NYU Langone Hospital & Bellevue Hospital Center, tells Bustle.
"We don't know what the true denominator is," he says. "We may have tested only the more apparent and severe cases [in the beginning], which could lead to inflated mortality rates."
Will The Coronavirus Mortality Rate Go Down?
As hospitals continue to identify the virus at earlier stages than they did in the beginning, the death rate could continue to go down.
Jamie Metzl, a WHO expert on genome editing, explains that the numbers will likely continue to fluctuate over the next several months. "As our testing capacity improves, I am guessing we will find that this coronavirus has spread significantly more widely than currently understood," he says to Bustle. "The upside, if there is one, is that this will bring down the death rate."
Who Is Most At Risk During The Coronavirus Outbreak?
When you're trying to understand how an estimated death rate works in practice, remember that all people aren't all equally likely to die from a given sickness. For example, since coronavirus is a respiratory infection, people with weak lungs or other relevant health issues have a higher likelihood of becoming extremely sick or dying than those who have healthy lungs, BBC reports. According to The New York Times, studies based on cases in Wuhan, China, suggest the symptomatic coronavirus mortality rate for people under 30 is 0.3%, whereas the symptomatic mortality rate for people 60 and older is 2.6%. However, this only takes into account people with symptoms. If researchers took asymptomatic cases into account, the total number of people infected could be higher, potentially resulting in an overall lower fatality rate.
The point is that generalized death rates for a disease or virus are not a one-size-fits-all statistic. While they help people understand the severity of a illness or pandemic, they can't guarantee or predict how a population, or a specific demographic of person, will necessarily fare.
In the meantime, Metzel suggests people stay calm as health organizations gain more information and resources in the coming weeks. "We have a long way to go to understand the magnitude of what we are facing," he says. "That the initial indications are so alarming does not mean that our worst fears will necessarily be realized."
If you think you're showing symptoms of coronavirus, which include fever, shortness of breath, and cough, call your doctor before going to get tested. If you're anxious about the virus's spread in your community, visit the CDC or NHS 111 in the UK for up-to-date information and resources, or seek out mental health support. You can find all Bustle's coverage of coronavirus here, and UK-specific updates on coronavirus here.
Experts Referenced:
Dr. Allon Mordel, M.D., Medical Director at K Health, Attending Physician in the Emergency Departments of NYU Langone Hospital & Bellevue Hospital Center
Jamie Metzl, WHO Expert on Human Genome Editing, Author of Hacking Darwin: Genetic Engineering and the Future of Humanity
Olivia Bowman contributed to this report.
This article was originally published on