Here's How Much Those Disney Princess TOMS Everyone Wants Will Set You Back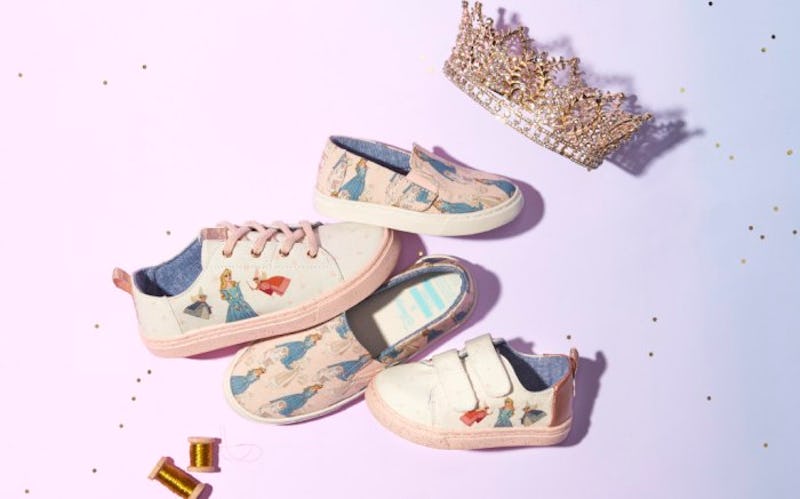 Courtesy of Disney
You couldn't have Disney without Cinderella. The icon that rocks slippers made of glass is an OG in the Disney princess lineup, who knows a thing or two about finding a good pair of shoes. That's why she's one of the leading ladies of the TOMS x Disney Shoe Collection, a collab that'll sprinkle your toesies with a bit of magic.
Shoes known for their comfort and effortless style, TOMS have always been a worthy sneaker choice. But now that the slip-on canvas shoes are getting a Disney princess makeover, they just got even better. This isn't just any old Disney collab that features the usual bold colors, playful characters, and quirky designs. Kicking things old school, the 30-piece TOMS collection will star Disney princess illustrations of Cinderella, Snow White and Sleeping Beauty from their classic films created by young female artists and animators between the mid-1930s and 1950. In other words, there's a whole lot of fairy dust and girl power infused into these soon-to-be-released "slippers".
Just the mere mention of prints made by women for women is enough to put these TOMS on your radar. So, by now, you're probably wondering how many buckaroos they'll run you when they officially launch.
Hitting the TOMS website beginning on June 21, the capsule collection will kick off with slip-ons inspired by Prince Charming's main squeeze. Sings: "Cindarelly, Cindarelly. Night and day, it's Cindarelly".
Designs will retail between $64.95 and $75 for women's shoes and $49-$59 for kid's footwear, a range falling in line with TOMS' usual price for collaborative lines. Stamped with Cinderella, her mouse friends, Gus and Jaq., and the iconic glass slipper, the princess-approved TOMS will definitely give you all of the feels.
As a collection created "for those who break glass ceilings in glass slippers", as Footwear News reports from TOMS, it's hard not to fall for the empowering footwear, whether you're a Disney fanatic or not.
If the Cinderella kicks don't catch your eye (although you must have hit your head on a pumpkin if they don't), styles featuring the other Disney princess OGs may be right up your alley. Prints starring Sleeping Beauty are just as dreamy. Along with styles that put her fairy godmothers on display, the Sleeping Beauty collection will follow Cinderella on July 19.
Expect to see the TOMS x Disney collab all summer '18, because the Snow White series will roll out just as the season ends. Starring the fairest princess of them all, the Snow White kicks will also include styles covered with rendered prints of the seven dwarfs.
The Disney magic won't stop once temperatures cool. Fans of the collab can anticipate a special, six-piece holiday collection to be revealed come Oct. 18. So, it looks like princess-inspired footwear will flood the scene for many months to come.
If you're feeling the princess TOMS — and chances are you're in awe — then you may as well overdose on Disney magic. The collab also includes sunnies, the perfect compliment to your canvas slides.
Eyewear, printed with tiny princess-approved details, will range between $170 and $190 for women and run for $90 for kids. It's not exactly a measly price tag, but coordinating Cinderella slippers and shades is so worth it.
As if you needed another reason to invest in the TOMS x Disney goodies, the brand's charitable efforts may seal the deal. TOMS' one-for-one model in which the brand matches every pair of shoes sold with a pair for a child in need applies to this capsule collection. That means the princess goodies can empower someone else just as much as they uplift you, and you just can't beat that.