Hurricane Irma Destroyed "95 Percent" Of This Caribbean Island Nation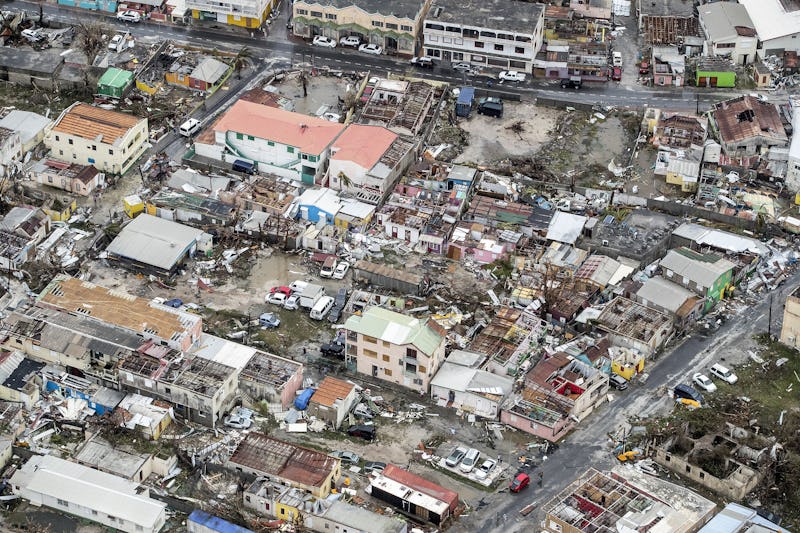 GERBEN VAN ES/AFP/Getty Images
At roughly 2 a.m. ET on Wednesday, the category 5 Hurricane Irma made landfall in the Caribbean. The record-breaking storm reached a maximum sustained speed of 185 mph as it passed over the small island of Barbuda, before moving on to St. Martin. Considering how reports have detailed the devastating impacts of the storm on Barbuda, you might wonder: how much damage did Irma cause in St. Martin? These impacted islands are small enough that the infrastructure to protect and rebuild is skeletal at best, and nearly non-existent at worst.
According to a report from AOL on Thursday morning, Hurricane Irma killed at least eight people in St. Martin and left 23 injured. The French Interior Minister Gerard Collomb told Franceinfo radio that he expects the death toll to rise because "we did not have the time yet to explore all the shores."
Collomb also shared that a handful of government buildings were heavily struck by the tropical storm. "We know that the four most solid buildings on the island have been destroyed which means that more rustic structures have probably been completely or partially destroyed," he told reporters.
""It is an enormous disaster, 95 percent of the island is destroyed. I am in shock," Daniel Gibbs, chairman of a community council on Saint Martin told Radio Caribbean International.
On Thursday, the Dutch Prime Minister Marke Rutte said Irma has caused "enormous devastation," and that gas and electricity are completely shut off, and communications with people outside the island are only made by possible by the military.
Two ships from the Dutch Navy stationed off the island's coast have been photo documenting the damage through a series of tweets. As of Thursday morning, the St Martin airport was completely unreachable.
As officials in the island of St. Martin continue to survey the area to assess the level of damage, Barbuda has been dealing with complete tragedy. "The entire housing stock was damaged. It is just a total devastation," Prime Minister Gaston Browne of Antigua and Barbuda told CNN, after visiting the island. "I have never seen any such destruction on a per capita basis compared to what I saw in Barbuda this afternoon."
According to forecasts from the National Hurricane Center, it's likely that Irma will edge near the Turks and Caicos Islands on Thursday. The storm is also expected to move north of the Dominican Republic and Haiti, with hurricane force winds, and raised possibilities of mudslides and flooding.