Glossier Launched A New Product & You Won't Believe It Hasn't Sold This Essential Until Now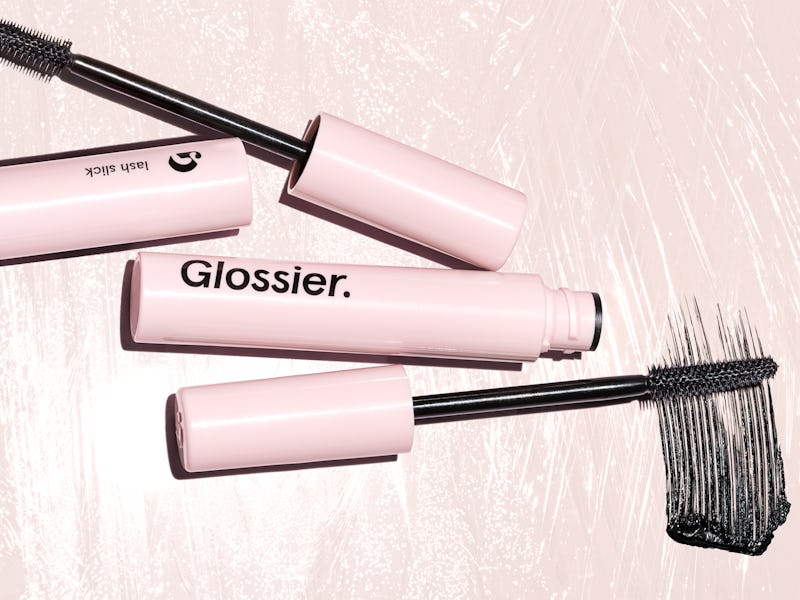 Courtesy Glossier
Get ready, because there's a new soon-to-be cult classic ready to be added to your makeup bag. Glossier created its' first-ever lash product called the Lash Slick Mascara. It took them a year and a half and 248 different formulations to get right, so the brand did not mess around. Honestly, I won't be offended if you stop reading this and go buy it right now.
It's crazy to think that they haven't had the staple until now, but it was definitely worth the wait. Glossier's Lash Slick Mascara was created for those who don't want any clumps in their lives. The mascara is meant to curl, sculpt, and lengthen to enhance the look of your natural lashes. Plus it comes in a pretty pink bottle.
On top of the adorable packaging, there's also some pretty awesome benefits. The teeny-tiny fibers coat your lashes to make them a little longer while not making you feel like you're wearing anything at all. Plus there's vegan biotin in the formula to actually condition your lashes while you wear it.
The mascara is available on the Glossier website for $16. Get it while it's hot, because it's sure to sell out — as all new products from the brand do.
According to the press release, the brand took a trip to Tokyo to get the formula right. The water-resistant lash enhancer stays put all day, but comes off easily with warm water at the end of the night. There's one and two millimeter-long curved fibers hook onto lashes to add length and don't stop holding on all day long.
Glossier says that it took them a year and a half, 248 different formulations, and a trip to Tokyo to get it right. It is not your average mascara. It doesn't claim to be better than sex or take you to paradise. Instead, it makes you feel good about your own lashes.
This will be a permanent item on the brand's website. Because, let's be honest, mascara is a staple in just about everyone's life. Whether you have to save up for the $16 product or wait to see the reviews, this one will be around waiting for you. Of course, there's no telling how fast the product will sell out though.
As the brand says in the press release, you'll have more people saying, "your lashes look good" than asking, "what mascara are you wearing?"
It's true, too. The formula doesn't make you scream when you put it on, but it will have you feeling confident and worry-free all day long. It doesn't flake, clump, or make lashes droop during the day. It stays in place, does its' job, and lets you do the rest.
As good as the formula feels when it on, it feels just as good when it's off. When you use warm water to remove the product, you don't lose lashes or have to rub too hard in the process. You really can feel that your lashes are being conditioned instead of just being stripped of their product at the end of the day.
Just in case you're not sold yet, the Glossier's Lash Slick is also cruelty free, paraben free, fragrance free, hypoallergenic, allergy tested, dermatologist tested, opthamologist tested, safe for eye area, non-irritating, and suitable for sensitive eyes and contact lens wearers.
As of May 9, the product is only available in jet black. Bust reached out to the brand to see if there will be any other coors to come.
You can always count on Glossier to take its time with every single item, and this one was definitely worth the wait.