Glossier Finally Launched A Makeup Set & Yes, It Includes Boy Brow AND Cloud Paint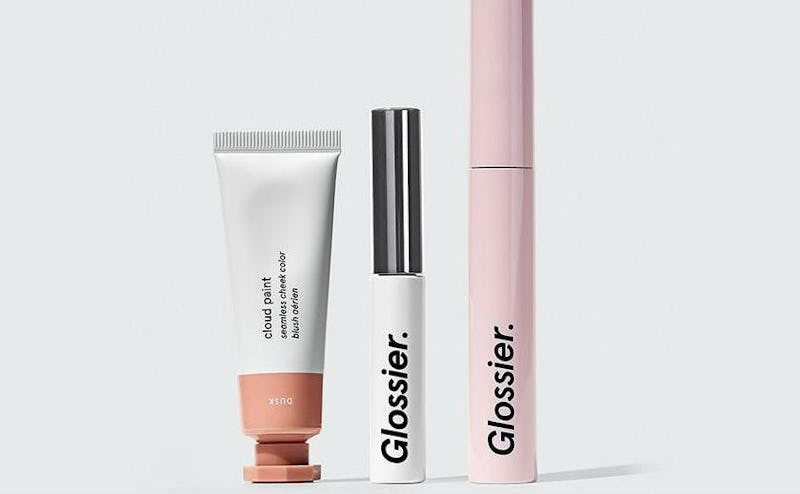 Glossier is the internet's fave minimalist 'n' millennial pink makeup brand. If you prefer the "no makeup" makeup look as opposed to multiple products for every feature, the Emily Weiss-founded company gives you all of the tools to achieve said look. Glossier's Makeup Set collection drops on Wednesday, Dec. 5 and it suits all of your minimalist needs. You can play up your fave features with three quick and easy products, all housed under one roof. It's your one-stop makeup kit that will travel well and not eat precious time off the clock as you get ready in the a.m.
The Makeup Set boasts the brand's cult faves — Boy Brow, Lash Slick, and Cloud Paint. That's a brow promade, mascara, and gel x cream blush, which can multi-task and pull double duty as a wash of color on lids and lips. Because Glossier is that damn good.
The Makeup Set is everything you deserve and desire and nothing you don't.
The collection is just $40 and will save you $10 when purchased together. It replaces the Phase 2 Set, which formerly included Stretch Concealer, Generation G lipstick, and Boy Brow. Only the latter remains in the new collection.
Basically, you can groom your brows and tame errant hairs while filling in any sparse spots. You can play up those lashes and dab and blend the cheek color on your apples. If you want to add a little more color to lids or lips, buff and blend Cloud Paint on those features for that very RN diffused look.
Is there anything dreamier than Cloud Paint's name? Oh, yeah — its texture. It's light, airy, and fluffy. You get just the right flush of color.
Lush and luscious lashes are all yours with Lash Slick.
Glossier's Makeup Set is the epitome of "you — but better." The products are so low key but entirely effective.
The Makeup Set isn't the sole pre-holiday launch on Glossier. The brand is also dropping the limited edition "You Look Good" pocket mirror. It comes with a zipper pouch to keep it safe, clean, and giftable.
The mirror is free with any purchase over $50 when you use the "YOULOOKGOOD" code at checkout. Or you can buy it on its own for just $10. It's available while supplies last. So if you love it, want it, and need a new mirror for your handbag, this is it.
Glossier's The Makeup Set speaks to those who like measured doses of glam. Boy Brow allows you to shape and statement-ify your brows without looking overly brow-scaped. Lash Slick enhances and plumps lashes so they look and few natural — rather than caked in clumpy, spidery product.
The Cloud Paint is the new generation of blush. The pillowy texture and divine formula is buildable. Dab and blend as much or as little as you wish for that pigmented, extra healthy glow.
If you've yet to buy into the hype or haven't become a Glossier believer, you can test the brand's wares with the Makeup Set. It's a small but focused and impactful collection. It just might convert you to the Glossier faithful.