This Is How Old The Menendez Brothers Are Now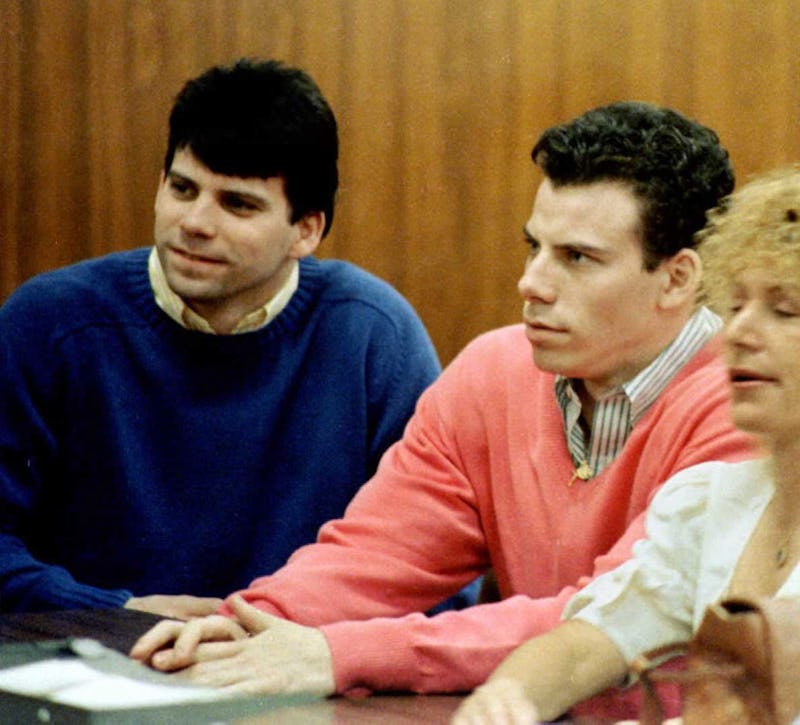 MIKE NELSON/AFP/Getty Images
To some people, Lyle and Erik Menendez may always be seen as the young men wearing preppy sweaters in the courtroom while standing trial for the murder of their wealthy parents, José and Kitty Menendez. After all, per The Washington Post, their infamous defense attorney Leslie Abramson referred to the Menendez brothers as "the boys" and attempted to present them as she saw them: "Troubled kids" rather than confessed murderers. Now, with Law & Order True Crime: The Menendez Murders rehashing their case and eventual convictions decades later, it's worth asking, how old are the Menendez brothers now?
The Menendez brothers' case first starts in 1989, the year they killed their parents in their Beverly Hills mansion. They were not initially suspects in the crime, but were eventually arrested — though their trial took awhile to begin. As the L.A. Times reported, they were held for two years before being indicted for their crimes in 1992, due to a legal battle over the inclusion of allegedly incriminating audio tapes recorded by Erik's psychologist. At the time of the murders, Lyle was 21 years old and Erik was 18 years old. It's been 28 years since the murders took place. This makes Lyle 49 years old and Erik 46 years old in 2017.
As reported by People, the prosecution's theory was that the brothers had killed their parents solely out of greed. They were the heirs to a $14 million fortune, and, immediately after their parents' deaths, they went on a spending spree that was eyebrow-raising to authorities. According to the People article, Lyle purchased a $15,000 Rolex watch and a $64,000 Porsche, while Erik got himself a brand new Jeep Wrangler and tennis coach that cost $50,000 a year to hire privately. All of this coupled with fact that investigators discovered a screenplay that Erik had previously written with a friend that detailed the murders of the main character's parents for money made the brothers suspect in the authorities' eyes.
Per ABC News, Lyle and Erik's defense team instead claimed that the brothers acted in self defense because they allegedly feared for their lives. This alleged fear stemmed from the brothers' claims that they had allegedly been physically and sexually assaulted by their parents for years. Per ABC News, "Abramson argued that Lyle and Erik shot their parents in self-defense because they feared their parents would kill them if they went public about [the alleged abuse.]"
Over the years, the Menendez brothers' family members have given split statements to the media on whether they believe Erik and Lyle. For example, Kitty's brother, Brian Andersen, told ABC News that the allegations that his sister abused Erik and Lyle were "insanity." But, their cousin Diane Vander Molen told ABC News that she believes their claims. She told ABC News of an experience she allegedly had with Lyle, "He was scared to sleep in his own bed because he was afraid that his father was going to come in and molest him that night."
Regardless of their motives, the brothers were sentenced to life in prison for their crime. According to Town & Country, Lyle is serving his life term in Mule Creek State Prison in California. The article reported that he is spending his time running a support group for inmates who have previously suffered from sexual abuse in their lives. The same Town & Country article reported that Erik is incarcerated in Richard J. Donovan Correctional Facility in California. Lyle claimed that Erik, who rarely gives any media interviews, spends his days working with terminally ill and physically challenged inmates.
Per The Daily Mail, both brothers are currently married, with Lyle on his second marriage since entering prison. The brothers haven't spoken to each other — aside from through family members and via letters — in 17 years. And, as grown men of 46 and 49 years old, the Menendez brothers will live out the rest of their days in prison.