How Margaret Josephs Affords Her Lavish, 'RHONJ' Lifestyle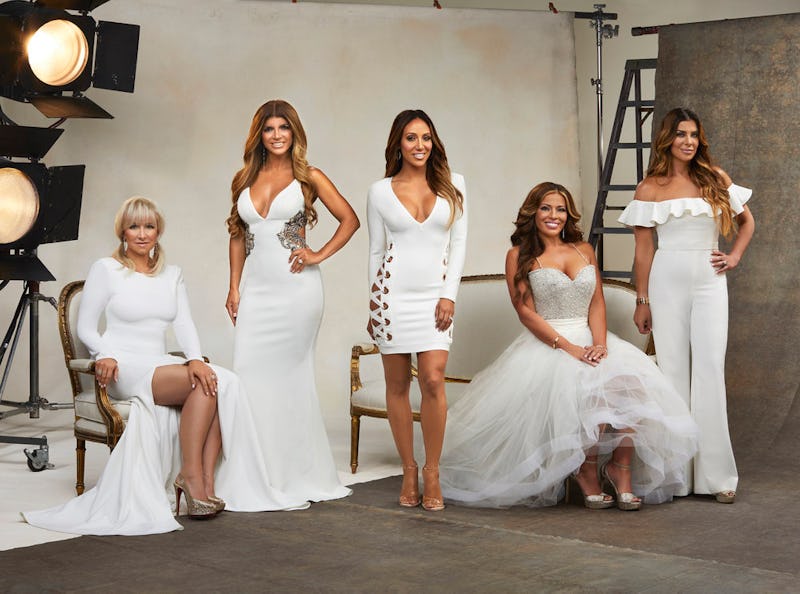 Rodolfo Martinez/Bravo
For years, the women in the franchise have been using the Real Housewives platform to plug and promote products and advance their own personal "brand": Sonja Morgan and her toaster oven, Kenya Moore's workout tape, Ramona Singer and her pinot. But then there are cast members like RHONJ's Margaret Josephs, who join their show with an already established, notable career. And I'm not just talking about her trademark pigtails. But how rich is she? Margaret is the definition of an entrepreneur.
According to her Bravo bio, Elizabeth, NJ native Margaret graduated from New York City's Fashion Institute of Technology with a degree in marketing and fashion design. She worked as a dress designer in the Garment District, later moving to Tenafly when she was 24 with husband Jan Josephs to raise her three new stepchildren with him. The two had a son of their own in 1996. At that point, Margaret decided to become a full-time mother. The couple soon after got divorced. Josephs then met her second husband, a plumber and contractor, whom she affectionately nicknamed "Super Joe." They eloped in 2013, and don't have any qualms about showing their love for each other on social media.
In 1998, after two years of being a full-time stay-at-home mother, Margaret started a business in a rather unconventional way. "My home was cluttered all the time," she explained in a 2012 "Moms making millions" feature for CNN Money. "I decided I needed a storage solution." She began decorating and painting metal buckets from Home Depot and resold them to 20 local stores. And they flew off the shelves. "They sold out in two days. I thought I was on to something," she said in the interview.
The piece goes on to say that Margaret's business, which she named the Macbeth Collection, immediately took off and she expanded her product offerings from painted buckets and decoupage trays to other home goods and accessories. Within a year, business was booming so much that she needed to enlist her nanny and neighbors to help make the products. Despite her rapid success, Josephs told CNN that it wasn't until she got her a $40,000 order in 2000 that business really "exploded." Two years later — four after that first fateful trip to Home Depot — the Macbeth Collection exceeded $1 million in sales. Her small business that started with a few hand-painted metal buckets quickly morphed into a global lifestyle brand, now offering products like phone and laptop cases, tote bags, and clothing.
Per CNN, The Macbeth Collection generated about $30 million in 2012 and its products are sold online and in major retailers like Bed, Bath & Beyond and Walmart. And judging from her website, it's clear that Margaret's is different than the typical Housewives businesswoman. "Margaret is a lifestyle expert and can be seen regularly on network TV sharing her tips and picks for organizing, accessorizing and glamorizing," her bio boasts. "From refreshing your home for the season to planning the perfect party, from super smart vacation packing to what to wear when you get there, Margaret is your go-to-girl for life in the fab lane."
Boutiques and "lifestyle brands" certainly aren't new to the hit Bravo franchise. Kylie Richards has a clothing store in Beverly Hills, former RHONY star Heather Thompson runs her fashion line Yummie, and fellow New Jersey Housewife Melissa Gorga even owns a boutique now. Based on a recent interview with NorthJersey.com, though, it seems like Margaret was waiting for Bravo to come calling. "I just turned 50. I'm a Jersey girl, I've had a business for a long time and I just thought this opportunity was great timing for me," she revealed. "My life has been a reality series since the day I was born. I'm self-made. I've taken a lot of hits … Nothing gets me down."
Margaret was already living the fabulous life, but now she's living it in front of the whole world on the latest season of Real Housewives Of New Jersey.