The Weather Is Totally Trolling Donald Trump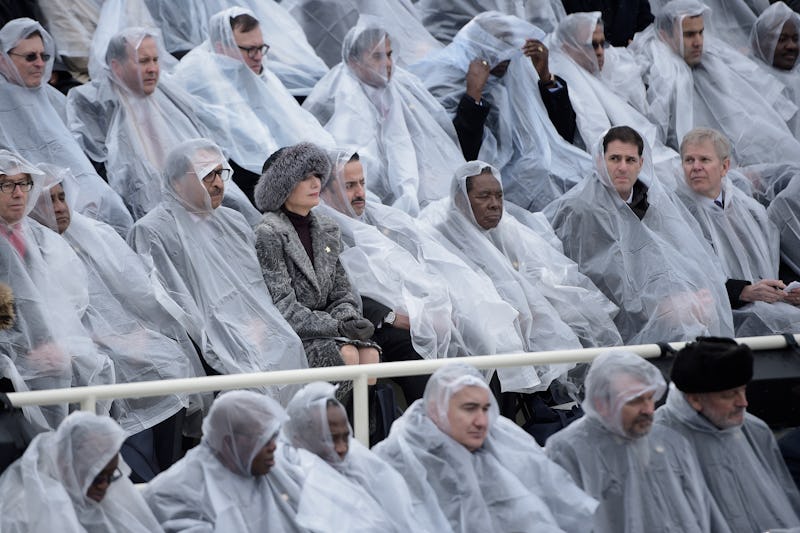 BRENDAN SMIALOWSKI/AFP/Getty Images
I woke up Friday morning to a downpour in Los Angeles, the weather seemingly matching my mood as I tuned in to watch the inauguration of Donald Trump. I messaged a friend in Atlanta, who said, "It's raining here too."
"I think the country is crying," I replied.
I meant it jokingly, but then, as we watched his Orangeness take the podium to deliver his inauguration address, rain began to fall on the new president, seemingly in concert with many of our tears.
It appears as if the weather is trolling Donald Trump.
I'm a firm believer in science, not rain gods and omens, but it has been hard not to feel like the current meteorology is echoing all of our many, complex and grim feels. Considering that climate science is thought to be one of the most controversial areas that the Trump administration will address (or, more frighteningly, won't), it makes sense that mother nature herself would show up to register her displeasure with the incoming president.
And it's not just the rain: The Weather Channel has been reporting that the South is facing a severe weather outbreak, with some tornadoes having already having done considerable damage in Mississippi.
Then there's this map:
I'm not crazy, right? That looks like Trump's hair?
Anyway, here are eight tweets about the rain at Trump's inauguration, and all the possible meanings it might encompass.
Perhaps unsurprisingly, many Trump supporters on Twitter found the rain to be a good omen.
And some even applauded the new president for his rejection of un-manly umbrella technology.
But Trump detractors weren't having it.
Some even took it to an uncomfortable place.
Still, it's clear that for many of us, this fit in perfectly with Trump's story.
We tried to find ways to see the silver lining in the downpour.
Though, of course, we know how this all will go.
Sad! indeed.