How To Call Your Representative About Obamacare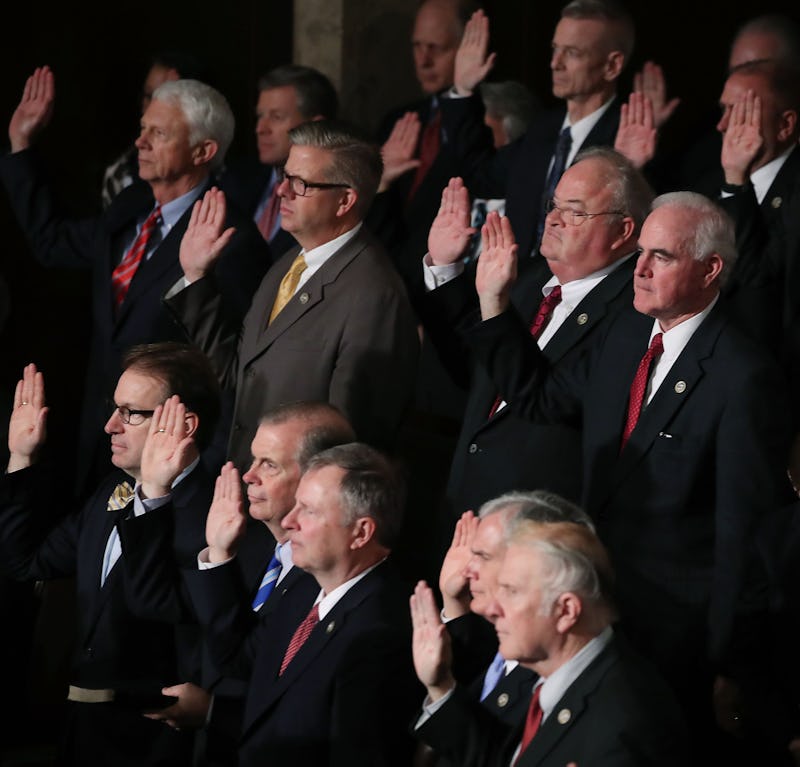 Mark Wilson/Getty Images News/Getty Images
Americans awoke to some troubling news on Thursday morning. At about 1:30 am ET, the Senate started the process of repealing Obamacare, passing a resolution giving Congress a Jan. 27 deadline by which to write the necessary legislation. Action can still be taken to save it for now, so here's how to call your state representative and tell them to save the Affordable Care Act.
During the marathon session, Republicans voted down several Democrat-proposed amendments, such as those that would have protected coverage for people with pre-existing conditions and allowed importing prescription drugs from Canada. The bill will now go to the majority-Republican House, where they are expected to vote on it on Friday. If it passes, congressional committees will then have the power to start crafting legislation to roll back the ACA.
Depending on where you live, you and your representative may share some common ground. According to The Washington Post, Republican Reps. Charlie Dent of Pennsylvania and Mark Meadows of North Carolina expressed their reservations about the measure currently headed their way. And with good reason: Without a simultaneous replacement, repealing Obamacare would leave as many as 20 million people without insurance coverage.
All of our representatives need to hear from those who want to save the ACA, and all it takes is a short call.
The first step is to identify who your representatives are. Though you can call those who aren't from your area, calls from constituents hold the most power and sway for elected officials. Find your representative using the "Find Your Representative" tool on the House.gov website.
Once you find them, take a moment to make sure you can keep tabs on them and their work going forward. Keep their contact information handy, this likely won't be the last time you'll want to get in touch. Follow your representative on Twitter and Facebook so you can easily stay informed on their votes and plans. If you're in a rush, you can call the Capitol switchboard at 202-224-3121, and they can connect you to the right person.
Once you're connected on the Internet, it's time to prepare for getting connected on the phone. For some, this part that makes the most impact is also the most nerve-wracking. Luckily, there are scripts out there you can read verbatim or use to help you get an idea of what to say.
Afterward, consider sharing your experience on social media and encouraging others to join you. The important part is that you took action and called your representative. But if you feel comfortable doing so, sharing your story could empower others to take action as well.
Though Inauguration Day is still ahead of us, big changes are already taking place. If you care about saving the Affordable Care Act, make your voice heard and take action now.